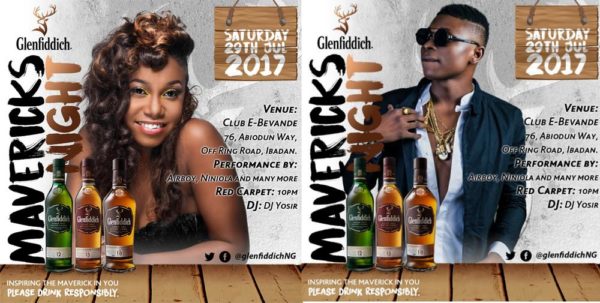 Scotch whisky maker Glenfiddich is inspiring the 'Maverick' spirit in all individuals this weekend in the ancient city of Ibadan; Saturday 29th July to be more precise.
Naija house chanteuse Niniola alongside Aquila Records soldier Airboy will be performing live at the Glenfiddich Mavericks' Night happening at in Ibadan at Aqua Ebevande. Both mavericks in their own right, they will be joined by Lagos finest DJ Yosir who will be making sure the guests hit the dance floor all night.
Guests will get to enjoy a range of Glenfiddich whisky from 12 years up to 21 years bottles. Join us for this night of unbridled fun.
Date: Saturday, July 29th, 2017
Time: 10.00 pm
Venue: Club Aqua E-Bevande, Ring Road, Ibadan
For more information, follow Glenfiddich on Facebook and Instagram.
Entry is only limited to 18+ only. Please drink responsibly
————————————————————————————————————–
Sponsored Content