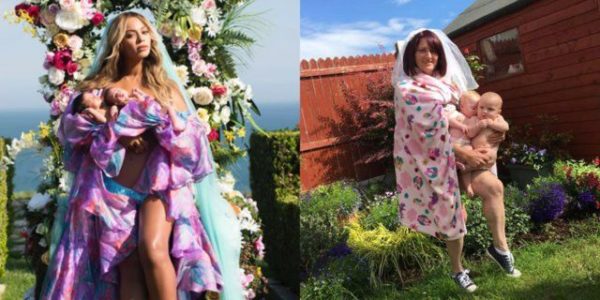 An Irish woman Sharon Kellaway from County Cork has recreated the iconic photo of Beyonce and her twins Rumi and Sir Carter that has racked up more than 9m likes on Instagram.
The mother made her photo in her own garden, having her 6-year-old daughter take the photo.
"I would be a fan of Beyoncé – I love her pictures, music, and her photographs," she told BBC.
"I saw the picture and thought it was great, so I threw on a pink blanket and did my own version. My daughter Megan who'll be six on Sunday took the photo. It wasn't meant to be a big deal, I just threw on the pink blanket for a laugh and sent it to my husband and friend in Canada."
But her friend thought the photo was too good to be shared between them alone, and now Sharon has become an internet sensation.
"It's gone bananas, I've been on air in Canada and Australia this morning alone," she said.
Photo Credit: Facebook – Sharon Kellaway