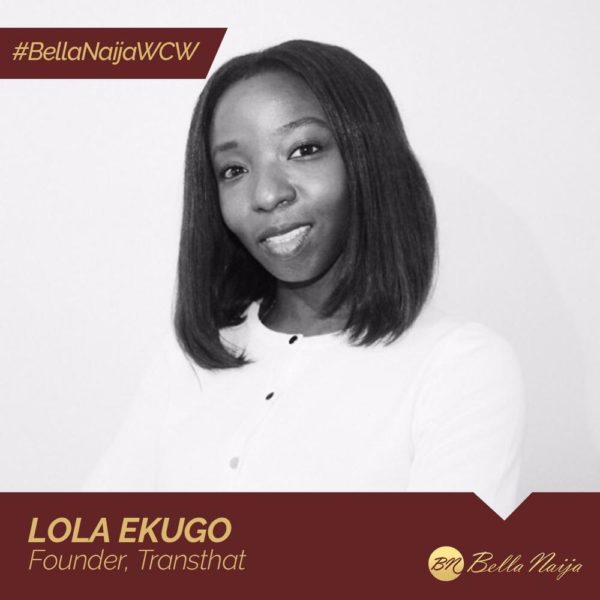 Have you ever tried to order something online and all was going well until you see the shipping cost? Yes? Most times this just makes you close the tab and try to figure out another way of getting the products to you or just wait till you are financially capable.
If this is almost always you, then worry no more. Our #BellaNaijaWCW today – Lola Ekugo – has a platform that solves that.
With Transthat, Lola is connecting travelers to Nigerians who need items delivered.
With Transthat, a buyer can post the item he/she wants to buy, where it is from with the price they are willing to pay to a traveler to bring it from abroad.
Once a traveler picks up the buyer's request. Transthat will hold the payment until the traveler comes back with the item.
The buyer can then collect the item(s) from the Transthat Collection Centre or have it delivered to his/her doorstep.
Lola is a first class graduate of Business Information Systems from Middlesex University with a passion for solving challenging and important problems using innovative technologies.
She began her career in the technology division in the financial services sector have since been involved with startups in the travel, hospitality and logistics space across the UK and Nigeria.
Lola who is also a travel enthusiast, founded WeekenderHQ where she shares her travel experiences, having been to 25 countries.
Lola is also a co-founder of Elohims Basket an initiative whose vision is to influence communities through outreach and social impact programs. Elohims Basket has worked with charitable organisations like Luis Palau and Action in Focus doing humanitarian work in deprived African communities and is a sponsor to Victoria Joy Orphanage in Nairobi, Kenya.
Lola also writes about her travel experiences on BellaNaija under the column Wanderlust with Lola.