Bimmms 24, Mobalks & Ceomania Grace the cover of Vanguard Allure's Wedding Issue
The famous Yoruba traditional hand-woven cloth, Aso Oke is a toast of fabrics, having the yoruba land as its origin.
Aso Oke has become a material of choice for many traditional parties and weddings across different cultures in the country, this iconic material that speaks royalty has undergone a few changes and innovations to meet the demand of the end users.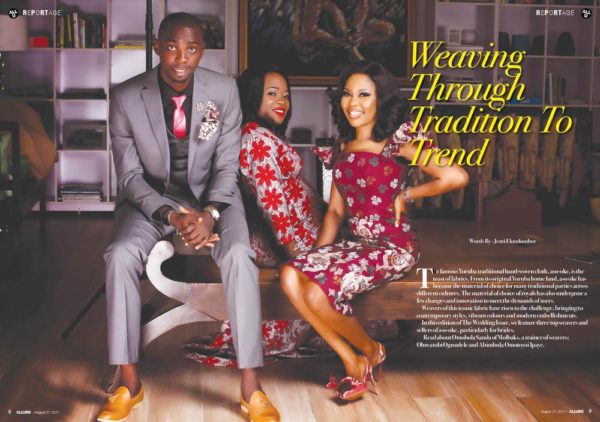 Weavers of this iconic materials have risen to the challenges, bringing forth contemporary styles fused with modern embellishments and vibrant colours.
In this Vanguard Allure's Wedding Issue, 3 tops Aso Oke Weavers sat down with Allure's Jemi Ekunkunbor to discuss the drama that goes on behind the scenes.
Their names are Abimbola Ipaye of Bimmms24, Omobola Sanda of Mobalks Alasooke and Oluwatobi Ogundele of Ceomania Alasooke.
Grab a copy of Vangurd allure this Sunday.
Credit
Creative Director: Nelly Mesik
Photography: Bamiyo Emina
Stylist: Rhoda Ebun
Hair: Tessy Hair
Makeup: For Mobalks: BM Pro Makeup
For Bimmm24: Esswat Makeovers
Beads for Ceomania: Rochem Iyaileke