Apostle Do Good a new TV series from the stable of UK Nollywood film producer and director Toyin Moore and Jader Group premiere in London Cinema.
Date: Friday, September 29th, 2017.
Time: Red Carpet 8:30 pm, Film Screening 10 pm
Venue: Odeon IMAX Cinema Greenwich (Home to Nollywood film premieres).
Apostle Do Good is a TV series that depicts the new generation Pentecostal churches. The Church Oases of Love is pastored by Apostle Bode (Charles Lawson)and it is a church in crisis.
Apostle Bode, called to be a man of the cloth from his childhood and one with whom the heavens approved, which was evident in that signs, wonders, and miracles were proofs readily seen in his ministry. Bode has an able and equally zealous associate, Pastor Dele (Ferguson Jack), together they set up a soon thriving Charismatic church. Apostle Bode even meets and gets married to Funmi (Toyin Moore), the daughter of a wealthy Solicitor (Tai Olutayo), one of the most renowned in the country. Everything was going just well until they started experiencing financial struggle.
Soon the whither and happy church began to crumble from within, stories of virgins and mysticism began to rock Oases of Love Church, where it seemed like an unending chaos, adultery, betrayal, greed, abuse descending more and more into the abyss.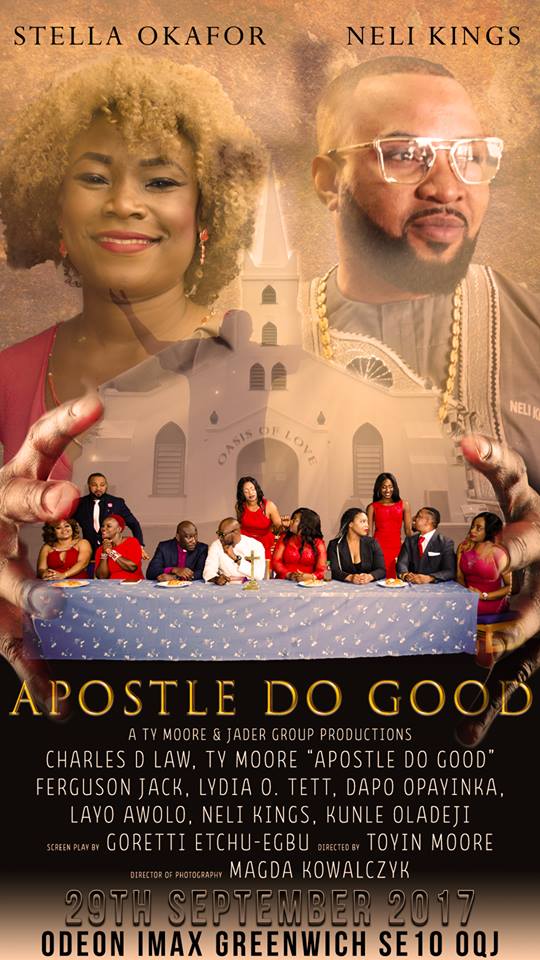 Will there ever be redemption for Bode? Watch to find out.
The TV series features a cast of UK Nollywood master actors which include: Charles Efe Lawson, Toyin Moore, Dapo Opayinka @iamdapoopayinka, Ferguson Jack, Mofe Duncan, Lydia Tett Olet, Neli King, Cordelia Emeh, Tai Olutayo, Layo Awolo, Labake Labake, Doris Ngere, Nkechi Kamara Akpenyi, Doyin Ola, Freshboi Oladeji, Frank Williams, Funmi Ogidan-Bello, Yomi Onandipe, Nike Bameke, Rashellee Wauchope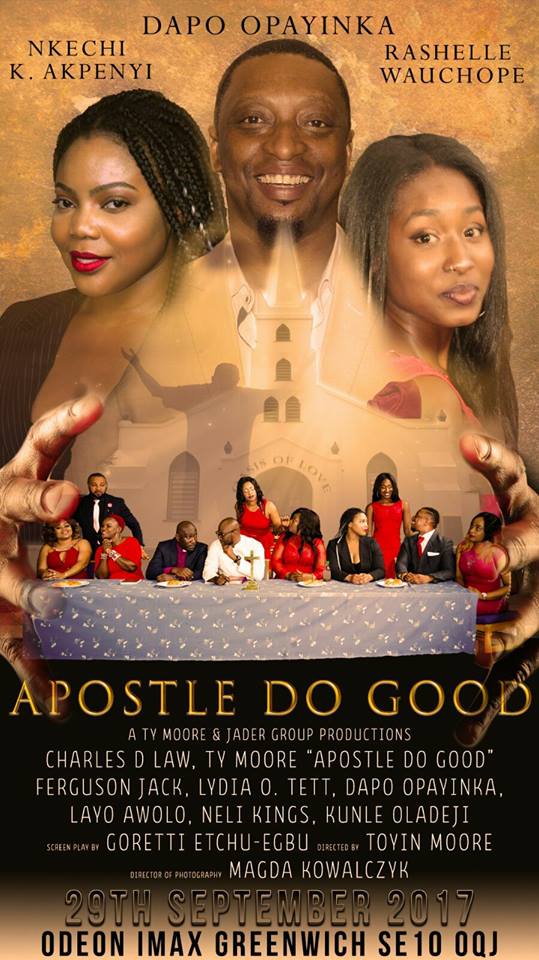 Apostle Do Good a compressed movie version premieres first at the Odeon Cinema Greenwich with red carpet starting at 8:30 pm and the film screening at 10 pm before the series is released to subscribing TV stations in October 2017.
The TV series will be shown across UK, Africa, Canada and some parts of the USA.
Tickets:
Standard: £20.00
Premium: £30.00
VIP: £40.00
Buy Tickets from here.
Watch trailer below:
————————————————————————————————————————–Sponsored Content