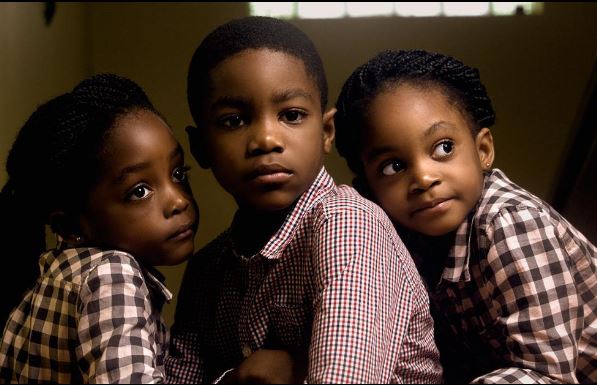 Nigerian artist Timi Dakolo is scared his children might be growing too fast and we think it's absolutely understandable and very very very cute!
The ace singer shared a photo on his Instagram page of his three beautiful kids, who are a spitting image of him and his wife Busola.
One more thing, we absolutely love the way Timi shows off his family or as he fondly calls them, Yard People!
He captioned the above photo:
THEY ARE GROWING SO FAST IT SCARES ME.. I HAVE WATCHED THEM GET EXCITED ABOUT NEW TOYS AND THEN SUDDENLY THEY ABANDON THEM
SEE THEM GO FROM CBEEBBES TO CARTOON NETWORK AND KIDS TV.. THEIR TASTE HAS CHANGED SO FAST.. FROM CEREAL.. TO CUSTARD AND NOW BE DRAGGING EBA WITH ME.. TELL ME DON'T CALL ME BABY .. I AM NOT A BABY ANYMORE.. SIGH.. TELLING ME DADDY LEAVE THE ROOM.. I WANT TO CHANGE MY CLOTHES.. AHHHH ME TIMI DAKOLO LEAVE THE ROOM IN MY OWN HOUSE.. I NO BLAME UNA…BECAUSE UNA GET ROOM.

SOON ONE STRANGE DUDE WILL SHOW UP AND BE SMILING LIKE HYENNANA(LOL) AND SAY I WANT TO MARRY YOUR DAUGHTER SIR.. ALEXANDER WILL BRING ONE BABE HOME AND SAY MEET MY FRIEND DADDY.. FRIEND KO.. LIKE I DON'T KNOW WHAT'S UP AND ASK FOR CAR KEYS TO DROP HER OFF.. ANYWAYS DON'T MIND.. MAYBE I AM JUST OVER THINKING.. AND LETTING MY HEART WANDER TOO FAR INTO THE FUTURE.. MAYBE IT'S JUST PREPARING ME FOR TOMORROW.. #FATHERSLOVE #YARDPEOPLE [email protected]