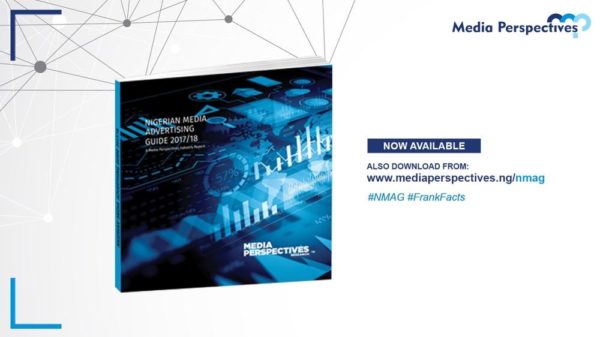 Media Perspectives is back again with the second edition of  its industry report, Nigerian Media Advertising Guide (NMAG). The NMAG 2017/18 edition was launched on Monday, September 19th, 2017. This edition provides fact-based insights about the Nigerian media communications market, democratizing and making media marketing data accessible to everyone. 
The Nigerian Media Advertising Guide 2017/18 edition also analyses city based media behaviour across major states in Nigeria giving consumption patterns across media. It gives a detailed analysis of the Nigerian Landscape highlighting key indices such as Country Demographic profile, Population, Job creation index etc.  Subsequently, it delves into insightful media facts of the media landscape spanning Television, Radio, Print Media, Out of Home and Digital, highlighting useful information such as their consumption patterns and top platforms for each vehicle.
NMAG also x-rays brand investment trends and implications for advertisers in the Nigerian Market. The Nigerian Media Advertising Guide is essential for every marketing communications Professional. It comes in useful in making better business decisions about the Nigerian market. It's an awesome read!
To grab a copy of NMAG, visit www.mediaperspectives.ng/nmag or Email [email protected]
Listen to what Jude Odia, COO of Media Perspectives has to say about NMAG.