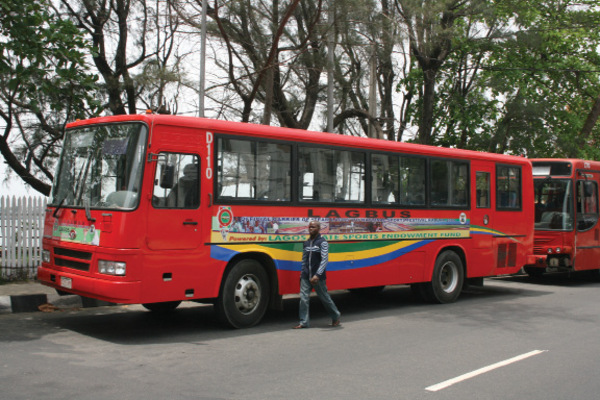 About 30 hoodlums with weapons – guns, cutlasses – attacked passengers riding in a LAGBUS vehicle, dispossessing them of their valuables and money.
The robbers, on Sunday, stopped the bus at Toll Gate area of the Lagos – Abeokuta Expressway, pretending to be passengers, New Telegraph reports.
They soon revealed their weapons and threatened the passengers, dispossessing them of their phones and other valuables.
The conductor of the bus reportedly fled and alerted passersby.
As a mob advanced toward the bus, the robbers fled and the mob gave chase, capturing 3 of the robbers.
An eyewitness in the area said:
It took the intervention of operatives of the Alagbado Police Division to rescue the suspects from the mob.

I had attended a friend's birthday in Oshodi that day. I returned home around 9.30pm and decided to take a bath before going to bed. As I was about to sleep, I started hearing noise. I peeped through the window and saw a lady running on the road. She was shouting 'thief, thief'.

When I noticed that some people had rallied round her, I woke up my neighbors and we went outside to see what was happening.
He added that 1 of the robbers was beaten by the mob until policemen arrived to rescue him.
Another eyewitness Abraham Alabi also spoke to the press. He said:
The incident happened on Sunday when people are often indoors. If it were to be on a working day, the road would still be busy, with people returning home from work.

I believe the robbers struck because there were just few human and vehicular movements on the road at that time of the day. Three suspects are already with the police.

The BRT conductor reported to the police that her bus was heading to Lagos, but was stopped when it got to Toll gate area around 10 p.m.

She said about 30 hoodlums, carrying weapons such cutlasses, rushed into the bus without collecting tickets, attacked the passengers and dispossessed them of their money and other valuables.

She said they also collected the money on her.
The Lagos State Police Public Relations Officer, ASP Olarinde Famous-Cole, confirmed the incident. He said: "The suspects are with us while the investigation continues."
**
This post has been updated to show the proper image for the kind of vehicle that was attacked.