Be the Light of the World! Join TY Bello, Folabi Nuel & Pastor Ayo Otuyalo at Ignite Monthly Fellowship themed Perseverance I Saturday, October 7th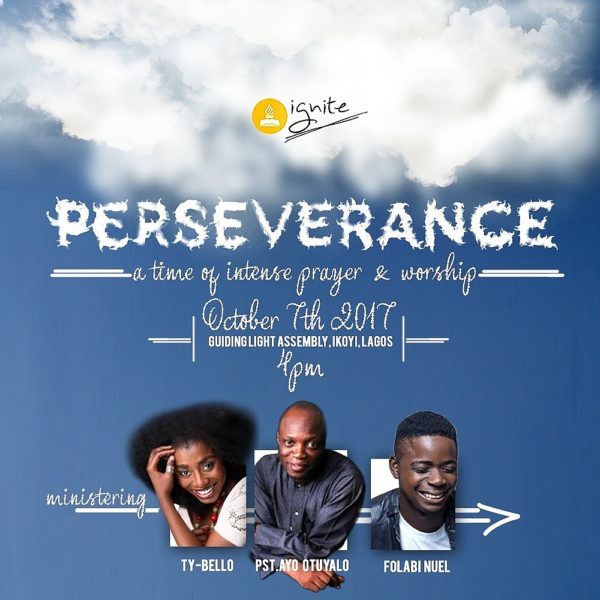 Have you ever found yourself going through a really hard time and people keep saying "you must persevere, it will soon come to an end?"
What is perseverance all about? Why is it vital to us as Christians? How does it come to play in our walk with God? Join us (Ignite Fellowship) for our monthly fellowship as we will be discussing perseverance and have an intense time of prayer and worship.
Date: Saturday, October 7th, 2017.
Time: 4 pm prompt.
Venue: Guiding Light Assembly, Parkview Estate, Ikoyi, Lagos.
Theme: Perseverance
Guests: Pastor Ayo Otuyalo, Ty Bello, and Folabi Nuel.
Long story short, it's going to be amazing. There will be spiritual food and physical food as well 
At Ignite fellowship we come together at the beginning of every month to help one another reconnect with the Father so we can go to the world and Ignite. Through prayer, praise and study of the word, you leave refreshed and ready to go into the world and be the light.
Ignite fellowship is for our generation, so if you are in your 20s and 30s, and even if you're a little into your  40s, you're welcome here. And whether you're single, married or… it's complicated, we're here for you.
We have a million questions for this month's fellowship! If you've asked any of those questions, or if you are struggling, you need to be at our fellowship on Saturday!