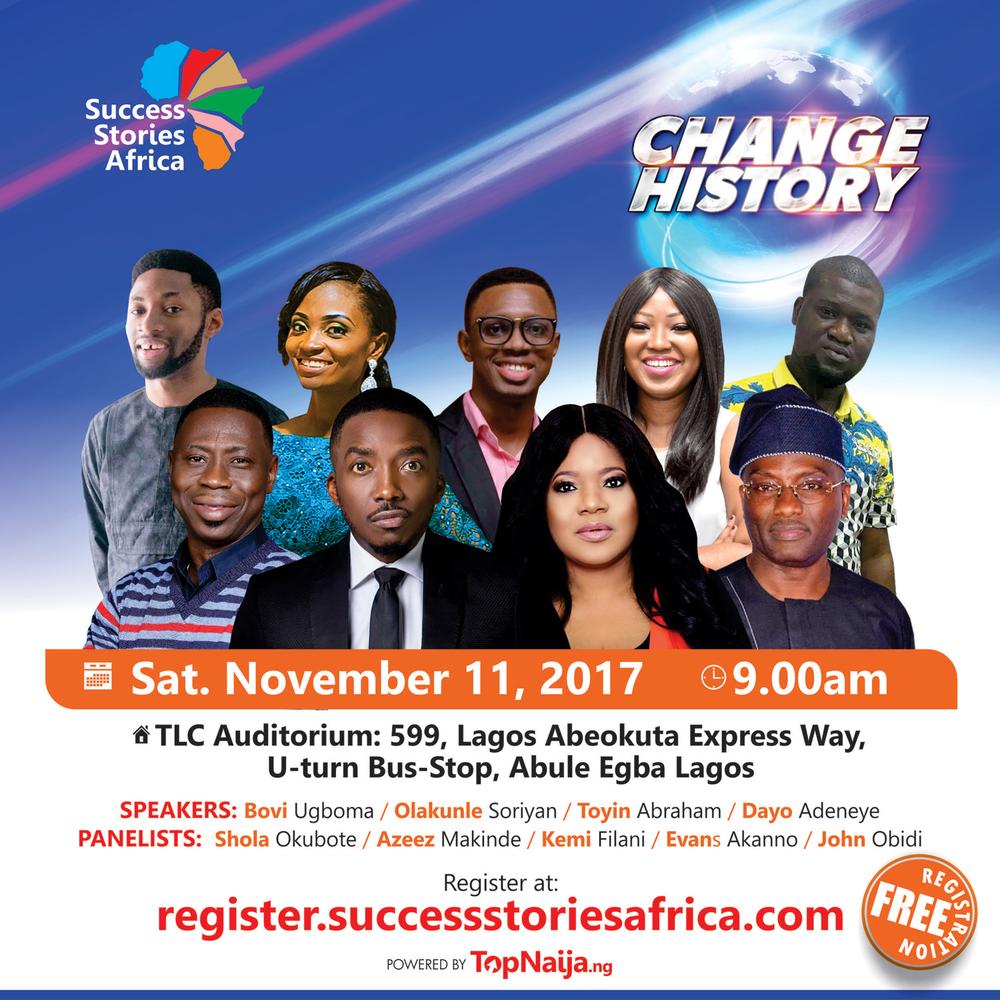 Young Nigerians will be empowered to deliver the future and Change History at the 2017 edition of the annual Success Stories Africa conference.
Date: Saturday, November 11th, 2017.
Time: 9 am- 3 pm.
Venue: TLC Auditorium, 599 Lagos Abeokuta Expressway, U-Turn Bus-stop, Abule Egba, Lagos, Nigeria, West Africa.
Widely acclaimed as the most impactful gathering of young people in developing communities, Success Stories Africa is targeted at increasing empowered youths above the weaklings.

Barrier-breaking speakers who will share their success stories exclusively at this gathering include Bovi Ugboma [Ace Comedian], Olakunle Soriyan [CEO, The Olakunle Soriyan Company], Toyin Abraham [Award-winning Actor], Dayo Adeneye [Commissioner for Information & Strategy, Ogun State].
According to the convener, Isaac Oladipupo, "As a people, if we don't meet needs in the society, we can't be relevant. It's high time we stopped consuming and started looking inward to create products, services and platforms that will be of use globally. This year, we are looking to turn young people around from being consumer oriented to being producer oriented.
This life-shaping event, which will be anchored by young author Laju Iren alongside Inspiration FM OAP Rufai Oseni, will also feature a revealing panel session with Shola Okubote [Founder, woman.ng], John Obidi [Founder, SmartBCamp], Kemi Filani [Nigerian blogger], Azeez Makinde [Nigerian blogger] and Evans Akanno [Founder, Cregital].
For inquiries call, 08027855262, 07059612290, 08039612164.
Admission is free, register here  or at the venue.
[Light refreshment will be served].
---
This content has been published for free as part of BellaNaija.com's commitment to youth, education, healthcare and community development as part of our corporate social responsibility programme.