Demetria Obilor had only spent 2 weeks in her new job as a traffic reporter for a Dallas TV station when a Facebook user – one of the station's viewers – began body-shaming her.
The user shared a photo of the reporter on her page, saying that she "looks ridiculous".
"She's a 16/18 woman in a size 6 dress and looks ridiculous," she said, adding that she'll no longer watch the news channel.
It wasn't until a Twitter user @fabfreshandfly shared a screenshot of the statement, with him and Chance the Rapper taking a stand against it, that it went viral.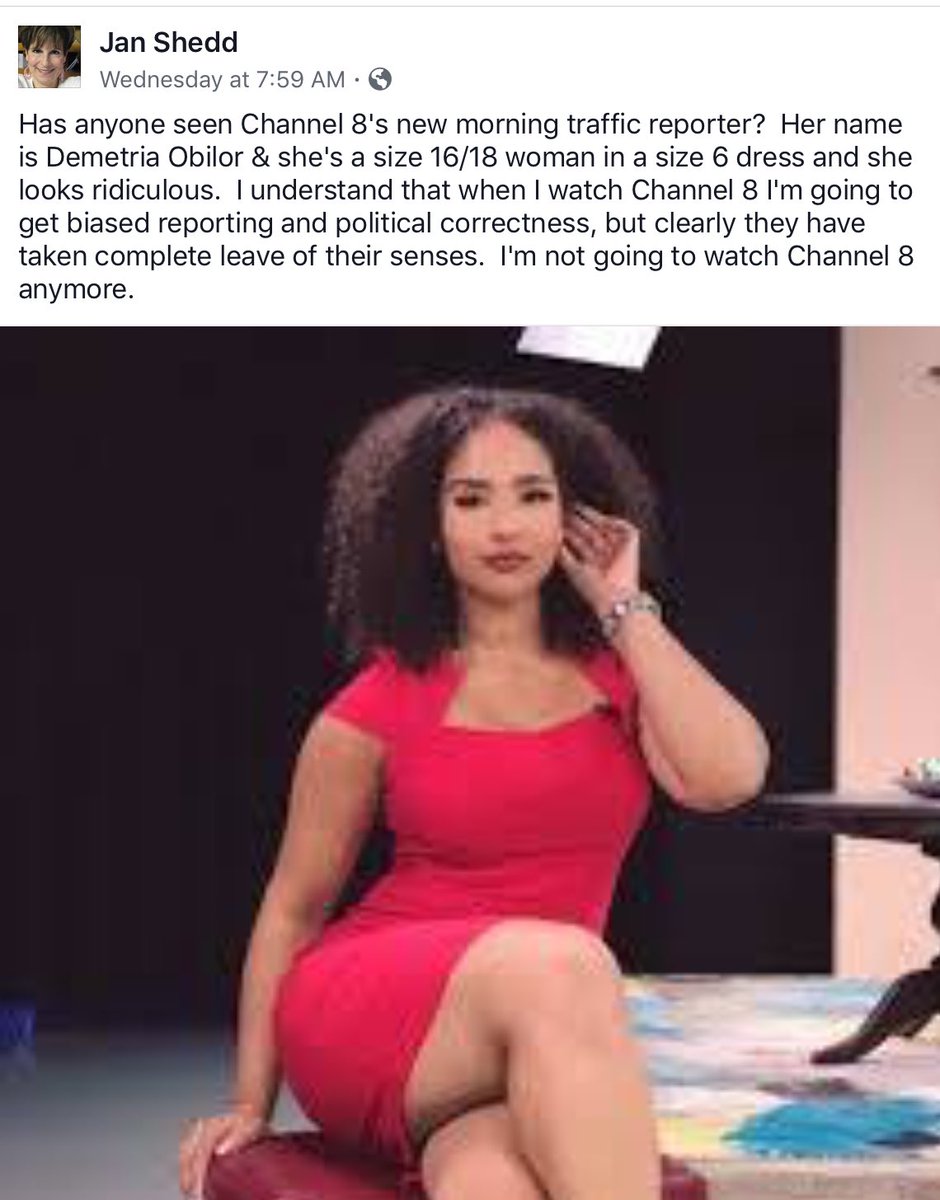 Jan is big mad. Don't be like Jan. pic.twitter.com/ytAKJHMXBy

— Mother of Draggings (@fabfreshandfly) November 3, 2017
BIIIIIIG MAD https://t.co/E9yzWbU9m8

— Lil Chano From 79th (@chancetherapper) November 3, 2017
Demetria, 26, who had been a traffic reporter in Las Vegas with 4 years in the profession, made a video reply filled with positivity and appreciation for those who are standing by her.
Addressing the haters, showing love to my ppl ? and thank you @chancetherapper ? pic.twitter.com/ks2cTSuLLe

— Demetria Obilor (@DemetriaObilor) November 3, 2017
Speaking to NBC News, Demetria said: "I'm not a 16/18, but even if I was, for you to try to call out my size like that to hurt me or discriminate against me, I'm not for that."
She added: "When you get older and you're in the news people warn you that, 'Hey, you're going to be under a harsh lens. People are going to critique you, people are going to say mean things about you'."
"It's not about my unhurt feelings," she said. "It's about what's acceptable in society and how we, as people in the media, we have to make things right."
It is however, not the first time she has been attacked for her looks. See one below:
Here's one of the racist, hateful emails I've received for rocking my natural hair on TV. pic.twitter.com/oA8L6gYCyw

— Demetria Obilor (@DemetriaObilor) May 25, 2017
Social media users are showing support to the Demetria and we applaud how she kept things positive.
Affirming @DemetriaObilor this morning. We are here for you, sis! #WOCAffirmation https://t.co/kr4Y2UjAZq

— April (@ReignOfApril) November 5, 2017
A special shout to the incredibly beautiful @DemetriaObilor for fighting body shamers and remaining her true self. PLEASE don't stop. https://t.co/xxAKXuVhmd

— IAmOrlando (@IAmOrlando) November 5, 2017
Standing with you!! The haters are just making you more well known and loved

— Shaun King (@ShaunKing) November 5, 2017
Thank you @DemetriaObilor for pushing back & empowering other women to do the same ???❤️https://t.co/Y20eN8VJKN via @dallasnews

— Brenda Tracy (@brendatracy24) November 5, 2017
A positive, heart AND body affirming response to body shaming ??????@DemetriaObilor thanks for setting a standard of class. https://t.co/YmOvucwff6

— Cornell Wm. Brooks (@CornellWBrooks) November 5, 2017
Thank you @DemetriaObilor for speaking out against body shaming – it's a sick part of our culture. You're absolutely gorgeous.

— Meghan McCain (@MeghanMcCain) November 4, 2017
Photo Credit: Instagram – @demetriaobilor