It was widely reported on Friday that former vice president and 2015 presidential aspirant Atiku Abubakar had resigned from his party All Progressives Congress (APC).
Atiku, in a lengthy letter, complained that he'd become disillusioned with the party, and was leaving.
The party failed to keep its promises to the people, he wrote, and refuses to take the youths into consideration.
TwitterNG users, of course, have a lot to say about his resignation.
From condemnation to praises, see what Nigerians on Twitter have to say: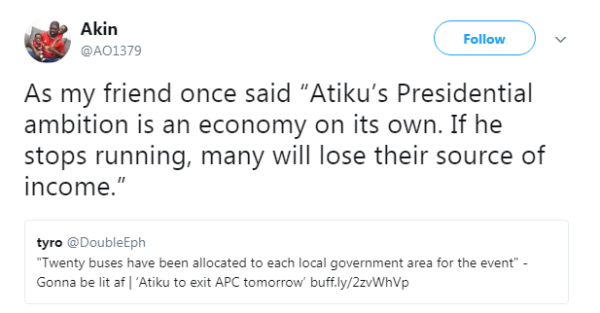 It's going to be a very busy transfer window.
Obanikoro has moved for a record breaking fee
Atiku is returning to his boyhood club. https://t.co/g6M4ig2cPZ

— Ebube D Statesman (@akaebube) November 24, 2017
I dont get this 'Atiku should resign from politics'. Why should he???

We supported an old, incompetent & half-dead Buhari in 2015. Same Buhari will recontest in 2019.

But it is Atiku that we want to quit politics.

Una no well…

— Kingsley (@kingysly_01) November 24, 2017
Hello @atiku, Welcome sir.

— Demola Olarewaju (@DemolaRewaju) November 24, 2017
Dear Atiku, despite Baba's warning to u about 2019 via INTELS, u still did your habitual political jorojarajoro. U leave Baba no choice. All flights to Russia from Nigeria in 2018 must be routed thru Alaska on US soil. Politics is the father of geography…

— Pius Adesanmi (@pius_adesanmi) November 24, 2017
Sule Lamido now needs to step up his game. No one knows his views on economics and restructuring.
He'll give Buhari a good fight up North. But down South, Atiku seems to be more popular.
Either way, 2019 politics season has started. Governance is over. Buhari's 1st term is over.

— Gege (@nigeriasbest) November 24, 2017
People who hailed @atiku when he decamped to APC before are saying he decamps too much today. ?

— Igala_Alan_Shore (@i_am_Anomeli) November 24, 2017
People are funny. They want Atiku (Who wants to be President) to remain in the APC when it is sure that Buhari will be the APC candidate in 2019. Okay, what should Atiku stay there to do?

— Itú Bàbá ìta (@Oddy4real) November 24, 2017
Atiku is Nigeria's most business inclined Politician. He is Nigeria'a largest private employer, with over 50,000 employees (even more than Dangote, 26,000 employees).

He challenged anyone who has proof of him being corrupt to come out this year, no one did.

Facts are sacred.

— Isima (@IsimaOdeh) November 24, 2017