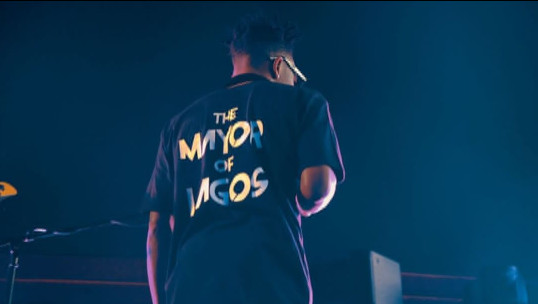 DMW pop star Mayorkun has had an amazing year and even an amazing career in general since signing for the Davido-led label last year.
The singer decided to stage his very first headline concert titled "Mayor Of Lagos" and it was held at the Hard Rock Cafe on Thursday, the 14th of December, 2017.
I'm sure those who were not there on the night will be dying to know how it went? Not to worry, I got you!
….
The show was scheduled to start for 8PM. Personally, I'm a sucker for punctuality, so imagine my dismay when I got there a few minutes to 8 and the hall was looking very sparsely occupied. I had a panic moment because I thought people actually did not show up but then I remembered the African time syndrome and apparently, there was crazy traffic that night.
The show had to start anyway and kudos to the organizers for bringing out a couple of upcoming acts to showcase their craft on stage albeit to a somewhat little crowd. Big-ups to the hosts on the night as well, (Dadaboy) Ehiz & Dorcas Shola Fapson who had to keep the audience entertained even using "church" tactics to get the few people around to come forward.
2 hours into the show and the hall was looking good enough to go with a good number of people having already found their way to the venue.
The show started and from then on, it was one star act after another. One thing I was not however okay with was the number of artists that had to perform before we got to the headline act. It was just like filling up on too many appetizers before the main course. "person go don belleful nah!" However they did justice to their performances, made it short with about one or two songs and kept it moving.
See some videos below:
Terry Apala
Jilex Anderson
DNA
Viktoh
Tjan
Wale Turner
Yonda
DJ Consequence
Ebiye
DJ Cuppy
DJ ECool
Dice Ailes
Peruzzi
Ichaba
Dremo
You see what I was talking about? Man of the night Mayorkun finally came on stage after an introduction by Spesh. It was finally time for the main act and he impressed with a live performance of his hit songs starting from "Eleko":
Taking  a break, he introduced L.A.X to the crows and he gave a energetic performance of "Run Away":
Mayorkun then got back on stage with Mr Eazi to perform "Love You Tire", then the latter performed "Pour Me Water" before leaving:
An excited fan brushed past me, probably drunk or just happy and the next thing I see, he's on stage holding onto Mayorkun. Then the singer does a song in tribute to DJ Olu. It was actually a song recorded with him before his demise:
Then DMW boss himself Davido joined his proteges; Mayorkun, Dremo & Ichaba midway through their performance of "Back to Back" and then went on to perform his own songs before Mayorkun rounded up with "Mama":
Did I enjoy the show, for sure! It was a blast. However, the downside was the late start as the show then ended way into the night at 2PM. Some of us had to come to work this morning you know? I still have not gotten any sleep up till now. I did enjoy myself however.
Michael.