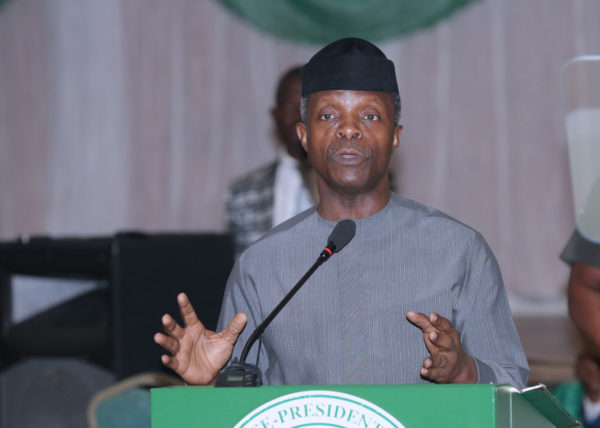 The Vice President Yemi Osinbajo has described claims by Benue State Governor Samuel Ortom that he was warned about the herdsmen killings as "terrible falsehood," Premium Times reports.
Ortom had earlier claimed that he had alerted the Osinbajo, who was then the Acting President, along with the Inspector General of Police and the National Security Adviser, of Miyetti Allah Kautal Hore's plan to disrupt peace in the state.
Ortom had accused the Federal Government of not doing enough, adding that the Federal Government had abandoned the people of Benue State.
Osinbajo, in a statement released by his spokesperson Laolu Akande said Ortom had written to the Vice President protesting a newspaper publication made by the Miyetti Allah Kautal Hore.
Osinbajo had met with the governor, the statement said, and ordered law enforcement agencies to be on alert.
See the statement below:
Governor Ortom wrote to the Vice President, then Acting President, on 7th June 2017 protesting a newspaper publication where the leadership of Miyetti Allah was reported to have stated that it was opposed to the Open Grazing Prohibition law of the State and that they would mobilise to resist the law.

The Miyetti Allah had written to the vice president on June 5, 2017 on the same law protesting several sections of the law. The governor went on to say that the leadership of Miyetti Allah should be arrested because they used words such as "wicked, obnoxious and repressive," to describe the law, and because these were "utterances that are capable of undermining the peace."

The Vice President subsequently met with the Governor, discussed the matter and the security situation in the State and then ordered law enforcement agencies to be on the alert to prevent any attacks or violence. This was in June 2017!

In the said letter written by the Governor, there was no mention of any threat to any specific one of the 23 local governments of Benue State, so the best the law enforcement agencies could do even then was to await information or intelligence of an imminent attack. None came.

Since then the VP has held several meetings with the Benue State Governor, including a visit to the State on the 6th of September, last year at the behest of Mr. President during the tragic floods in the state last year. At all such meetings, the Vice President discussed the security situation of the State with the Governor.

Following that, the then Acting President convened a major national security retreat which was attended by all State Governors, service chiefs and heads of security agencies. The Retreat featured very detailed discussions on the herdsmen/ farmers' clashes.

To the best of our knowledge, neither Governor Ortom nor the Federal Government was aware of the imminence of the cowardly attack on Logo and Guma on the 1st of January, and therefore any suggestion that the President or the Vice President ignored the State Governor's warning is both absolutely false and certainly misleading.