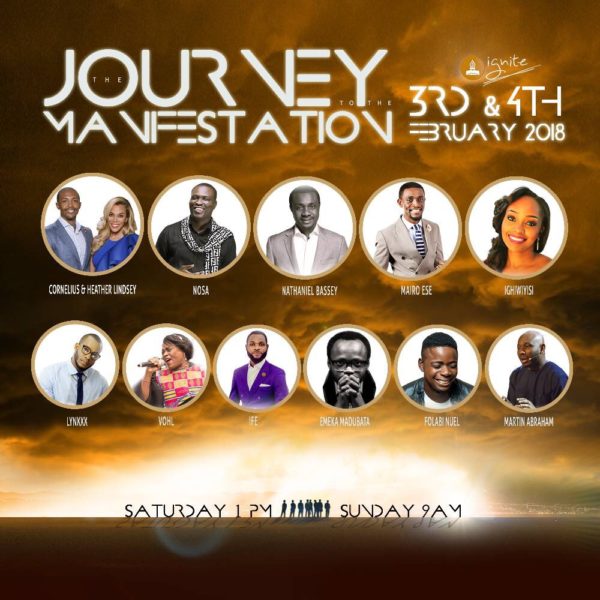 We are days away from one of Nigeria's biggest youth gatherings "The Manifestation: The Journey to the Manifestation" hosted by Ignite GLA. We are looking forward to a time of life-changing word, ministration and worship from Cornelius & Heather Lindsey, Nathaniel Bassey, Lynxx, Nosa, Mairo Ese, Folabi Nuel, Ighiwiyisi Jacobs, Ife and the Voice of His Light. It is free to attend, but registration is required. Simply visit the link here to register.
In case you might be wondering what to expect from this gathering, here are some testimonies/experiences from The Manifestation 2017 to get you pumped:
Name: IbukunOluwa James
Age/Location: 28 / Lagos State
"Since the Revival tour, God has blessed me so much with countless songs which I have been able to write. He changed my sound of music and I now have clarity to why He did that. I believe that this new journey will be smoother because I have been taught to persevere, tarry with Him. I know how to clarify things in His presence and can not wait for this journey."
Name: Nwosu Sonia
Age/Location: 23 / Lagos State
"The Manifestation 2017 changed my life forever. I was glad I registered for Ignite and more glad I attended the event. It was here I felt closer to Abba than ever before. This year (2018), I will be volunteering and I hope to see you there. The theme, the minister's, the atmosphere, everything will be amazing. It's so easy to talk about where we are going but we rarely deal with the journey and the process. This is a time to get equipped and ready for the journey to the manifestation."
Name: Oluwatosin Akinniranye
Location: Lagos State
"The Manifestation 2017 wasn't just an ordinary event. It was a supernatural encounter for me. I saw men and women whose lives became extraordinary, as a result of their relationship with the Holy Spirit. It left me with a deeper hunger, for an enhanced relationship with the spirit of God that lives within me."
Join Ignite GLA as we embark on the Journey to the Manifestation.
Date: Saturday, February 3rd & Sunday, February 4th, 2018.
Time: 1 pm and 9 am respectively
Venue: Guiding Light Assembly Main Auditorium, Layi Ajayi Bembe Road, Parkview Estate, Ikoyi, Nigeria
We will be posting more information on our social media channels as the event draws near so you can follow us on: Instagram: @ignitegla | Twitter: @ignitegla | Snapchat: @ignitegla | YouTube: Ignite Gla | Facebook: Ignite GLA | Blog: www.ignitegla.org
We can also be contacted at [email protected] or [email protected]

——————————————————————————————————————————————–
This content has been 
published for
free
 as part of BellaNaija.com's commitment to youth, education, healthcare and community development as part of our corporate social responsibility programme.