Dangote, Adenuga, Alakija… See Forbes' 23 African Billionaires List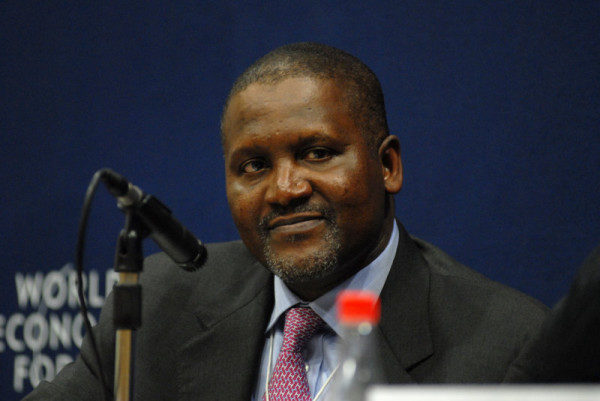 The number of billionaires from the shores of Africa has risen to 23 in January 2018, and atop that list sits industrialist Aliko Dangote.
3 Nigerians feature in Forbes' 23 African Billionaires list, Dangote retaining the throne for the 7th year in a row with $12.2 billion.
The two other Nigerians are Glo owner Mike Adenuga with $5.3 billion, and oil magnate Folorunsho Alakija.
The only other woman on the list is Angola's Isabel dos Santos with $2.7 billion, down from $3.2 billion a year ago.
8 South Africans feature on the list, the highest for any African country, diamond mining heir Nicky Oppenheimer with $7.7 billion being the richest of the lot.
See the full list of Africa's 23 billionaires below:
#1 Aliko Dangote – $12.2 billion
#2 Nicky Oppenheimer – $7.7 billion
#3 Johann Rupert – $7.2 billion
#4 Nassef Sawiris – $6.8 billion
#5 Mike Adenuga – $5.3 billion
#6 Issad Rebrab – $4 billion
#6 Naguib Sawiris – $4 billion
#8 Koos Bekker – $2.8 billion
#9 Isabel dos Santos – $2.7 billion
#9 Mohamed Mansour – $2.7 billion
#11 Patrice Motsepe – $2.4 billion
#12 Aziz Akhannouch – $2.2 billion
#13 Yasseen Mansour – $1.9 billion
#14 Strive Masiyiwa – $1.7 billion
#15 Folorunsho Alakija – $1.6 billion
#15 Othman Benjelloun – $1.6 billion
#17 Mohammed Dewji – $1.5 billion
#18 Youssef Mansour – $1.4 billion
#19 Michiel Le Roux – $1.2 billion
#19 Stephen Saad – $1.2 billion
#21 Desmond Sacco – $1.1 billion
#21 Onsi Sawiris – $1.1 billion
#21 Christoffel Wiese – $1.1 billion