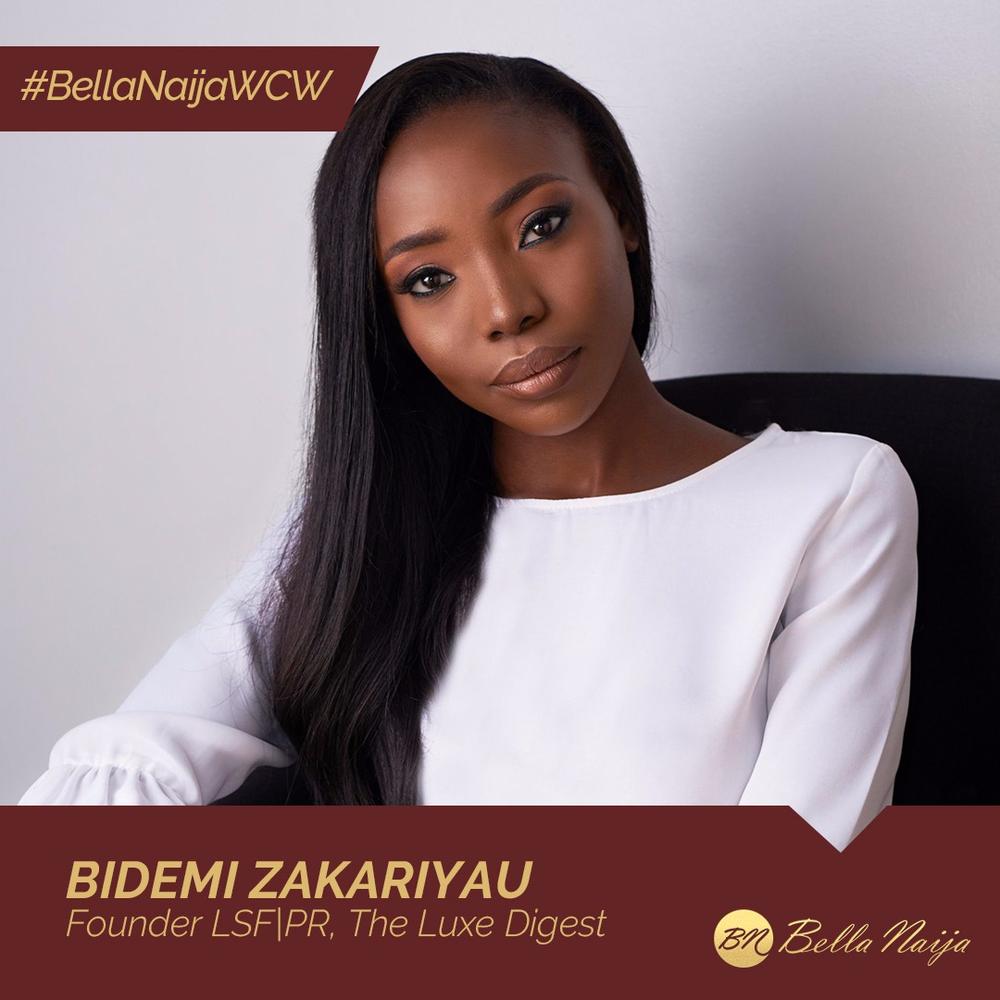 Our #BellaNaijaWCW today is Bidemi Zakariyau. Upon completion of her law degree at The University of Sheffield, Bidemi interned at two law firms – Consolex Legal Practitioners and Udo-Udoma & Belo-Osagie – while waiting to enrol for the Nigerian Law School as well as begin her NYSC programme.
Before studying law, Bidemi did a foundation course in business at Brooke House College, and this course included law, accounting and economics. At the end, she emerged as the best law student, so she naturally applied to for law in University.
During her internships, she learnt so much about the Nigerian business environment and also knew that law was not what she wanted to do. This made her start thinking about what she was passionate about.
It was at this point she knew she wasn't interested in practicing law and decided to pursue her interest in media. A few months later, she set up LSF|PR while at the Nigerian Law School.
Bidemi ran her business on the side while completing her study at the Nigerian Law School. She worked with small businesses and start ups and after her study, she focused on it full time.
In a little over 5 years, the brand has grown tremendously, with a rich client base including: Cointreau Africa, Laurent Perrier, Jack Daniels, Remy Martin, Hugo Boss, Ventures Platform.
What she started as a fashion PR company, has, in less than six years, been able to build a diverse portfolio of clients within the corporate, consumer and lifestyle sector.
She's also created a small business division, LSF|SME which is focused on startups and small businesses and LSF|Digital, which is the digital marketing division of LSF|PR.
In April 2017, Bidemi launched The Luxe Digest, following her experience in PR, representing luxury brands. She discovered that there are no luxury media platforms to place clients' content and decided to solve the problem.
She also recently launched LSF|CDP (Career Development Programme) "to help university students and graduates prepare for entry level jobs."
In 2015, Bidemi was recognised as one of the leading entrepreneurs under 25 in Nigeria by SME100. In 2016, she won The Future Awards Africa (TFAA) Prize for Media Enterprise. 
In 2017, she was recognised as one of the 100 most influential women in Nigeria by Leading Ladies Africa.