Lumos is helping Small & Medium Enterprises increase Sales by Reducing the Power Generation Costs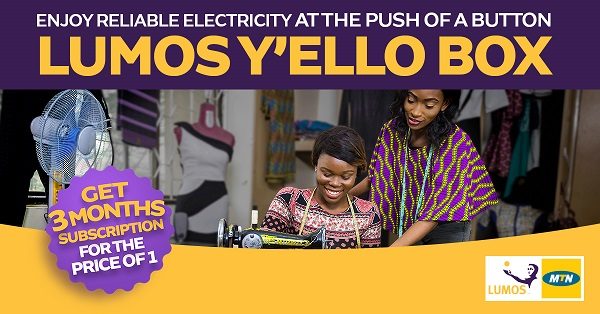 According to Economists, Small and Medium-sized Enterprises (SMEs), occupy a very critical position of being the chief drivers of the economic development of any country, and Nigeria is not an exemption. Though by definition, SMEs are seen as the entrepreneurship businesses with small number of employees, small investment capitals, and small annual business turn-over, but their potential for generating employment opportunities; promotion and development of indigenous technology and innovation and production of goods and services required by established sectors such as banking, telecommunication, oil and gas amongst others, is not in doubt. 
However, these potentials sadly are greatly inhibited as a result of factors ranging from high taxes, government policies, inadequate infrastructures, lack of access to funds, high operational cost and shortage of power.
In a presentation by Prof. Banji Oyelaran-Oyeyinka at the FSS 2020 International Conference tagged; SME: Issues, Challenges and Prospects he noted that in countries at same levels of development with Nigeria, SMEs contribute a much higher proportion to GDP than currently observed in Nigeria. He also noted that relative to other emerging markets, Nigeria has historically shown a lack of commitment to building a strong SME sector. Yet, recent events in the Nigerian macroeconomic environment indicate that SMEs have compelling growth potential and like other emerging economies are likely to constitute a significant portion of GDP in the near future.
In Nigeria, an average SME is faced with two major challenges, lack of funding and lack of electricity. In cases where there is available funding, the cost of provision of electricity eats deep into their running cost, as most businesses rely on electricity for its daily operations. While we have seen a recent shift by financial institutions like First Bank, Heritage, Fidelity, Wema and Diamond bank to develop special products and initiatives ranging from increased accessibility to SME-focused financing, and lowering interest rates on loans, the impact on the operators of SMEs is still not at ease with these difficulties. Government and other non-governmental agencies have intervened to improve access to funds, for the support and growth of SMEs through advocacy, provision of loans, seminars/trainings, mentoring and partnerships; however, little has been done in the area of power supply.
In solving the power deficits and the cost of providing same, energy experts are asking small businesses to turn to nature's abundant endowment, the sun. In 2016, BoI and UNDP signed a $2 million agreement to provide solar powered electricity to communities in six states of the Federation. During the signing of Memorandum of Understanding, the then Acting Managing Director of BoI, Waheed Olagunju, said – "We are all aware that power remains a major obstacle to growth in Nigeria, as inadequate and unreliable electricity undermines investment opportunity, economic growth, social and infrastructure developments". He added that the centralized grid power generation, transmission and distribution system operational in the country could no longer deliver competitive, cheap and reliable electricity to remote customers on and off the national grid. 
According to him, renewable energy sources, such as hydro, wind and solar, are growing in relevance and commercial adoption on a global scale, even as issues such as climate change and energy security have taken the front burner globally. It is in alignment with this paradigm shift that Lumos Nigeria developed a unique, very affordable, easy-to-use, solar electricity system, known as the Lumos Yéllo box, a product well suited to provide the basic electricity needs of the small business owners. According to the CEO, Lumos Nigeria, Houssam Azem, "this is a basic energy solution which works with solar as the product comes with a solar panel which is connected to the device, and just with a push of a button, you would have power. We also made the mode of payment so low by spreading the cost of the device into N4,500 monthly subscriptions for a period of 5 years during which our subscribers have 100 percent warranty for the 5 years after paying the setup fee of N26,000," he added.
For example, a poultry owner basically needs power for his light bulbs, to provide warmth for his animals. A shop owner who doesn't deal in cold items only needs power for the fans and lightings within the small shop, which Lumos can effectively power, saving the business owner the noise pollution and constant refueling of generators that are widely used and increasing the operational hours of the business.
He also revealed that in a recently conducted study with a group of SMEs who have been using the Lumos Y'ello box to power their businesses, 72 percent of them increased their turnover by almost 100 percent using Lumos compared to generators and 58 percent of them made significant savings of over 60 percent on what they spent on energy previously. "So this helps SMEs in efficiency while spending less in the cost of rendering their services as Lumos is in the business of providing energy solutions to Nigerians," Houssam Azem added.
To further increase the Lumos current subscriber base of 90,000 users, the management announced an instant reward programme for all new customers joining the service between now and March 31, 2018! Speaking on the offer, The VP Marketing, Lumos Nigeria Mr. Olufemi Ashipa explained that once the first month of payment is made at the point of joining the service, that customer will receive the next TWO MONTHS absolutely FREE; giving them even more saving when compared to how much the average Nigerian spends on petrol and diesel to power basic simple electrical appliances at home or at work".
Not only are we providing an energy solution to meet basic needs, we also understand that electricity is a critical component for development that can transform an individual with a relatively low earning potential to a micro business owner, by doing something as simple as charging phones for members of the community, he added.
——————————————————————————————————————–
Sponsored Content