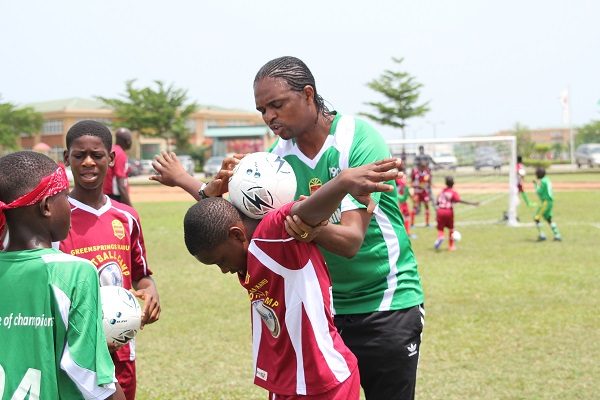 Greensprings Kanu Football Camp (GKFC) is an annual event that was established in 2012 to enable children develop an interest in football, as well as learn the core skills required in becoming professional football players.
GKFC is a collaboration between Greensprings School, Kanu Nwankwo and Kanu Heart Foundation, with a primary objective to empower children between the ages of 5 and 17 years, through football and education.
Date: Thursday, April 8th – Tuesday, April 13th, 2018.
Football remains an integral part of our social lives and has helped transform so many lives in Nigeria. It has also helped children develop other life skills necessary for the future, such as leadership, perseverance, commitment and team spirit. Every year at GKFC, participants are trained by top international coaches from the Dutch Football Association and English Premier League, supported by coaches from the Lagos State Football Association.
At the end of the 4 days football camp, awards are issued to participants based on their conduct during the camp, with the ultimate prize being the Educational Scholarship that goes to the Most Promising Player. GKFC has awarded Educational Scholarships to eight players since inception, some of which have gone ahead to play for the Under-15 National Team of Nigeria.
Football has had a positive impact on the Nigerian economy, as we have continuously witnessed "grass to grace" stories from our Nigerian international football stars playing in top football leagues around the world. Countless of them have also given back to the society by contributing positively towards societal growth and youth empowerment.
To this end, we invite you to register your children (boys and girls) for this year's camp. It promises to be impactful and will serve as a springboard for future exploits. Participants will be engaged in activities that will stimulate their mental, emotional and physical development.
The football camp will feature other exciting activities such as movie night, inspirational presentations, swimming, penalty kick contests and a host of other team games.
Our very own football legend, Kanu Nwankwo will also be on ground at the beginning of the training sessions to motivate participants. Furthermore, Greensprings School is passionate about the development of young African children and therefore has introduced a SPONSOR-A-STAR Project this year, to ensure more children benefit from the GKFC.
Individuals and Corporate organisations are hereby encouraged to sponsor children within their communities or from identified groups, in fulfillment of their social responsibility.
Proceeds from this camp will be used to sponsor at least one child to have a lifesaving heart surgery via the Kanu Heart Foundation.
To register, visit the website or pick up the registration form from any of our campuses.
Registration closes March 30th, 2018. Early registration is advised.
Football camp fees: N95, 000 for residential, N85, 000 and N75, 000 for day students with bus service and without bus service respectively.
The price includes all activities, food, international coaching and a complementary football kit (boots, jerseys, polo shirt, ball and socks). This is exceptional value!
For more information, click here.
For enquiries, call 0806 407 4503, 0704 550 2444, 0704 550 2424 or 0908 717 17000.
—————————————————————————————————————————————————————————————-
Sponsored Content