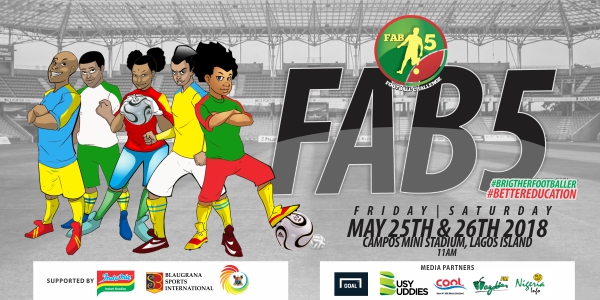 Continuing its dedication to the growth and development of the Nigerian child, Dufil Prima Foods, makers of Indomie Noodles, has renewed its partnership with the upcoming Fab-5 Football Initiative to encourage sport and education among children.
"We are happy to partner the Fab-5 Initiative once again and contribute our quota to keeping our children engaged and active. What continues to endear us to the Initiative is the credibility of the organizers as well as the fusion of education and sport, " said Tope Ashiwaju, PR & Events Manager.
The  Upcoming 2018 edition will see the involvement of schools from 20 LGEAs in the state. These include both boys and girls categories. The mini football tournament climaxes with a 2-day Finale in May to coincide with the Children's Day celebrations.
For more information visit: www.fab5ng.com and follow us Instagram and Twitter. 
—————————————————————————————————————————————————————————————-
Sponsored Content