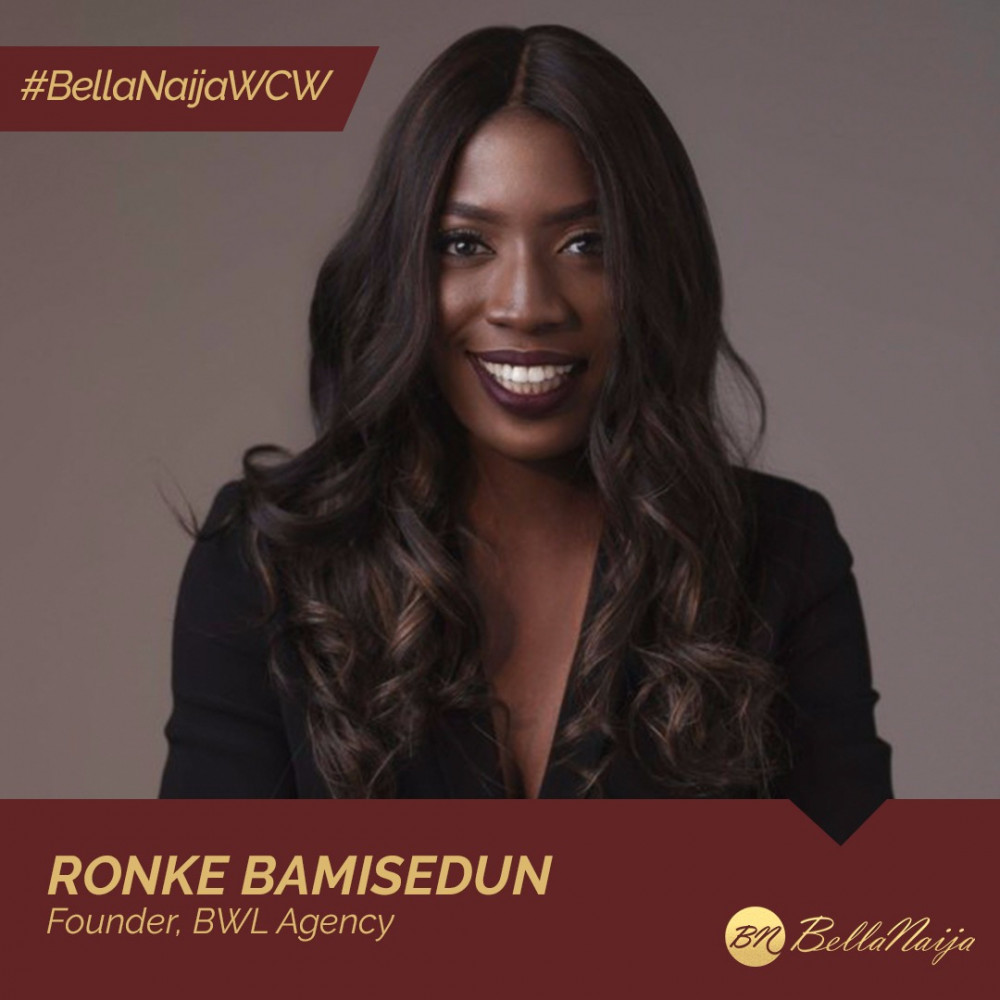 Apart from quality products/services, public goodwill and trust are important things any organisation to have on lockdown if it wants to make sales. Our #BellaNaijaWCW this week Ronke Bamisedun of BWL Agency is skilled in this, and we'll be shining the spotlight on her journey in today's feature.
BWL (Brands We Love) Agency is a public relations firm which describes itself as "a strategic brand development and communications company" and boasts of "a team of young, hardworking, bold communications consultants"
"We build brands and help them deliver compelling campaigns that cut through the noise," it says on its website.
As expected, Ronke's story didn't start from establishing BWL Agency. She's cut her teeth in PR, working in music, fashion and the corporate world. Her journey into the world of communications and PR started when she took a year out from business school to explore communications. A decision she says is the best she's ever made.
Determined to hone her skills in her newly-found career path, Ronke, who had worked for some high street stores including TopShop, interned in a couple of music PR agencies in London. She later interned at Grayling, a leading global communications firm.
Ronke eventually landed her first job at Kaizo PR where she worked as a consultant, managing several clients including House of Marley and Truvia, handling clients' social media accounts, as well as being part of the management team for events, including London Fashion Week.
Ronke returned to Nigeria in 2013, and worked as PR Manager for InterContinental Hotels (now Lagos Continental Hotel). She joined Grayling again in 2016, this time, as the head of its Nigerian team.
Ronke founded BWL Agency late 2015, and the company is the official affiliate of Grayling in Nigeria.
BWL Agency boasts of clients such as Pandora, Moet Hennessy, Universal Music Group Martell, Eko Atlantic, Veuve Clicquot, and Pernord Ricard, handling brands such as Jameson, Martell, Chivas and Absolut Vodka.
BWL Agency recently received the The Gold SABRE (Superior Achievement in Branding, Reputation & Engagement) Award for Public Relations campaigns in Western Africa. The company's unique disruptive campaign for Jameson Connects Nigeria earned them the award and also put them in the shortlist for The Platinum SABRE Award for Best in Show, alongside some of the largest brands and agencies in the world.
Ronke was also listed in the 2018 class of Forbes' 30 Most Promising Young Entrepreneurs in Africa.
Well done, Ronke. Keep shining!