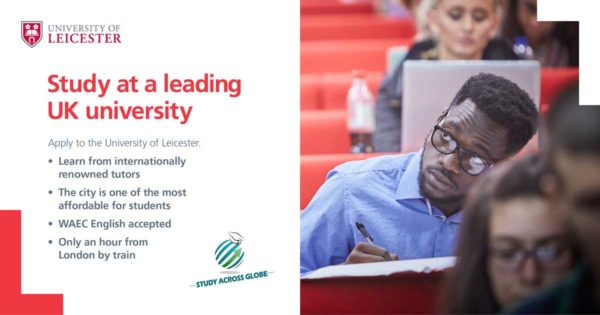 Why choose University of Leicester?
Located in the vibrant, multicultural city of Leicester, named as one of the top 10 affordable cities in which to live and work (Good Growth for Cities Index 2016)
One hour from London by train
34th in the Complete University Guide 2019 and Times/Sunday Times Good University Guide 2018
75% of our research is internationally excellentwith wide-ranging impacts on society, health culture and the environment
WAEC Englishaccepted instead of IELTS
Small deposits and flexible tuitionpayment plans
One of a few Universities that offersmoother visa processes for Postgraduate applications (UKVI Tier 4 Visa Pilot)
22-28% Automatic Discountsavailable for eligible Undergraduate and Postgraduate courses in the College of Science and Engineering.
10% Family Loyalty Discountif a sibling, spouse or a parent graduated from a full time campus based course.
20-50% Part-Scholarship's available for eligible Business Postgraduate courses [For More Info] – https://www2.le.ac.uk/departments/business/study/postgraduate/scholarships
Guaranteed accommodationwhen booked before 1st September 2018
Jules Pringle-Taylor, International Officer for Africa will be visiting Lagos to meet with students interested in courses starting in September 2018 on Wednesday 30th May 3-7pm at Meeting Room 4 Sheraton Hotel, Ikeja, Lagos.
Undergraduate and Postgraduate Courses include; Aerospace Engineering | Accounting, Finance & Economics| Biological Sciences | Business & Management | Computer Sciences | Electronic & Electrical Engineering | Geology | Geographical Information Science | Health Sciences | International Relations | International Security Studies | Law | Mechanical Engineering | Media & Communications | Terrorism, Security & Policing and more….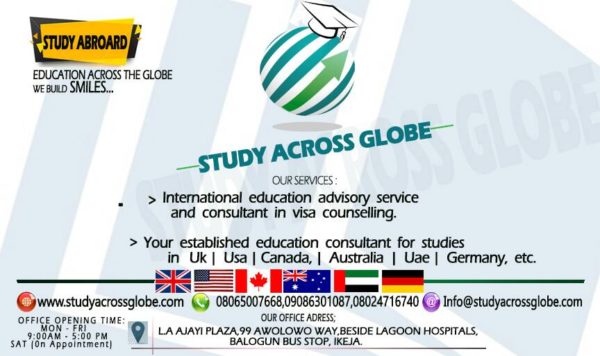 For more information and to attend please contact:
Emmanuel Gbadega
Study Across Globe
L.A Ajayi Plaza 99, Awolowo Way, Besides Lagoon Hospital, Balogun Bus Stop, Ikeja, Lagos.
T: +234 (0) 8065007668
—————————————————————————————————————————————-Sponsored Content