Watch Governor Akinwunmi Ambode in the Stage Play 'Isale Eko' as he takes you through a Guided Tour of Lagos | June 12th -16th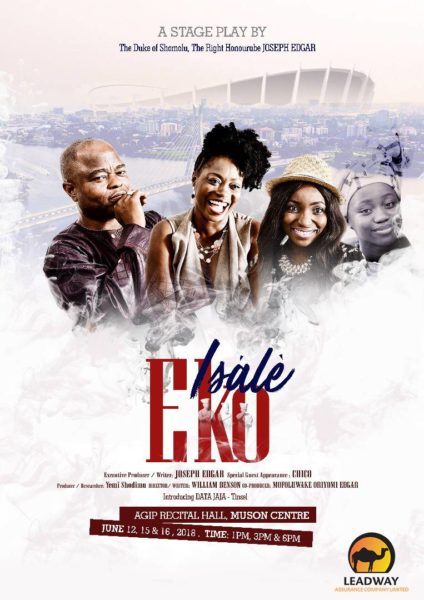 This play is uniquely designed to marry the intrigues and rich cultural interplay of forces that made 14th century Lagos the melting pot of modern day Nigeria. This second coming expertly marry the modern day socio-economic development of modern-day Lagos with the vestiges of traditional Lagos. It seeks to highlight the progress achieved so far as we push towards creating a global city with some of the best infrastructural development in a third world city with the 5th largest economy in the world while not losing its ancient field interspersing the story of the powerful Akitoye and Kosoko ruling families as they struggle for continued dominance.
Isale Eko would seek to land the historical feat of having a seating Governor, His Excellency Akinwunmi Ambode on stage, playing the voice that guides the lead female act in a trance from the 14th Century on a guided tour of Lagos as it gradually evolves into a technologically savvy modern city-state. His Excellency Akinwunmi Ambode is a publicly acclaimed supporter of the Arts and was very instrumental to the staging of the debut show last May.
Date: June 12th, 15th & 16th, 2018.
Time: 1PM, 3PM & 5PM
Venue: Agip Recital Hall, Muson Center.
The 70-minute production is Executive Produced by Edgar Joseph and legendary showbiz impresario Olisa Adibua ably supported by Iconic Actor and TV presenter, Yemi Shodimu. Directed by William Benson.
—————————————————————————————————————————————————————————
Sponsored Content