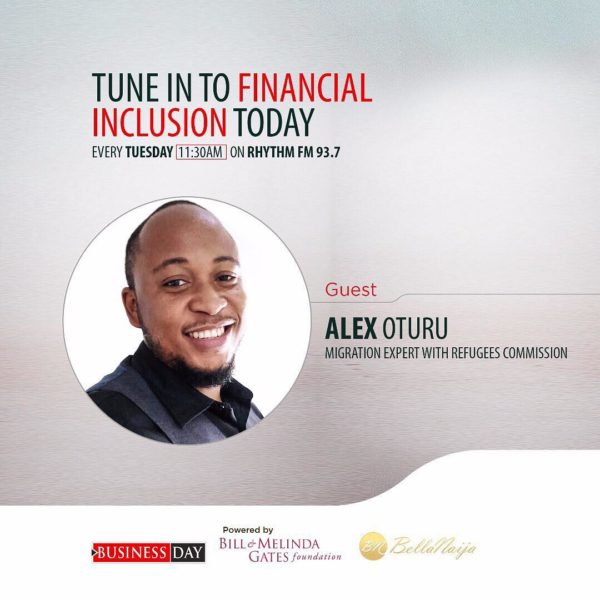 According  to the Central Bank of Nigeria (CBN) only 41.6% of Nigerians are considered to be financially included. Financial Inclusion means that individuals and businesses have access to useful and affordable financial products and services that meet their needs – transactions, payments, savings, credit and insurance – delivered in a responsible and sustainable way.
The CBN has an ambitious goal of 80 % financial Inclusion by the year 2020.
Following a grant from the Bill and Melinda Gates Foundation, Business Day is aiming to drive some of the financial inclusion conversation in Nigeria, and one of the ways is through a radio show titled Financial Inclusion Today. The show airs every Tuesday at 11.30am WAT on Silverbird's 93.7 rhythm FM.
The shows aims to foster conversations around financial inclusion issues in Nigeria and to raise awareness by bringing together stake holders, decision makers, policy makers, Business Day financial analysts to further this cause in Nigeria.
LISTEN LIVE to episode 6 Here (11.30am WAT).
Episode 6 is titled: Poverty, Lack of Opportunity & Lower Economic Growth: How Financial Exclusion Leads to Unsafe Migration
Poverty, lack of opportunity and lower economic growth are all contributing factors to severe financial exclusion in Nigeria and many other countries. Tune into today to episode 6 of Financial Inclusion Today as Lehlé Baldé, Endurance Okafor, Patrick Atuanya, Lolade Aminmurele and Bala Augie discuss with migration expert Alex Oturu on how financial exclusion can lead to unsafe migration.

Alex is a migration expert with the refugee commission in Nigeria. The Libya refugee crisis opened the worlds eyes to the unsafe and deplorable conditions that many African migrants face in Libya and other countries. This episode digs deep to find the correlations between unsafe migrations and financial exclusion.
Listen below:
Episode 5:
Episode 6