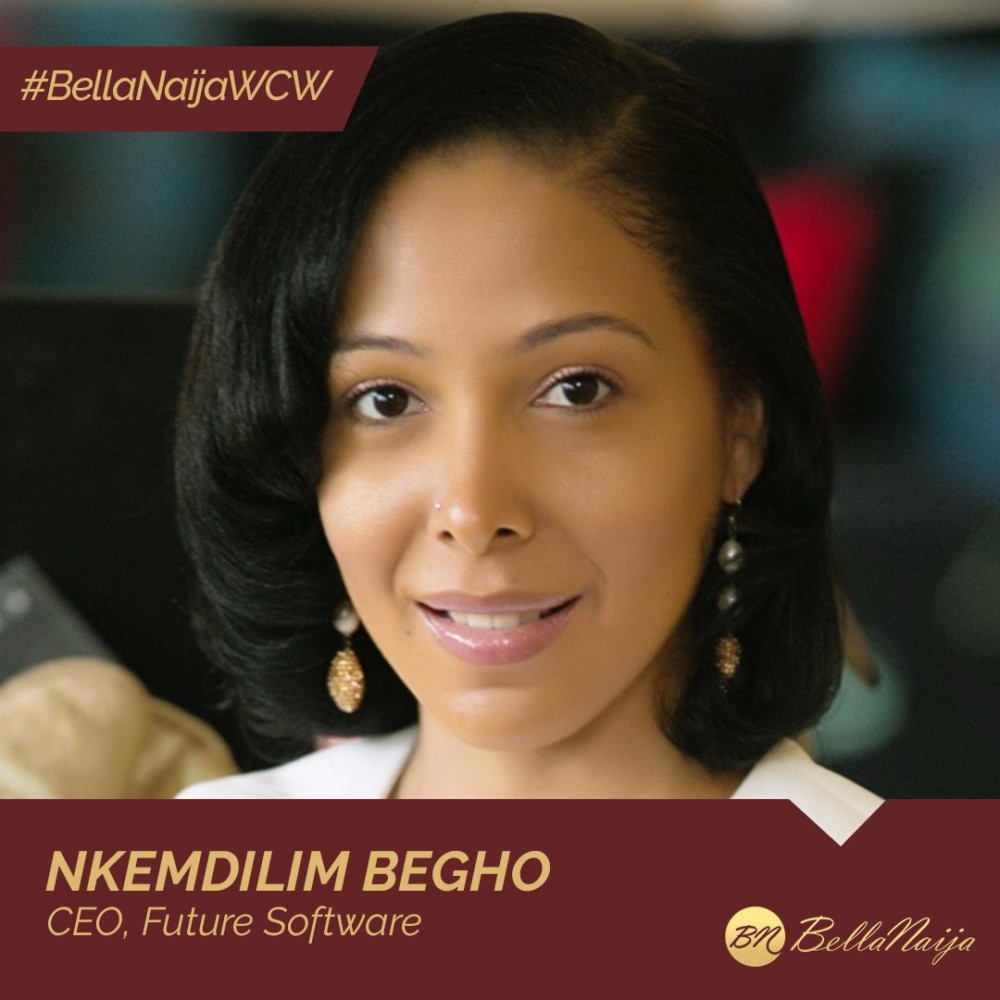 Our #BellaNaijaWCW this week is one of the women leading the development of technology in Nigeria, and she's none other than Nkemdilim Begho, the CEO of Future Software Resources Ltd.
Future Software is "a turnkey website design & web-solution provider located in Lagos, Nigeria. We offer website development, web hosting & web portal development."
The company also specialises in "online marketing, Search Engine Optimization (SEO), content management system development, online recruitment, graphic design, brand development (logo design and branding), workflow, business and educational software development and IT consultancy services for Nigerian corporates and start-up businesses, as well as the public sector."
Nkemdilim, a Bioinformatics graduate from the Ludwig Maximilian University (LMU), Germany, has been in the tech space for over 15 years, working in the Nigerian tech industry for over 10 of those years.
Growing up, Nkemdilim was surrounded by computers and she had a growing interest in them. She hails her father, Chris Uwaje, one of Nigeria's foremost ICT policy makers, as a huge influence on her success today.
Uwaje actually incorporated Future Software and envisioned Nkemdilim to take over, which she did in 2008, and has since grown the company from a stand-alone IT solutions provider to a web-based educational, enterprise and business solutions firm focusing on online solutions, e-learning and IT-security.
Nkemdilim started her career as an application developer at Max Planck Institute for Psychiatric Research, Munich, Germany, in 2002, developing software tools to aid genetic research and plugins for Micro-array database (Java).
In 2005, Nkemdilim was the Channel Manager for Leapsoft Nigeria Limited.
Between 2004 and 2009, she worked as a bioinformatics consultant and software developer for Affectics Pharmaceuticals.
Nkemdilim is a board member of the World Summit Youth Award who has experience in business development and marketing following years of working in Nigeria.
Nkemdilim became the MD/CEO of Future Software in 2008.
Nkemdilim also heads technology operations for Compare IN – a technology-based solution provider for the insurance industry in Nigeria, and Fucaire Lifestyle – a luxury lifestyle company in Nigeria
She is also the executive creative director for a babies and kids accessories and clothes brand Always Me by Anne Li.
Nkemdilim also gives back to the society, volunteering as a facilitator at Women's Technology Empowerment Centre (W.TEC), Ajegunle.org, and initiative of the Paradigm Initiative Nigeria (PIN) which addresses the gap in economic empowerment in the country "by providing demand-driven Information and Communication Technologies, entrepreneurship and life skills training".
We celebrate Nkemdilim for being a trailblazer, and for her volunteer work in ensuring social justice.