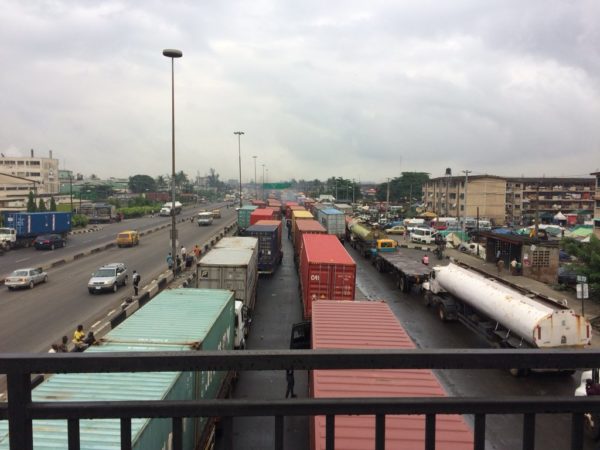 Residents of Lagos are calling on the State Government to help as trucks have taken over the 6 lanes of the Apapa-Oshodi Expressway.
Channels reports that motorists who ply the road are lamenting the hours spent in traffic on the road.
A resident explained leaving his office at 6:45 PM and arriving home at 2 AM.
Danfo buses are reportedly driving against traffic, taking one-way.
Residents have shared photos on social media, calling on the government to take appropriate action.
See a few of the tweets:
Pls @Gidi_Traffic who is d commissioner for transport in lagos. Apapa – Oshodi Expressway is going beyond control. I need to know his name and his plan to handle this situation.

— jos2certain (@JOS2CERTAIN) July 19, 2018
"@JOS2CERTAIN: As it happen on OSHODI – APAPA EXPRESS WAY. CELE bus stop #GIDITRAFFIC pic.twitter.com/4edTj9IU6y

— GIDITRAFFIC (@Gidi_Traffic) July 19, 2018
The traffic situation along Oshodi – Apapa express way is terrible and it's a nightmare for motorists plying that route without prior knowledge of the situation @Gidi_Traffic What are the relevant authorities doing about this? pic.twitter.com/ehihiGqOKu

— Engr. Kachi (@Am_Kachi) July 19, 2018
@Gidi_Traffic Apapa-Oshodi Express way blocked at Toyota and at Cele bustop. Tankers have blocked the whole lane from Cele to Mile 2. Every vehicle has to squeze into te service lane. The first picture was taken from the top of the Cele pedestarian bridge. pic.twitter.com/5C2Kupiwda

— Chinedu Nnokwam (@nnokwam) July 19, 2018
The Apapa oshodi expressway from mile 2 to ilasa is on gridlock, trailers and tankers everywhere…the risks on our roads are too much. Every route that connect apapa are filled with trailers. Must people die before we do the right thing. @jimidisu @bukola23 #lagostalk97.3

— emmanuel oluwasegun (@evolslove) July 18, 2018
@MBuhari Help!! Our businesses are at risk! Customers have no way to come in! Clear Apapa-Oshodi Expressway of the trailers with 40-foot containers! pic.twitter.com/4pfDu28Dqs

— Folake (@Folake_Babs1112) July 18, 2018
Mile2 this morning.
The main Apapa-Oshodi expressway has been turned to a trailer park while the service lane has been taken over by moving trailers!
This has been the sight for months.@Gidi_Traffic @trafficbutter @TrafficChiefNG pic.twitter.com/9txO9q5Zov

— olajide (@jydosky1) July 18, 2018
Photo Credit: @jydosky1