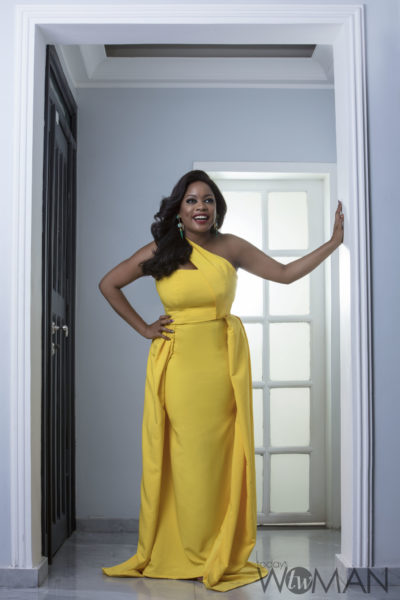 The AMVCAs is Nigeria's equivalent to the Oscars. It's a time to celebrate the talented people of the African movie industry.
Every year, Nigerian celebrities bring all of the glam to the red carpet. It's one of the few times you are allowed to do the absolute most and not be considered overdressed.
If you are in the movie industry or movie industry adjacent, this is a chance to shine. So many would argue that whatever you spend on the slayage is worth it. The argument is usually that you need to spend money to make money; looking the part and slaying on the red carpet is an 'investment' in your brand.
Typically, an investment is an allocation of resources with the expectation of future benefits. For instance, money put in real estate, stocks, bonds or education, which will yield returns such as rental income, capital gains and dividends.
To a certain extent, I agree with the concept of investing in your brand, because how your brand is perceived can determine the quality of the opportunities you attract and whether or not you can command premium pricing. However, I think there is also a tendency to justify extravagant spending habits on wardrobe and lifestyle by terming them loosely as investments.
One person… #AMVCA2018 pic.twitter.com/3qpLBVDJFQ

— Ebuka Obi-Uchendu (@Ebuka) September 2, 2018
The above referenced tweet was fascinating and created a discussion around what people were really spending or 'investing' to 'slay on the red carpet.' It brought to light a topic Nigerians love to debate: Are Nigerian celebrities living above their means? And do they have assets to back up their spending?
The answer is probably yes and no. There might be celebrities who are living above their means but there are also celebrities who understand how to play the game and are profitably playing it. But the real koko of the matter is what is the ROI (return on investment) both in the long and short run? How much money is too much money to invest in the slay?
The Economics of the Slay
Most A-list celebrities have teams that provide hair, makeup and styling on a monthly retainer because of the frequency of the events they have to go to for work. In terms of the business of their brand, these expenses can be seen as a part of their cost structure. This means the going rates for these goods and services are most likely significantly cheaper for them. For example, if your fashion stylist is on a ₦60k a month retainer and you go to six events every month, that is ₦10k per look.
Also, most A-list celebrities don't actually pay for the clothes they wear to these events because they are walking billboards.
I know there are quite a few people that get very salty about celebrities or influencers getting things for free, so let me explain.
If you calculate am well, nothing is free, because there's an exchange of value for both parties. The world has changed. Ten years ago, if you had a product or service, your ultimate goal in terms of marketing was to get your product or service on TV, in magazines or on billboards. Those mediums garnered a lot of eyeballs and the reach was in the millions.
However, these days, those mediums don't have the same power as social media, because most of the content we consume is on our phones and our attention is on the internet. I don't know about you, but I don't really watch traditional TV anymore. I mostly watch Netflix. I hardly ever look up at billboards when I'm in traffic; I'm on my phone. I hardly ever watch the news on TV; I get instant news from Twitter links and Instagram headlines. (Don't judge me.)
Americans don't wait to see a break down of what celebrities wore to the Oscars in next month's issue of Glamour magazine anymore because at that point it will be stale; they've already seen it on Instagram. In a similar fashion, most of us watched the AMVCAs on Instagram through posts and insta stories and got to see the event unfold blow by blow, in real time and with instant access to the highlights.
To illustrate my points, I'll use a fictional character, Belema. She is a celebrity, a red carpet regular and a Bellastyista, which means the odds of her getting a ton of press for what she's wearing on the red carpet are pretty high. If you are a designer, stylist or makeup artist, it's probably a good idea to work with her for the AMVCAs because – visibility.
Let's say Belema has an Instagram following of 250,000 and a history of consistent slayage on the red carpet, it is likely that her dress, hair and makeup for the AMVCAS will show up on the Instagram pages of BellaNaija online, BellaNaija Style and Genevieve magazine (944k, 425k, 313k followers respectively). This gives a combined reach of almost two million views (a conservative estimate because it doesn't factor other Instagram blogs and websites, and the traffic they generate during the AMVCAs.)
As a designer, makeup artist or photographer, if you do work pro bono or at a heavily discounted rate, you shouldn't see it as free or a favor. Instead, it should reflect in your profit and loss statement as a marketing cost. Think about it this way: how many newspapers or magazines in Nigeria have an instant 2 million views?
And even with substantially less reach, showcasing your product or service in a newspaper or on a billboard runs in the hundreds of thousands and even millions of naira, which your small business can probably not afford.
This is why influencer marketing is more effective because influencers are your walking, talking, real-time billboards – with higher conversion rates from audience to customers. With magazines and newspapers or billboards the audience is mostly static. There is no real or measurable engagement because there's no real call to action. You look at a billboard, then what next? But when you look at an Instagram post on BellaNaija, the designer, makeup artist or photographer is tagged. Even if you've never heard of them before, if they killed it, you follow them so you can keep up with past or future work and probably buy in the future.
The ROI on the Slay
Like any real investment, it is important to consider the short term and long term returns on the investment. This can be done in several ways: you can evaluate the net profit divided by the total investment and express that as a percentage. Or you can look at the present value of future cash flows from said investment.
For example, if you considered buying a property in Yaba, which was being offered off-plan for ₦20 million with an expected market value on completion of ₦30 million, the ROI on your investment if you sold it on completion for ₦30 million would be ₦10 million divided by ₦20 million, which means your ROI would be 50%.
Also, if you were keeping the property longterm with the prospect of collecting rental income of ₦2 million per annum, using Nigeria's estimated inflation rate of 14% in 2018 as the discount rate, the present value of ₦2 million rental income for five years would be approximately ₦6.9million. This excludes the market value of the property in five years. If you decided to sell the property in year five
and property prices in the area were projected to grow by 6.6% per annum. The value of the property would be ₦41.3 million which means you would selling at a profit ₦21.3 million.
So How Do We Evaluate the ROI on the Slay at the AMVCAs?
Believe it or not, there were celebrities who were slaying, living their best lives at the awards, and making money doing what they love, while their work looked like fun to others. For example, some of the celebrities who were presenting on the red carpet for the awards and the after-party were paid by brands. A gig that commands a revenue of between ₦500k and N1 million.
Let's assume that Belema was an award nominee and was also paid ₦500k by a brand to create content on the red carpet. Let's also assume that her cost structure was as follows
Fashion Stylist: ₦30k – ₦35k
Makeup: ₦15k- ₦20k
Hair: ₦5k- ₦10k
Photographer: ₦15k – ₦20k
Eko Hotel Room: Complimentary (because she was a nominee)
This would mean that Belema 'invested' ₦85, 000 in her slay and took home ₦415k in profits. Therefore, her ROI for the event is 488%.
Not a bad return for a day's work.
The reality is: with over a hundred celebrities in attendance at the AMVCAs, there were probably no more than five to ten moneymaking opportunities. However, a medium to long-term strategy for leveraging a platform like the AMVCAs would be to create brand awareness that could eventually translate to future cash flow. The idea is that the earned media and social media engagement could lead to a celebrity being the go-to for brands who will pay for campaigns or endorsements in the not too distant future.
On the other hand, if you are not getting paid at the event and there is no concrete plan to convert brand awareness to future cash flows that match the cost of your investment, then there is no justification for spending money to slay that your income and net worth cannot support.
You can't spend Beyoncé glam squad money on an Azelia Banks income. Ko le werk!