Oando PLC leads conversations on Heritage Branding at the Mitsubishi Motors Heritage Week  
Oando PLC, Nigeria's leading indigenous oil and gas energy solutions provider, led conversations on heritage branding at the Mitsubishi Motors Anniversary and Heritage Week. The week-long celebration focused on Mitsubishi Motors and its 101 years in business. It included a series of events that highlighted the various ways in which Mitsubishi identifies as a Heritage brand event. These events included a heritage brunch, a master class hosted by Canon and renowned Nigerian photographer, Emmanuel Oyeleke, the launch of MI's album and many more.
On Wednesday, August 29th, Mitsubishi Motors in partnership with Aspire Luxury Magazine held a panel session on 'Building a Heritage Brand'. The panel consisted of heritage brands such as Union Bank, who also celebrated 101 years in business and Oando PLC, celebration just over 60 years in business. These brands came together to discuss the differences and similarities in their approach to instill Heritage Branding values in their corporations.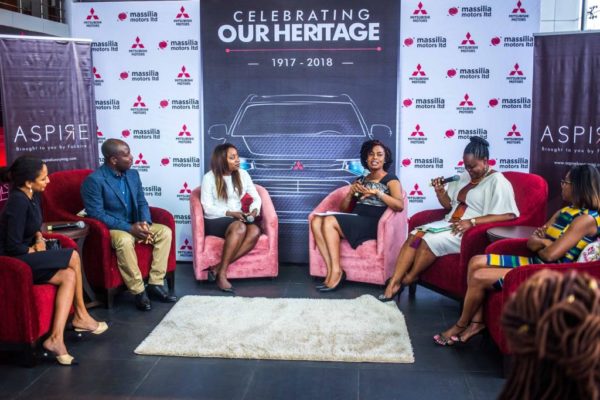 In setting the tone for the panel session, Bella Ikeme, Editor Aspire Luxury Magazine highlighted that "African brands will only be able to charge a premium when their history, tradition and consistent narrative proves their quality and authenticity. Today's customer is intelligent, discerning and should not be taken for granted". Following on from that, the panelist highlighted ways that they succeeded in building heritage brands with a focus on history, unwavering values, and consistency.
Alero Balogun, Head of Corporate Communications at Oando PLC spoke extensively about her experiences working with the Oando Brand. When asked about Oando's deliberate steps towards building the brand internationally, she said "For us at Oando, it has always been about creating a world-class brand. We set ourselves against the international standard and strive to be world class in everything we do. Our brand essence is a bold spirit, leadership and proudly African and it is communicated through all our mediums. We see ourselves as solution providers in the terrain we operate and take it upon ourselves to think up and proffer workable solutions. In order to do this effectively, you must have a bold spirit, be audacious and resilient. Through the years the brand has managed to remain strong and consistent and we do this through the policies and processes we have created to communicate this messaging from generation to generation. We are also very thorough in our succession planning efforts. Although we are a B2B brand, we believe in communicating with all our stakeholders from the international corporations trying to understand what a Nigerian company looks like to the man on the street who in some way sees the brand as an extension of himself."
The event was a brilliant platform to discuss the ways in which Nigerian brands can push themselves towards becoming heritage brands. They spoke extensively on consistency even in the face of adversity. Speaking on Oando's ability to stay afloat amidst the chaos, Alero Balogun said "We build strong relationships with the media that allow us to prepare a narrative in every situation. Through our extensive scenario planning efforts, we are able to think of all possible scenarios – the good, the bad and the ugly and prepare for all outcomes. A lot of the time, we find that the media has been misinformed on an issue and we see it as an opportunity to educate the public. For example, in 2015 after we made impairments to re-value our assets post the oil price crash, it was published that we made the biggest loss in Nigeria's history, whereas impairments are indeed a well-known business phenomenon and it is essential for businesses to conduct them in times like we did."
Oando PLC inherited big, international brands ESSO and Unipetrol and over the years, they have been able to imprint their own Nigerian story, own the brand completely and make it a national treasure. They pride themselves in their history of consistently paving the way, being the first in every sector we operated in. Their great accomplishments, such as the Apapa Mid-stream jetty, Gas Pipeline etc. have shaped their brand essence and World-class experience.
Speaking on the importance of re-branding to stay relevant in a dynamic market, Omotola Oyebanjo, Head, Strategic Communication, Union Bank said, "Our decision to re-brand a few years ago followed a rigorous transformation journey that saw us revamping our products, segments, processes, technology and customer service to ensure we were ready for the next generation of Nigerians. Union Bank has a 100-year heritage of supporting Nigeria and Nigerians and that is a legacy we continue to build on now."
She spoke about how brands must evolve with marketing and communication trends so as to remain relevant and have a competitive advantage. "Never get too comfortable and understand that there is and will always be the need to keep innovating."
Creating a heritage brand in Nigeria is no small feat and being recognized, as one is a great honour. It is a deliberate attempt to connect with people in a manner that allows them to form an emotional connection to your brand that transcends generations. It is less about how long a company has been in existence for but more about how they have an established track record of meeting needs, exceeding expectations, and consistently delivering on their core promise and premise.
---
Sponsored Content