South African Airways celebrates 20 years of Excellent Service in Nigeria with remarkable Global Recognition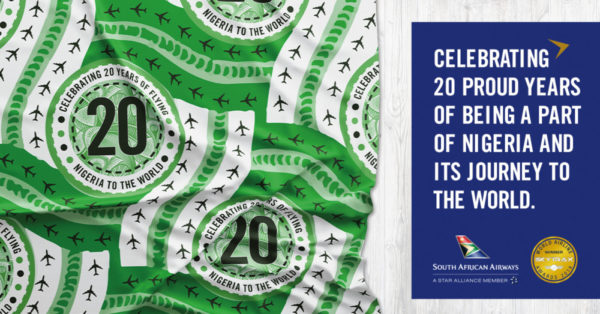 Celebration is in the air, as December 2018 marks the 20th anniversary of South African Airways in Nigeria; as we celebrate two decades of service. It has been a worthwhile journey as we have consistently managed to soar high in the face of every obstacle, by offering our passengers the best and putting you at the centre of all our decision making. For two decades, we have happily taken to the skies as we transcend beyond the boundaries of countries, language, and cultures, uniting families and fostering business partnerships.
Over the past 20 years, we have become a global airline whose excellence has garnered us our various awards and acknowledgments. Some of our recent accolades include:
2017: Business Traveller Magazine's Best Airline in Africa (9th year running), Global Traveller's Best Airline to Africa (14th year running), Sunday Times' Coolest Domestic Airline, and Skytrax's 4-Star Rating (15th year running).
2018: Apex Regional Passenger Choice Awards for Best Seat Comfort, Best Cabin Service, Best Food and Beverage, and Best Overall in Africa, and Skytrax's 4-Star rating (16th year running).
SAA is a member of Star Alliance, the biggest airline alliance in the world. SAA serves 32 destinations in 23 countries. SAA services the South African domestic market with destinations like Johannesburg, Durban, Cape Town, Port Elizabeth, and East London. SAA also flies to a range of regional and international destinations, including São Paulo, London, Frankfurt, Perth, Hong Kong, New York, and Washington.  
As a reputable airline, we are dedicated to setting high standards in everything that we do. From our warm African hospitality and luxurious airport lounges to our in-flight menu created by renowned chefs. We aim to deliver a world-class experience every time. Choosing SAA is choosing an airline you can bank on anytime and any day. Some of the benefits you enjoy on our flights include; seat-back TV screens on long-haul flights, 2 | 4 | 2 seat layout, AirScape in-flight entertainment with Audio Video On Demand (AVOD), our award-winning in-flight magazine, Sawubona, and long-haul amenity kits in Business and Economy Class.
It has truly been an amazing journey, as we look back at our journey thus far in humility, and look forward to welcoming you onboard one of our aircraft again soon.
—————————————————————————————————————————
Sponsored Content