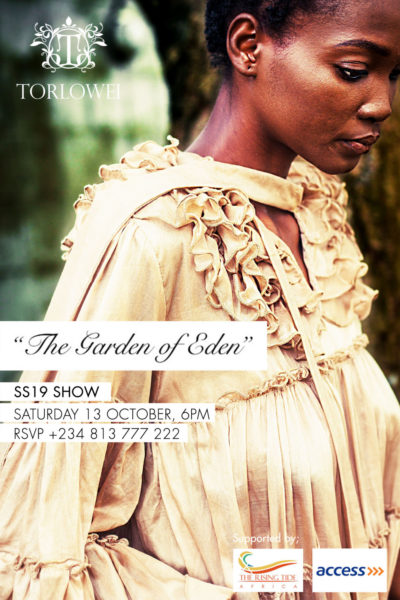 Patience Torlowei, Founder and Creative Director, crafts with only the purest, richest and most unique textiles and accessories available, from the softest cotton mousselines from Switzerland to the richly woven silk douppioni straight from the looms in India and the intricately hand-dyed batiks found in Nigeria.
Torlowei, who amongst other achievements is the creator of the first piece of Couture to be accepted into the permanent collection of the Smithsonian Institute's National Museum of African Art, the 'Esther dress', will be presenting the brand's SS19 collections themed "Garden of Eden" , sponsored by Rising Tide Africa and Access Bank.
Date: Saturday,  October 13th, 2018
Rising Tide Africa is a group of women Angel Investors harnessing their power, networks, passion, and capital to positively impact and actively create a New Africa. Rising Tide seeks to inspire female-led businesses like Torlowei, educate such entrepreneurs on potential investment opportunities and mentor these entrepreneurs with the goal of developing a global community of successful black women.
Having identified the need to support women-led businesses. Rising Tide launched the African Women in Business Initiative (AWBI) – An initiative conceived to support women-owned businesses and help them become ready for investment opportunities. Rising Tide partnered with Access Bank to provide all the financial and strategic resources for women led businesses with a high earning potential and the ability to make a positive social impact.
It promises to be a magnificent and memorable event.
—————————————————————————————————————————
Sponsored Content