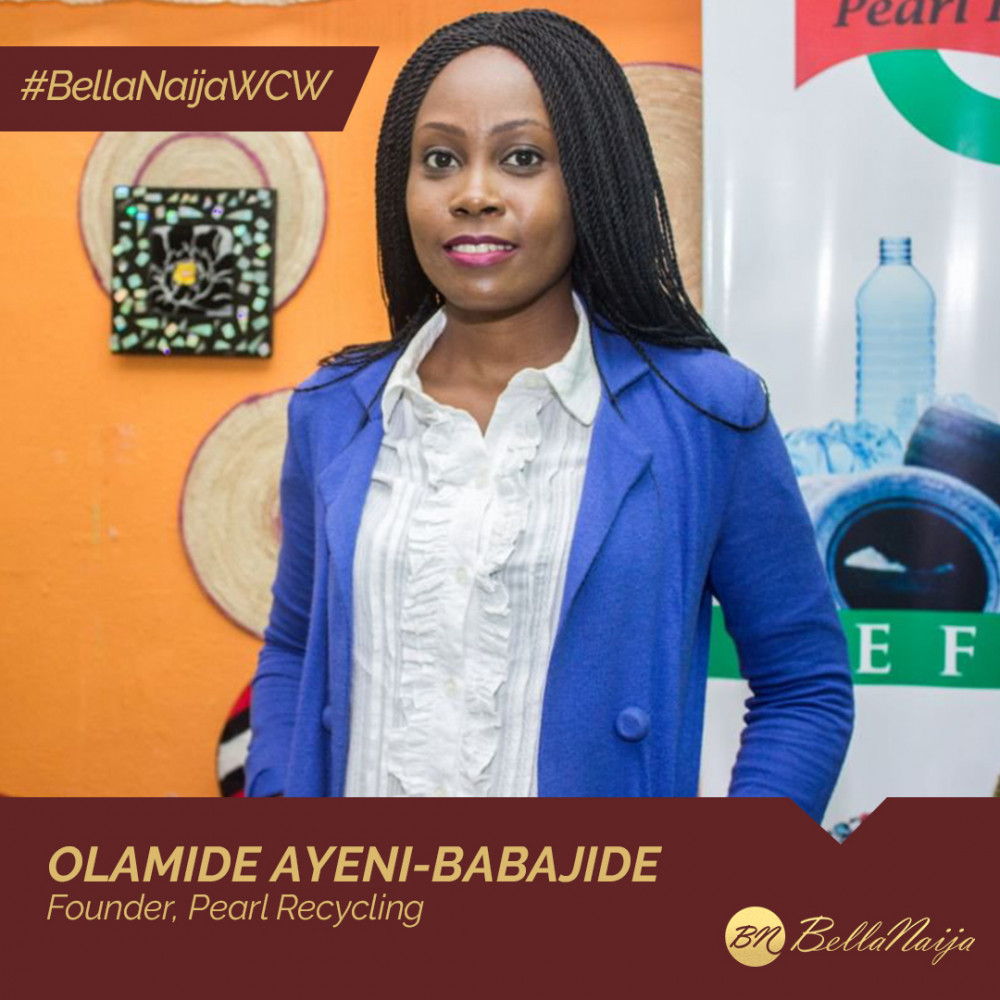 Every day, humans consume products and consequently, release waste to the environment, and we must manage the waste products with the same meticulousness with which we screen what we consume.
The effects of indiscriminate disposal of waste cannot be overemphasised and we must never fail to ensure that waste products are at the very least, disposed properly. But a better way is to recycle/remodel these waste products so we can reuse them.
This is what Olamide Ayeni-Babajide, our #BellaNaijaWCW this week who's the founder and creative director of Pearl Recycling, is doing.
Pearl Recycling is a waste remodelling company which states its mission as reducing the amount of waste on landfills through waste management advocacy, waste remodelling and community based impact.
The social enterprise manufactures household furniture and decorative items from various forms of solid wastes, including tyres, bottles, newspapers, magazines, straws, plastic cutleries, wood, unused CD tapes, sea-shells.
Olamide had travelled to the UAE and bought a wall decor she loved. When she got to Nigeria, she discovered the item was made from corn husk and this prompted her to go into researching how to make items like that instead of importing at exorbitant prices.
The company, which started operations in 2014, makes tables, chairs, wall mirrors, wall frames and flower vases from unused materials.
Part of what Pearl Recycling does is to also train youths on waste management, equipping them with the necessary resources to start their waste management companies. Hence, tackling the poor waste management challenge in the country as privately owned organisations in the waste management sector are focused on recycling the large amount of generated solid waste with little attention given to managing this waste from small communities.
Another impact Pearl Recycling is making is economic empowerment through employment, as well as helping people make money by trading their unused materials.
Olamide has a Computer Engineering Bachelor's degree from Ladoke Akintola University of Technology (LAUTECH) and has over a decade experience in ICT solutions, design, auditing, sales and management.
Olamide is part of the inaugural 200 fellows of the Obama Foundation Leaders: Africa programme, a Tony Elumelu Fellow, a LEAP Africa SIP Fellow, and a Techwomen Fellow.
We celebrate Olamide for devoting her time to tackling an environmental challenge, as well as triggering economic growth.