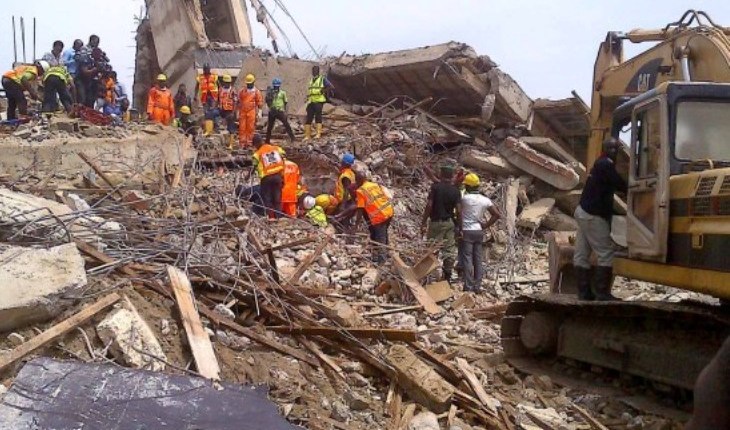 It's been ten days since the tragic collapse of a 7-storey building under construction situated along Woji Road in the Government Reserved Area of Port Harcourt, the Rivers state capital.
According to eyewitnesses and some of the people rescued from the rubble alive, about 2 dozen persons are still stuck.
ICIR Nigeria reports that the South-South Zonal Director of the National Emergency Management Agency (NEMA), Ejike Martins disclosed that 39 persons have been rescued from the building so far – 31 dead and 8 alive.
However, Vanguard reports that the rescue team, supervised by Rivers State Commissioner for Special Duties, Emeka Onowu, put the casualties at 8 deaths and 26 survivors.
Martins said that rescue operations are ongoing as some international oil companies as well as a construction company have deployed the needed equipment to rescue those still trapped.
"We are here, trying to coordinate, working with the ministry of special duties and assisting them wherever the need arises," he said.
Martins added that although the rescue operation is a difficult one, he is hopeful for a positive result.
Those trapped comprise of construction workers, building material suppliers, and petty traders.
The state governor, Nyesom Wike had ordered the arrest of the owner of the building, the engineer handling the construction, and the state officials that gave approval for the building to take off as that area of the state is not suppose to have a 7-storey building according to the master plan.
Spokesperson of the Rivers State Police Command Nnamdi Omoni has said arrests have been made.
"The owner of the building has been arrested. He's with us helping with investigations. We also have with us the site engineer, the architect, the builder himself. We have been able to get statements from some of the survivors, sharing their accounts of what has happened. Investigations are discreet. We have also deployed our Anti-Bomb Unit. Our men are probing to also try to see other possible angles, like if there was any sabotage," Omoni said.
Commissioner for Urban Development in the state Reason Onya has also tendered his resignation following the incident.
"After due consultation with my family on the collapsed seven-storey hotel building under construction, I have decided to 'step aside' as the Honourable Commissioner for Urban Development and Physical Planning on 28/11/2018 during the State Executive Council Meeting.
"The building plan was approved on 18/7/2014 and revalidated by me on 14/9/2018, because the file was missing.
"To those that lost their loved ones, I am pained, so pained that each time I visit the site, my heart bleeds; each time I hear news of it, I am perturbed. I am sincerely sorry for all the pains you all have gone through in the cause of this that my official assignment is involved," Onya wrote in his resignation letter.
Speaking to Vanguard, Chimezie Ihionu, a cousin to Morgan Ihionu, a scaffolds supplier, and one of those still trapped in the building said:
"We were at a stone throw, The Boss Club, playing snooker when Morgan was alerted that money had arrived to pay workers and suppliers. Shockingly, someone called less than five minutes later that the building had collapsed and Ekene (Morgan) was inside. We have stayed put at the scene since Friday. Ekene was calling us among others trapped inside. This morning (Saturday, December 1), his phone is no longer reachable."