It's Just ONE Day till the First Ever "Food, Drinks & Her" Exhibition | Get all the Details on what to Expect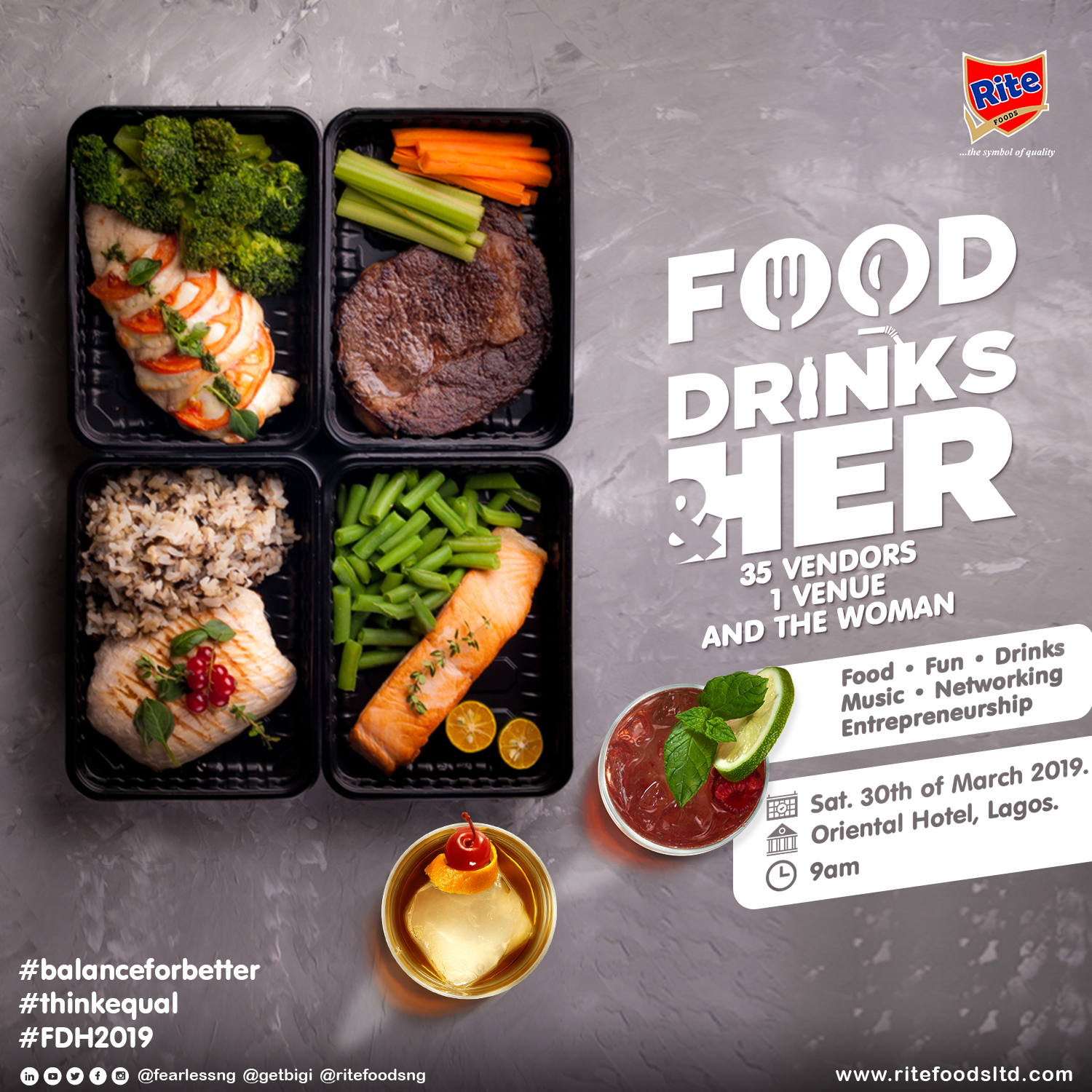 Rite Foods Limited, makers of Bigi drinks, sausages and Fearless Energy drinks, will be celebrating the Nigerian woman this Saturday, the 30th of March, 2019, in the first edition of FOOD, DRINKS & HER, a food and drinks exhibition – styled event, designed to recognize, support and celebrate female entrepreneurs in the food and drinks industry in Nigeria, in an atmosphere of food, fun, drinks and networking.
Scheduled to hold at Oriental Hotel, Victoria Island, Lagos, the event which will begin at 9am, is set to be anchored by Nollywood actress, Eniola Badmus and City FM OAP, BellaRose Okojie, and will have in attendance, a select group of 35 vendors, ready to showcase their products and services, and a panel of successful female entrepreneurs, who will headline engaging panel discussions.
Also expected at the event are performances from musical acts, Tems and AjeButter 22, with DJ Anonymous spinning the musical wheels, and a live band, for beautiful music.
Food, Drinks & Her will be held in two sessions of morning and afternoon, while exhibition by vendors will continue without break, through the day, and ending at 6 pm. The event after-­party will begin almost immediately after.
Speaking on the event, Managing Director, Rite Foods Limited, Seleem Adegunwa said, "March is the month of the woman, and this first edition of Food, Drinks & Her – The March Exhibition, is our way of recognizing and celebrating the indefatigable spirit of the Nigerian woman, aptly represented by the female entrepreneur in Nigeria's food and drinks industry, who battles through odds and challenges every day, to create wealth through consistent value delivery.
Food, Drinks & Her provides a platform for networking, capacity building and accessing new opportunities, just as it is also a time to relax, unwind bond and have fun for these hardworking women. We truly expect everyone to have a great time."
Attendance to the event will be free and open to all.
Date: Saturday, March 30th, 2019
Time: 9 am
Venue: Oriental Hotel, Victoria Island, Lagos.