Yay, We Were Nominated! Here's the Full List of Nominees for 2019 ELOY Awards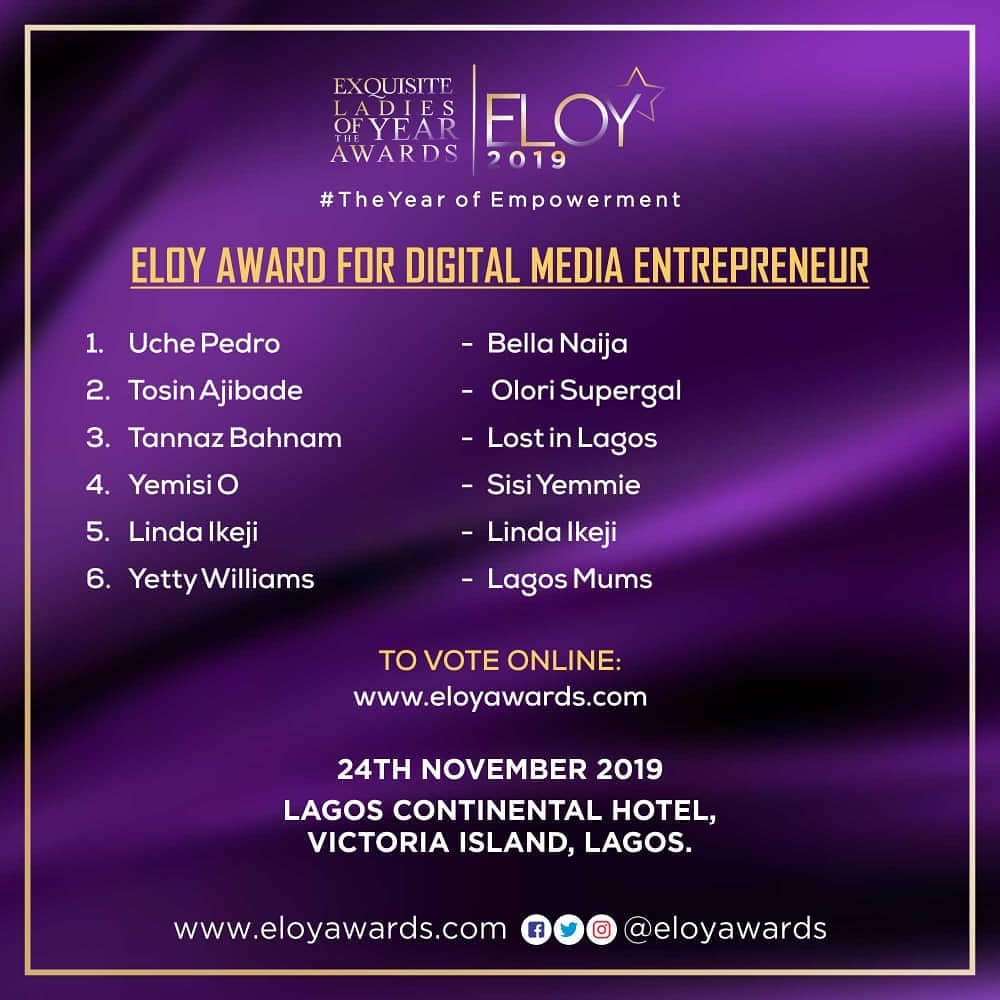 The Exquisite Lady of the Year Awards (ELOY) has been consistently celebrating women of excellence in different fields since 2009.
The ELOY Awards Foundation is about empowering and challenging thousands of women to be more and do more by providing access to resources, business skills and tools for them to be able to grow, transform and sustain their businesses, which will, in turn, benefit their families and the community at large.
The 11th edition of Eloy Awards is almost and voting has started for the nominees.
BellaNaija's Uche Pedro was nominated in the Digital Media Entrepreneur category, yay!
See the list below!
ELOY Award for Agriculture
A woman who has achieved significant recognition and business success in the agricultural and agri business field with great impact in her community and country as a whole.
1. Angel Adelaja – Fresh Direct Produce
2. Nike Tinubu -Eagleson cassava
3. Oyinye Okereke (The Fit Farmer) – Landra Farms
4. Detoun Abbi Olaniyan – Thistle berry natural farms
5. Betty Afolabi – Bangadone Nig
6. Etimbuk Imuk – Agroinnovation
ELOY Award for Young Entrepreneur
A woman under 35 actively running a business. A female entrepreneur who has demonstrated success in her sector through her work, leadership and excellence.
1. Florence Chikezie – ReDahlia Entrepreneurs NG
2. Ronke Bamisedun – Brand We Love Agency
3. Damilola Solesi – Smids Animation
4. Hannah Kabi – Creeds Energy
5. Precious Eniayekan – Sparkle Global
6. Tito Ovia – Helium Health
ELOY Award for Digital Media Entrepreneur
This award is for a woman who works in the digital space as an entrepreneur and is successfully using the digital tools to enhance her business.
1. Uche Pedro – BellaNaija
2. Tosin Ajibade – Olori Supergal
3. Tannaz Bahnam – Lost in Lagos
4. Yemisi O – Sisi Yemmie
5. Linda Ikeji – Linda Ikeji
6. Yetty Williams – Lagos Mums
ELOY Award for On Air Personality
A woman on radio who is using her platform to educate, entertain, inspire people.
1. Datwarrigirl (Tomama) – Naija FM
2. Adamokaeze (Adaeze Mokaeze) – Beat FM
3. Theawazi – Soundcity
4. Honey Ojuwku – CoolFM PH
5. Debs Xtra – Max FM
6. Akieadie – HIT FM – Calabar
ELOY Award for Actress in association with FSDH Asset Management
A woman who is using her talent to the best of her ability, showing great creativity.
1. Adesua Etomi – Wellington – SET UP
2. Beverly Naya – Jumbled
3. Enado Odigie – Joba
4. Toyin Abraham – Nimbe
5. Somkele Iyamah Idhalama – She is
6. Toni Tones – King of Boys
ELOY Award for TV Personality
A female TV personality who uses her platform to entertain, educate and inspire others.
1. Tomike Alayande – ELTV
2. Amanda Dara, Ariyiike Dimples and Olayemi Ogunwole – TVC
3. Nancy Isime – HIP TV
4. Valerie Ike – Spice TV
5. Winfrey Okolo – SilverBird TV
6. Princess Uvbi (Sarah Etinosa Ehigiamuose) – Wazobia Tv
7. Simi Drey – Africa Magic
ELOY Award for Humanitarian Services
This award is for a woman who is individually impacting lives through her NGO.
1. Tola Makinde – Rainbow Foundation
2. Tinuke Eze – Total girls Foundation
3. Ibidun Ighodalo – Ibidun Ighodalo Foundation
4. Dotun Akande – Pure Souls foundation
5. Alehere Akran – Agatha Obiageli Aghedo memorial foundation
6. Idia Aisien – Idia Project
ELOY Award for Beauty Entrepreneur
This is for a woman in the beauty industry making a mark and an employer of labour.
1. Ifu Ennada (Iheme Faith uloma) – Beautifuennada
2. Tara Adesemowo – Taris Beauty
3. Vanessa Onwughalu – Taos Cosmetics
4. Victoria Adetayo & Wunmi – Coco Blush Nigeria
5. Claire Ndulue – Natural Hair avenue
6. Julia Onamusi – Jules Lifestyle
ELOY Award for Corporate Social Responsibility
This award is for a woman who is leading the CSR arm of an organisation and impacting lives through their activities.
1. Zoyera Youssoufou – Dangote Foundation
2. Adekanla Adejoke – Oando Foundation
3. Bola Atta – UBA Foundation
4. Ifeyinwa Ugochukwu – Tony Elumelu Foundation
5. Osayi Alile – ACT Foundation
6. Chioma Okolie – Airtel Foundation
ELOY Award for Fashion Entrepreneur
This award is for a woman in the fashion industry who is making an impact and an employer of labour, who has been consistent and creative within the ELOY year
1. Ola Adewale – Olarsgrace
2. Ezinne Chinkata – Zinkata
3. Lara Cole – Elan red store
4. Obis Oragwu – Wardrobe Merchant
5. Isioma Onochie Aihie – Grey Velvet
6. Detoke – SGTC by Detoke
ELOY award for Social Entrepreneur in association with FIRS
This award is for a woman who runs a social enterprise to solve economic and social issues. a woman who has made a significant social impacts in the community and Nigeria as a w whole. Has provided solution to cultural, education, environmental or financial challenges with her innovative product or service.
1. Augustine Emele – Chais Initiative
2. Temi Giwa-Tubosun – Life Bank
3. Chisom Ogbummuo – The Conversation Cafe
4. Kadijat Abdulkadir – Digital African Woman
5. Ized Uanikhehi – Just bin it
6. Grace Ihejiamaizu – IKapture
ELOY Award for Influence
Someone who has been able to use her ability to influence potential buyers of products and services by promoting and recommending on social media. These type of people add credibility to brands.
1. Cynthia Nwadiora – Cee-C
2. Aramide Abe – Naija startup
3. Obis Ora – (Obis Oragwu)
4. Diary of a Naija Girl
5. Nonye – This thing called Fashion
6. Kaylah Oniwo
ELOY Award for Hairstylist sponsored by LUSH HAIR
This award is for a woman in the hair styling industry, who is using her skills to service her clients, create employment and inspire others.
1. Kemi Lewis – KLS Natural Beauty Bar
2. Dupe Talabi – Tasala HQ
3. Ekemini Udo – The Hair Goddess
4. Oreoluwa Olugboji – Ayinke Oge
5. Oluwatoyin Oladunjoye – Mariegold
6. Ozioma Anaele – Ozzies touch
7. Kelechi Yibo'koko – Yellow Sisi
ELOY Award for ICT/Technology
This award recognises a woman who has used science and technology to create a platform offering knowledge, service, product or solution to build sustainable businesses.
1. Ommo clark – Ibez limited
2. Tarebi Alebiosu – Yoke solutions
3. Koromone koroye – Clane Tech
4. Oreoluwa Somolu Lesi – Women Technology empowerment center
5. Adeola Shasanya – Afro tech girls
ELOY Award for Entrepreneur in association with FIRS
A woman in business. An entrepreneur who has demonstrated success in her sector through her work, leadership and excellence.
1. Ebele Udoh – Brandbox Africa
2. Mary Njoku – Iroko TV
3. Ichechie Okonkwo – Victoria Crest Homes
4. Ijeoma Ndukwe, Egwuronu – Bubez Foods
5. Ola Brown – Flying Doctors
6. Eno Essien – Rheytrak Limited
ELOY Award for Entrepreneur in association with FIRS
A woman in business. An entrepreneur who has demonstrated success in her sector through her work, leadership and excellence.
1. Ebele Udoh – Brandbox Africa
2. Mary Njoku – Iroko TV
3. Ichechie Okonkwo – Victoria Crest Homes
4. Ijeoma Ndukwe, Egwuronu – Bubez Foods
5. Ola Brown – Flying Doctors
6. Eno Essien – Rheytrak Limited