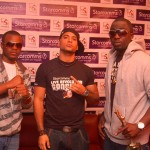 There are so many hot songs out right now! Its hard to pick my favourites. From the party tracks to the ballads. Nigerian artistes are bringing it!
J Martins featuring P Square & Timaya – Good or Bad
This song is burning up! I was listening to the radio the other day and they asked listeners to pick their top 5 songs. Guess what? So many picked J Martins as their number 1 to 5, they didnt even bother with the other options! Check out Good or Bad.
Video

_______
Amplifyd – Disco Peperempe
I love this song! Playful yet with the rhymes on point! Added plus who needs a Lagos tour guide when the song takes you on a journey round all the hot spots. Check on it.
________
Asa & Jeremiah Gyang – Comforter's Song
This song is beautiful! With 2 uber-talented vocalists on the track, I'm sure noone expected less.
________
Freewindz – That's The Way
I never expected to like this song but so catchy! From up and coming group, Freewindz, the song uses what I call the 'P-Square' formula – Guys singing and the girl responding. This one doesnt require much thought, Its simply a fun party song.
Video

________
Shoboi – Hero
I really love this song! The lyrics are poignant, the vocals are on point and the melody is simple. Added plus, He loves this song! So give it a listen.