Sleek Makeup recently held an event in Lagos celebrating a successful year of business operations in Nigeria. The theme was BLACK. Loads of Sleek fans walked the red carpet. Many looked good but a select few were Bella Naija RED CARPET FAB.
Here are our picks by Ijeoma Ndekwu – Bella Naija Style Editor!
Funke looks absolutely fabulous in this floor length layered gown. Wearing minimal make-up and having her hair tightly pulled to the back, this look emphasizes 'the sexy' of a plunging bare neckline. What I love about this look is that she is able to strike a balance; with her choice of hair, make-up and accessories, it's all a perfect fit! The plunging neckline is coordinated by sheer long sleeves and so we don't get bored with the prominence of black, she goes bold with her accessories!
Francisca goes totally 1950's Hollywood in this phenomenal asymmetric pencil dress with oversized buttons. She looks so chic and in this classic LBD( little black dress). This dress goes from boardroom to cocktail dinner with a shortened length and metallic accessories; Francisca scores in this one; and the orange pumps? A little bit colour doesn't hurt…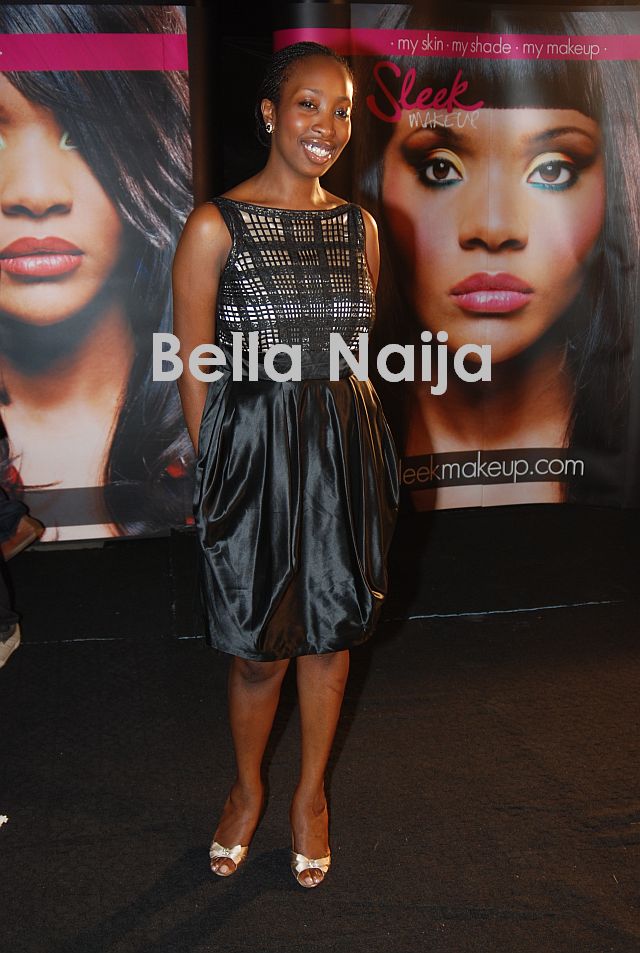 This is such a beautiful bandeau neck dress. I love the different textures; the roughness of the top and the shine and smooth texture of the tulip bottom. It's 'simple chic' personified!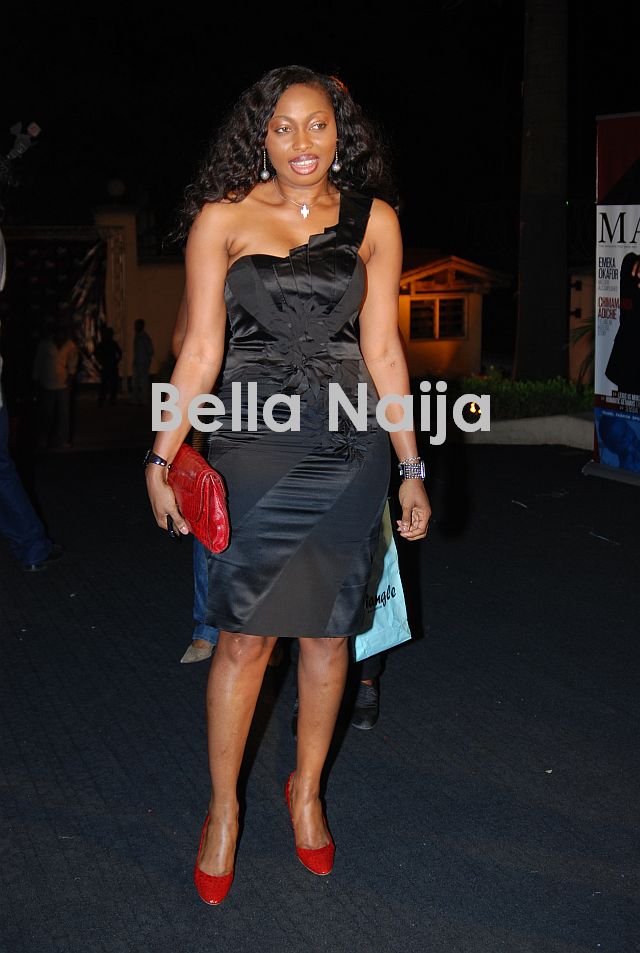 The one shoulder neckline has been back with a vengeance for a while now and this lady does it so well in Karen Millen. This stretch satin multi-panel seamed  dress hugs are curves so nicely and she completes the look with delicate jewelery and the power combo; red and black!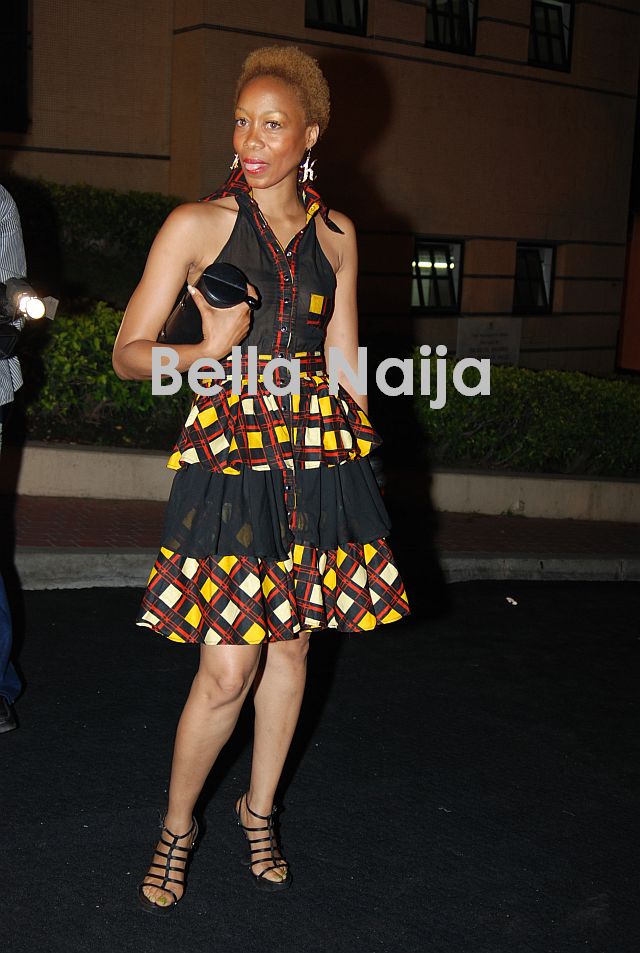 This lady stands out for all the right reasons in Afrocentric black! She combines chiffon with a lively geometric patterned wax print which is very reminiscent of the hippies of the 1960's while she announces the return of the Ra-Ra skirt and the current reign of the caged sandals!
Buki's style is far from predictable; she is edgy, adventurous and creative. I doubt if anyone can dare this look except her. While I'll sincerely admit to not being a fan of the grey suede ankle booties; I am huge fan of the general look with the booties. I adore the patterned lace dress, the chain strap across body bag, the waist belt and oh! That bow veil clip! This look dabbles in vintage, has got a slight gothic feel to it and she goes a bit rock glam pairing the look with those suede ankle booties. However way, I like! And she finishes off with the fiercest looking pout!!!!
Nothing beats a man in a nicely tailored suit! Gbenga looks sleek and sophisticated.
Channeling Keri Hilson's fab hairdo, Ugonna chooses to brighten up an array of black dresses in an off shoulder wonder! The form fit of this dress tastefully shows off her slender silhouette. Ugonna decides to have a go with the colour pink; opting for daring fuchsia pink lips and fuchsia satin covered over-sized buttons. I like that she is able to have some fun without the look coming off as childish or tacky! This she avoids by glamorizing the look with touches of gold. I particularly adore the dusty rose pink pumps and the choice of a black quilted clutch.
Ifeoma gets some inspiration from Jackie O here; she might as well be standing beside a president as his first lady. She looks incredibly graceful and elegant in this dress. Less is more indeed, and she finds a way to add that tiny yet all important bit of spark with long layered beaded necklaces.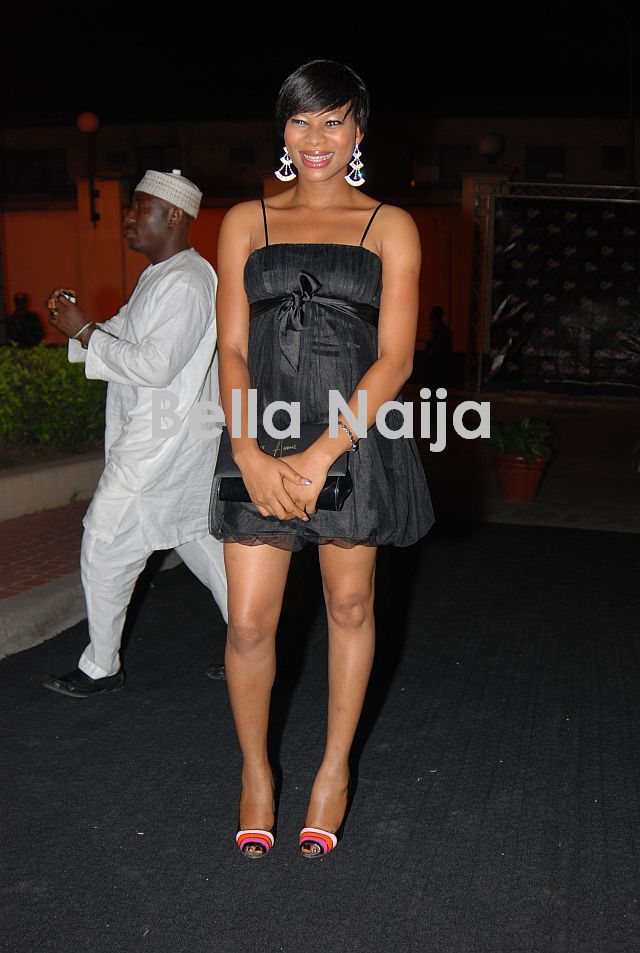 'The pretty' isn't in any way wasted on this look! Dressing in tune with her body type and in consciousness of her best assets; this gorgeous bella hits the fashion mark! This mini bubble hem dress is girly, pretty and fun and does very well in flaunting her nicely toned limbs and flawless skin!
Here is the entire red carpet album