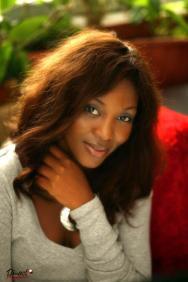 On the heels of her feature on the Oprah Winfrey Show, Genevieve Nnaji granted an exclusive interview to Encomium columnist Stella Dimoko-Korkus. In the interview, she shares her thoughts on the experience…
_________________________________________________________________________
Hello Genny
Stella how now?
How are you?
Good. You?
Fine. You must know why I am calling you?
Surprise me (Laughs)
Did you know you were profiled on Oprah.
Yes .
How did that come about?
It's a long story my dear
I have enough credit
(Laughs) Well, I was away on holiday and got a call from Iconola that Oprahs people wanted to speak with me. I thought it was a joke but I told her to go ahead and give them my number in the UK. Then my P.A also called to tell me, the blogger, Bella Naija had also called about the same issue and that she had given her my email and number. Then I got interested and started paying attention to my inbox which I hardly do. (Laughs).
Then what happened?
Well the mail came soon after, but before I could respond I got a call from the Supervising producer of the Oprah show and an interview was carried out immediately over the phone. She explained to me first of all that they were doing a show on the most famous talents around the world and in their research I was the famous talent for Africa. I can't tell you how shocked I was.
So, what were the steps, give us details?
I am not good with details (laughs) but basically, I had about 3 telephone interviews with them. I gave them one or two numbers in Nigeria that they could deal with to send them all the stuff they need for the segment and that was it really.
Was there any chance of you physically going on the show?
I don't know. They asked me if I had a valid visa and I said yes but straight off the bat they said they were not sure when it was going to air and logistics might be a problem so they would let me know. It was cool with me because I was holidaying different parts of Europe with non-refundable reservations (laughs) so I was hoping they would not want me to come over immediately because the exchange rate of the Euro these days is not for children. Then I had a charity show in Nigeria on my return so, it actually was fine by me either way.
Would you have loved to go on the show and sit on Oprah's famous couch?
Sure. Why not, who wouldn't?!(Laughs) But I didn't and I have no issues with that whatsoever. I feel humbled that the big O and her people sought out little me in my little Nollywood box to do a profile on me on the most popular talk show in America. The fact that I was discussed at all is a great honour as far as I am concerned and can only be a good thing for me and I represent Nollywood. So, it's good all around. Maybe one day. You never know.
What did you think about Oprah's comment that the average Nigerian earns 400 dollars a year?
Well, unfortunately she was wrong. That works out at about 60k a year. The average Nigerian doesn't earn that. Who is the average Nigerian? Civil servants. They do not earn 60k a year. Maybe they got their exchange rate wrong. I don't know but that's inaccurate I'm afraid.
She also said you earn the 6,500 dollars a movie.
Also a result of maybe the wrong exchange rate (laughs) I humbly submit that the figure is also inaccurate.
So what do you earn?
Stella, you know the regions of how much I earn. You and your paper have speculated on it several times and even when your speculations were not so accurate, it was not 6,500 dollars. The reality is, the average AMERICAN does not earn in a month what Oprah earns or even what I earn or even what most actresses in Nigeria earn every 2 weeks. We shoot movies in 2 weeks so these earnings should be viewed like that.
Did you call them to make these corrections?
I haven't watched the show to be fair but I did see a little clip on Youtube where they showed some market women selling, not the beautiful part of Lagos. Western media never do really. This has been going on for years. Besides, those women are part of what makes Nigeria Nigeria. It's part of our culture. So, if the western world prefers that as the picture of Nigeria, that is a problem for the ministry of foreign affairs. I think Nollywood has done a lot to show that there are other parts of Nigeria that are beautiful and I am interested in Nollywood because no one in Government is interested in us even though they should be as we are clearly the most popular export out of this country right now and should be funded adequately enough so as to represent the Country better but enough of that. I am tired of saying the same thing year in year out.
Do you think this will open doors in Hollywood for you?
(Laughs) I don't know. I did not look at it as an avenue to break into Hollywood. I didn't go looking for it , so it wasn't premeditated. My view on Hollywood remains the same. I am an actress. I can work anywhere. I am passionate about a good story, particularly character driven stories. If your story is good and the character appeals, I will play the role. Although it would be nice to work with acclaimed Hollywood directors and actors, I have always maintained that when they are ready for a young African woman to take part in a project that they will come looking for us.
Finally, what is your overriding feeling on this?
Humility, Joy, Different feelings. Pride. I am just grateful to Oprah and her crew. I am honoured and humbled. It's a great privilege and I am sure I will replay a million times over, Oprah saying Genevieve Nnaji . I am also proud of myself because I believe I have sacrificed a lot and worked hard and so, to be identified alongside all those other leading lights in their respective continents on a show as globally recognised as the Oprah Winfrey show I see as a little reward from God and the good will of my loyal fans. To be identified for work that I have done in my own little Nigerian box is truly gratifying to me.
Click to visit Stella D-K's Blog