Hiya! Hope you are having a great weekend.
Today's contest is brought to you by one of Nigeria's most loved and well-respected beauty professionals: Banke Meshida-Lawal and her makeup line BM Pro.
According to Banke, "After years of mixing and matching various brands, I decided to put together my own line. Initially, there were inadequacies – products I wish I could get, but were not being manufactured yet. Also, being from a humid country, most brands of cosmetics were not manufactured with our African skins in mind, so we still had to compromise and make do with what we had"
BM professional make-up line was made to solve these problems – durability, heat resistant, shine and oil controlling, smooth and rich textures, conceal imperfections – these are some of the qualities our line of make-up products possess. They are also perfect for sensitive skins, as we have a non-fragrance collection. BM Pro line is non-comedogenic, and are not tested on animals.
They are manufactured in strict compliance with regulatory laws. The products also come in over 40 beautiful colors in blendable, rich color and textures, and will help take the guess work out of stunning make-up application.
Available products include:
* Camouflage Brush
* Eye Lights
* Lip Gel
* Eye Shadow
* Liquid Lips
* Luminous Lips
* Blushers
* Brush-on Brow
* Indelible Gel Eyeliner
* Curling Mascara
* Lip pouch
* Indelible mascara
* Long and Luscious Mascara
* Express Beauty Bags
* Lipsticks
* Lip perfect
* Eyeliner
* Complexion Brushes
* Eye Shadow Base
* Loose Powder
* Pressed Powder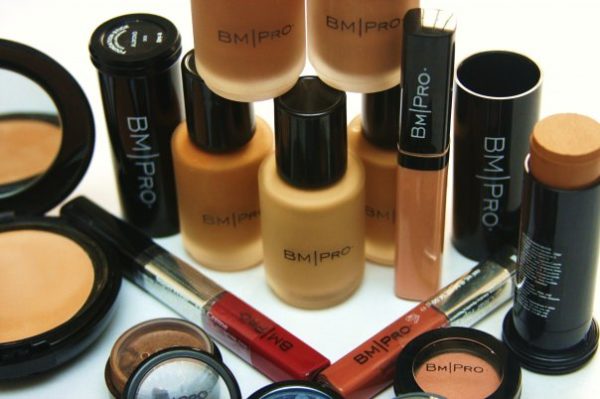 _________________________________________________________
Today's BN 25 Days of Christmas prize is a BM Pro box with products from the BM Pro makeup and beauty line specially selected by Banke Meshida-Lawal herself!

BM Pro Questions
Name 4 services offered by BM Pro.
BM is especially renowned for what kind of makeup?
At what designer's runway show did Banke Meshida have her first backstage/fashion showmakeup experience?
Steps to Enter
Visit the official BM Pro website – Click HERE
Join BM Pro on Facebook – Click to Join – FB Fans will be given preference in the event of a tie-breaker
Answer the easy questions
Send entries to [email protected]
Subject Line: BM Pro
Entries should be received before 11:59PM (Eastern US Time) – Today 12th of December
Good Luck! We can't wait to read your submissions!
Terms & Conditions for BM Pro Contest
Entries are open to all BN readers but prizes can only be retrieved in Lagos, Nigeria.
Contest is only valid where contest terms do not contravene local laws
Entries should be submitted to [email protected]
Winner will be chosen at random from pool of correct entries
Only winners will be contacted
To promote transparency and fairness, winners names will be published on BellaNaija.com
One prize per person throughout duration of promotion
We will work towards ensuring that you receive your prize expediently.
___________________________________________
We have a winner!
The winner is Vera Ezimora.
See her correct answers below:
1. Four services offered by BM Pro:
– Make-up
– Gele (scarf) tying
– Hair salon
– Portraiture
2. BM Pro is especially renowned for this kind of make-up:
Bridal make-up is Banke's signature work.
3. Banke Meshida had her first backstage/fashion show make-up experience at this designer's runway:
In 2002, Banke Meshida Lawal had her first backstage/ fashion show make-up experience at the debut of Folake Coker's line, Tiffany Amber.