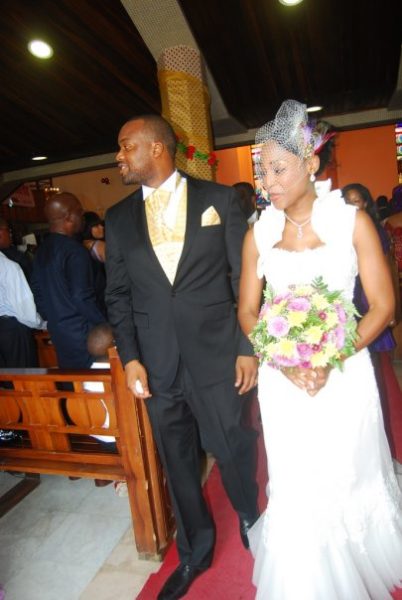 Valentine's Day is on its way and you know at least one friend will call you after the weekend to tell share those two words – "I'm Engaged!". Our BN couple today, Nkemjika Umenyiora & Chika Nwobi tied the knot during a beautiful ceremony which took place in December 2009. The couple's families have been close friends over the years but they did not meet until 2008. Their engagement story can be described as utterly creative and romantic. Nkemjika was on a flight from Abuja to Lagos, she was travelling alone and had no idea about the surprise that lay ahead. Chika had planned with the Virgin Nigeria pilot and crew to arrange the special proposal to his love…The pilot announced after take-off that, "There are two love birds on this plane and the man is about to approach his bride to ask her to marry him"…that was when Chika showed up from nowhere on his knee…and as Nkemjika put it simply – "I said Yes".
Nkemjika and Chika's traditional wedding was held in Anambra State at her father's palace in Ogbunike village. The beautiful bride wore the traditional Igbo george while beaded from head to toe in coral beads and the groom as a titled man wore his red cap and complemented the bride with his coral beads. The ceremony was a celebration of their culture and love as they performed the traditional "Igba Nkwu" and then enjoyed a festive day surrounded by their families and friends.
The white wedding took place at Our Saviors Church in Lagos while the reception was held at the Landmark Village event centre. The bride, Nkemjika wore a diamond white lace dress embellished with beads and crystals, a birdcage veil encrusted with Swarovski crystals and a purple and gold hair fascinator. The bridesmaids wore raw silk gold dresses and keeping with the wedding theme colours, their dresses were accentuated with a dashes of purple and purple shoes. The groom, Chika was handsome and sleek in a black suit with a gold waistcoat and cravat along with his two best men while the groomsmen wore black suits with gold ties. After the church ceremony, the wedding party headed to the reception where they enjoyed a fun-filled ceremony with lots of great moments including musical performances from artistes Iyanya and KC Presh and lots of romantic moments. We are wishing Nkemjika and Chika a happy, blessed and fulfilled life together!