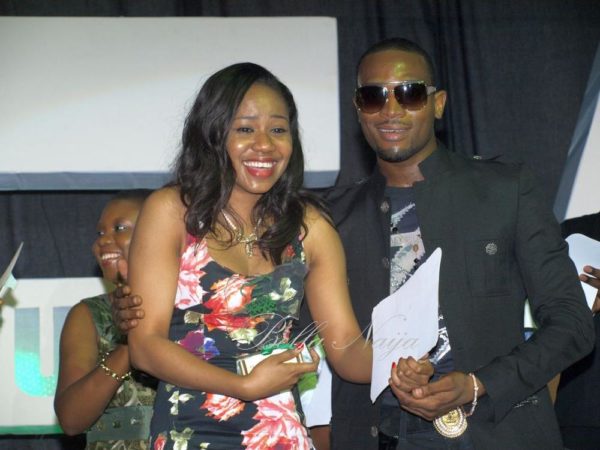 The buildup to this year's Future Awards lasted for almost a year. From the tour featuring previous winners to the townhall meetings which took "The Future'" from Lagos to Enugu to Johannesburg to London and beyond…Finally after all the anticipation, the D-Day arrived. On Sunday 7th of February 2010, the best and the brightest Nigerian youth gathered at the MUSON Centre for the premier youth awards in Nigeria.
The evening kicked off with an inspiring keynote address by Managing Director of the World Bank, Ngozi Okonjo-Iweala,  Mrs. Okonjo-Iweala, challenged the crowd to rise up and make a difference – not just wait and watch. It was an impassioned speech which resonated with young and energized crowd.
While the audience mainly consisted of young people, other high profile guests at the event included First Lady of Lagos State, Abimbola Fashola; the Deputy Governor, Sarah Bisi Sosa, Prof. Pat Utomi, Dr. Reuben Abati, Mr. Toyin Subair, Chimamanda Ngozi Adichie, former High Commissioner to Britain Christopher Kolade, the MD of Nigerian Breweries, Peter Stevenson from the British High Commission, Celine Loader, Obi Asika, Ali Baba, Gbenga Adeyinka, Tee A, Mo Abudu, amongst others.
The night was anchored by a high profile team of young people that included musician Naeto C and former MBGN Munachi Abii, with surprise take over mid-event by Idols West Africa finalist Omawumi and Big Brother Africa winner Kevin Chuwang. Performances were a major highlight of the event. One was a rehash of songs that defined the nation in a nod to Nigeria 's fiftieth anniversary. Vocalists Waje, Timi Dakolo, Nene and Essence. The other was themed The Future of Rap and had young hip hop artistes Lil H, Willy Bang, Mo'Cheddah, Scales and Whizkid revving the crowd up. There was a dance fest that had the nation's hottest dancers; StreetHood and Dance na the main Thing. Kefee electrified the crowd with her hit song Kokoroko, and a collabo between Djinee and Bez had the crowd screaming.
The awards also saw interesting takes on pop culture moments that included a recap by Dr. Reuben Abati and musician Banky W of their controversial articles over the state of the Nigerian music industry, Toni Payne, showed that she is in a good place despite recent setbacks by dancing along to the song 'Gongo Aso' when she went on stage to introduce a musical act.
The winners were then announced across categories. The winner for actor of the year was stage actress Lala Akindoju, for Best Use of Advocacy was Tolu Sangosanya, a young woman who runs a foundation that teaches children of the dustbin estate, the Best Use of Technology prize went to 'Bade Adesemowo, one of Nigeria's open source technology gurus, Style Entrepreneur of the Year went to magazine publisher and model manager Linda Ikeji and Music Producer of the Year saw Jesse Jagz beating J Martins and K-Solo.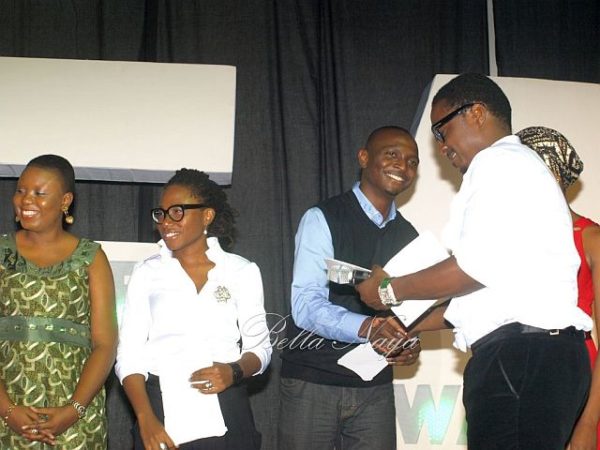 The big winner of the night was a young lady called Ify Aniebo, a malaria research scientist who has won a Bill and Melinda Gates Foundation grant. She won the award for Best Use of Science and also beat other nominees like award winning journalist Tolu Ogunlesi, musician Asa, music producer Cobhams Asuquo, youth advocate Toyosi Akerele, movie producer and actress Stephanie Okereke, dance professional Qudus Onikeku and Big Brother 5 host, IK Osakioduwa who were all present at the event and were called on stage to be honoured. Her plaque was handed over by last year's Young Person of the Year, D'Banj.
All the winners are aged 18 to 31. "Every year we continue to make the point that we are not one of those people who say Nigeria is a great country as a cliché," Chude Jideonwo, who is the event's creative director, said. "We are ready to show anyone that there is a new generation that has integrity, that is not corrupt and that is ready to build this nation. We are proud, immensely proud to present a group of scientists, artists, entrepreneurs and others who are ready to contribution towards the development of their country."
After the awards, the winners will be taken on a tour of secondary schools in Lagos and across the country to contribute to the education. The First Lady of Lagos State, Mrs. Abimbola Fashola, has promised to partner with the initiative with her pet project which focuses on career seminars for students.
__________________________________________________________________________________
Congrats to the Future Awards team, nominees and winners!
It was quite an interesting event and of course, BN had our fave picks. From the red carpet to the performances and even the presenters. Check on it.
Our favourite look of the event was delivered by Asa. The talented musician looked fabulous in her white shirt, black pants and popping red pumps. We totally admire how Asa represented her unique style in such a chic way!
We also loved Stephanie Okereke in her floor-length asymmetrical gown embellished with rosettes. While we weren't fans of Omowunmi Akinnifesi's look at the Face of Africa (red carpet post coming soon), she redeemed her style at the Future Awards in this strapless white dress, we really love the layered frills and pleated neckline.
Our best dressed man of the night was Banky W. Banky chose the colours brown and black as his palette and totally made it work for him. Lets hope Banky has retired the Kangol hat for 2010, Banky, we want to see more of this from you this year….#justsaying
Some ladies at the event went for all glam with their outfits. Isio is making these grecian inspired dresses her signature and it definitely suits her…a smile would have pushed this look to our best dressed list. Emilia of Redstrat was a princess for a day in her ruffled green gown and we're loving the gold dress with the bejewelled waistband as well.
For the Future Awards, the theme is always a touch of green so its no surprise that these ladies decided to take things a little bit further and embrace the theme with green outfits.
It can be hard to stand out at an event like the Future Awards with so many people going all out to 'show their style'. Some guests including Sasha and Yvonne of STV's E-weekly chose electrifying shades of colour to help them shine on the red carpet. Sasha, we are going to be needing those shoes…very hot!
Sometimes on the red carpet (green in this case), the women capture all the attention, however the men didn't want to give up without a fight. MI kept his cool in a suit and Ray Bans, MC Naeto C rocked a sleek look with his suit and bowtie, Obiwon dug into his banker's wardrobe for a traditional suit while Yaw (Steve Onu) and Sammie Okposo decided to go with velvet blazers.
Black was another popular colour on the Future Awards green carpet.
Ex-MBGN, rapper Munachi Abii co-hosted the first half of the event with Naeto C. She ensured that each time she stepped on stage, all eyes were on her. With her hair coiffed in an adventurous blonde and brown coloured cut, her first outfit was a colourful strapless draped dress by House of Nwocha while her second look was a short shimmery dress with exaggerated shoulders by MAI…very Gaga meets Riri
Lets not forget about the winners, Professional of the Year winner Ifunanya Maduka sported a purple dress with long sleeves and a cape…the dress looks very similar to designs by Nigerian designer Bridget Awosika. Style Entrepreneur of the Year, Linda Ikeji wore a green dress by designer Steve Ray. We also loved Fatima Zara Modibbo and Tolu Sangosanya in their ankara dresses.
We loved the musical segment of the show which featured young talent. The Future is bright!
The Future Awards green carpet is all about showing off your unique style – Jesse Jagz and Gbenro Ajibade & Gideon Okeke (Both actors on MNet's Tinsel), did things a little bit differently on the green carpet.
Uti Nwachukwu of BBA 2 and Tosyn Bucknor stood out in black and white outfits. Geraldine of BBA Revolution also looked cute in her black dress.
We quote this as often as possible because we believe it – He who finds a wife finds a good thing and obtains favor from the Lord. When quizzed on the red carpet, Cobhams confirmed that he and his date whom he referred to as "Miss Fabulous" will be walking down the aisle soon. The couple look great together, Miss Fab in her black and white dress and Cobhams in his blue suit. Newlyweds Obi & Yets Asika was another hot couple at the event,  Yets in her strapless dress and Obi in his white suit.

We love Mo'Cheddah's gutsy style. Mo was all about the rock chick look both onstage and off with her 2-toned hair and all black outfits.
We are really loving Gbemi of The Beat FM's style lately! For the Future Awards, she wore a floor length red dress with an asymmetrical neckline. Author, Chimamanda Adichie rocked a similar look with her signature headwrap. Its great to see Chimamanda in something sexier than we are used to from her. Both ladies were glowing!
We loved Noble Igwe's suit paired with a skinny black tie, very dapper. D'Prince confirmed that he's 'Omo Oba' in his red tunic paired with jeans. Audu Maikori of Chocolate City and D'Banj also looked good. Ko bad..
The best form of 'rebranding' is positive action. Matse Uwatse of Wazobia FM and musician Kefee represented for the Niger Delta by excelling in their fields. Matse won the award for On-Air Radio Personality of the year while Kefee lit up the stage by performing her new single 'Sapele Water' and smash hit 'Kokoroko'
We spotted Funke Akindele and Goldie in the crowd. The two ladies sported all black looks.
Its Denrele. He is in a league of his own. End of discussion.
We just have to give it to Big Brother Africa revolution winner Kevin Chuwang and musician Omawumi, the duo were incredibly charismatic on stage. Definitely did us proud. Omawumi sticks to her winning style formula in a short dress with an asymmetrical neckline while Kevin was casual in his jeans paired with a blazer.
THE WINNERS
Actor of the Year
Kemi Lala Akindoju
Best Use of Advocacy
Tolu Sangosanya (Dustbin Children Foundation)
Best Use of Science
Ify Aniebo
Best Use of Technology
'Bade Adesemowo (Bincom Solutions)
Business Owner of the Year
'Debola Lewis (Yvent Kouture)
Creative Artist of the Year
Adekunle Samuel Owolabi
Excellence in Public Service
Fatima Zara Modibbo (Human Institute of Virology)
Journalist of the Year
Aruona Agbroko (NEXT)
Magazine of the Year
Soundcity Blast
Model of the Year
Warebi Martha
Musician of the Year
MI Abaga
Music Producer of the Year
Jesse Jagz
On-Air Personality of the Year (Radio)
Maste Uwatse (Wazobia FM)
On-Air Personality of the Year (TV)
Andre Blaze (Nigezie)
Professional of the Year
Ifunanya Maduka ( Oprah Winfrey Leadership Academy for Girls)
Screen Producer of the Year
Kenneth Gyang ("Finding Aisha")
Sportsperson of the Year
Janet Dung (Athletics)
Style Entrepreneur of the Year
Linda Ikeji (Blackdove)
Team of the Year
Africa Youth Unite for Change (Afyuch)
Young Person of the Year
Ify Aniebo
Photo Credit: Bella Naija & Tyna Ezenma