Our Wedding Story is back again. We often see the glossy wedding photos with everyone looking happy and excited. That is always a joy to behold. However, its great to delve deeper and find out how the couple met, fell in love and all those other details. We are truly elated to feature this lovely couple today. Their story is poignant and beautiful. We wish them a blessed marriage filled with joy and happiness.
The Couple
Moradeke Babayale & Seun Ogunbiyi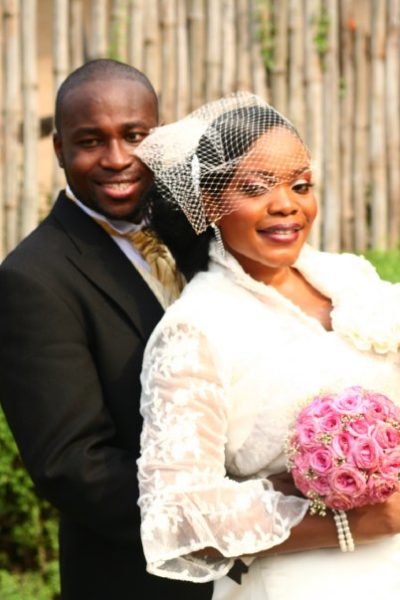 Our Story – Moradeke's Version
After my final exams at the University of Lagos, I decided to go to the UK on holiday. During this trip, my friend the (Late) Anthony Fatayi Williams came to visit often with this tall dark dude who was really quiet but friendly as well.
I returned to Lagos and life continued. On an unforgettable day in 2005, I was at the UK Embassy in Lagos with a friend watching BBC news while waiting for our visas to be issued when I saw on the screen, Anthony's mum talking about his death and that he was one of the victims in the London, July 2005 bomb blast. I left the embassy in a daze and tried to find anyone who knew him. There was no one I remembered except for a young lady I had lost contact with. I went to work one Saturday and was on Hi5, The Facebook of those days. I checked Anthony's profile and noticed a familiar face and name: Seun Ogunbiyi. I sent him an e-mail introducing myself and asking about Anthony's death and burial arrangements. We started talking everyday and would spend hours on everything under the sun. We got along very well and it felt like I had known him for years. Our relationship started over the phone and he proposed in January 2008. The rest is history.
Our Story – Seun's Version
My best friend – The late Anthony Fatayi Williams (Tony T) and I were hanging out as usual one day in the summer of 2002 in London. He wanted to go hang out with a friend of his in town from Lagos and even though I had things to, he insisted it would be fun. Anthony introduced me to Moradeke and his other friends and i thought nothing of it.
Fast-forward three years and I had just lost my best friend in the London bombings on the 7th of July 2005 and was in complete shock. I got a message on Hi5 (remember) from a certain Moradeke Babayale who re-introduced herself and said she had stumbled on my profile and recognised I was Anthony's very good friend who visited with him back in 2002.
We started to keep in touch and began talking on the phone and we became really good friends over the phone. We spoke about everything and for me I had not opened up like that to anyone before. She filled a very huge void after Anthony's passing and was there to listen to me when I needed a listening ear. We did the long-distance thing for a year and then she came to Nottingham for her Masters and we spent more time together, I knew she was the one for me.
I popped the question in 2008 and the rest is history.
The Proposal by the groom, Seun
We had been dating for about two years and I had moved to Bristol from Nottingham to start work. I remember the build up to the proposal and I had been planning it for months. I had been soliciting with Moradeke's very good friend, Ifeoma Tagbo and getting her opinions as to what type of rings I should get and all. Finally, after much delibration, I decided to pop the question one weekend when she came to visit in Bristol before her trip to LA to visit family.
I remember hiding the ring under the bed just so she would't find it by mistake. I remember as usual, she had cooked up a storm in the kitchen and had served up the food to eat and I thought, If I don't propose now, I wont have the courage to. While she was still doing her thing in the kitchen, I ran into the room and checked for the ring and knelt down behind her. She turned round and was startled and I asked her if she wanted to spend the rest of her life with me and go on a wonderful journey together and she froze and started shouting, 'Seun…Seun, What are you doing?' and she started crying and said 'yes'
I was so happy as well and started crying and I must say she has made me the happiest and most blessed man on earth. We ended up going to a very fancy restaurant to celebrate afterwards. I love her very much and will always cherish that she agreed to be my wife.
The Wedding
Wedding – 2nd of January 2010
Venues – Church: Christ Church Gbagada
Reception:Yard 158 (The Event Arena)
Colours – Shades of Pink & Olive Green
Brides Dress – Davids Bridal
Grooms Suit – House of Desina
Cake – Flest Celebrations
Moradeke on her husband, Seun
Oluwaseun is an amazing, kind, God fearing, humble, sweet, loving, understanding man to say the least and I thank God everyday for bringing the perfect gift my way. In January 2008, he proposed to me and I said yes with soo much glee, tears and joy knowing I made the perfect decision. Our relationship has been great and even though we were been apart for some time, we make it a point of duty to speak ever soo often and I thank God that the day when we will be together and never to part no more as husband and wife is drawing near. I pray that God grants Oluwaseun the wisdom to be able to be the perfect husband, daddy and head of the family and equipping him with all that he requires to do so. May God also grant us the ability, strength and grace to be able to withstand any of the challenges that may come our way in marriage and may our union be one that is Heaven made on Earth in Jesus name… Amen!!
Anthony though through death, has been able to create this God-made bond and I pray that even though he will not be with us in flesh, he will be with us in spirit on the wedding day. May his gentle soul rest in perfect peace…Amen!
God bless you my dear Oluwaseun and thanks for choosing me as your life partner over every other woman on earth!!!
Seun on his wife, Moradeke
I look forward to seeing her everyday for the rest of my life. I pray that God grants Moradeke the grace to be a loving wife, mother and perfect companion and that we shall grow to love and understand each other more and more every day.
She is the most amazing person I have come across in a very long time and I don't think there is enough time or space to list the qualities she possesses. A gift from God that makes rich and adds no sorrow is a summary of what she is to me. I love you very much darling and I thank you for the values you have added to my life and for agreeing to spend the rest of your life with me. I miss my best friend Anthony but I thank God for his life and for our bond so much because he always looked out for me as a big brother and knew that I could do with another best friend and so I have gained a best friend in Moradeke.
Traditional Engagement
Engagement – 30th of December 2009
Venues – Unilag Multipurpose hall A
Event Managers – Twist