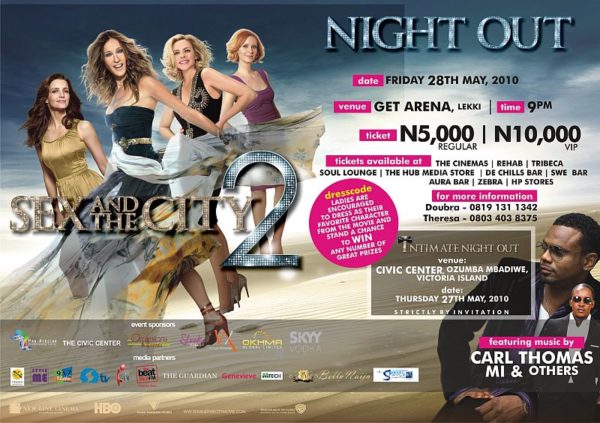 Woman (and a few men) all around the world have been eagerly anticipating the sequel to the successful Sex & The City Movie starring Sarah Jessica Parker, Kim Cattrall, Kristin Davis and Cynthia Nixon which was an extension of cult TV series of the same name.
This time, Nigeria is making a splash in Nigeria.
According to the organizers of the Nigerian promotional events, the Nigerian release will feature a special night out with Sex and the City 2 at the GET Arena on May 28, in Lagos.
A special black tie cocktail couture event will be held on the 27th of May. Tagged "An Intimate Night Out With Sex & The City 2", this cocktail couture event with an 80's flashback theme. Four top Nigerian and International Designers including Lanre DaSilva-Ajayi & Kiki Kamanu who will create one of a kind designs inspired by the film's major characters. The film-inspired couture seeks to further celebrate and showcase Nigerian exotic fashion and mirror the lives of these four characters whose fashion choices have inspired a lot of fashion and living in today's women.
Exciting Stuff!
BN will bring you all the photos and goss from the event.
See the trailer for the highly anticipated Sex & the City II movie below:

Update from Zebra – One of the SATC Nigeria 'couturiers'
So…Zebra has proudly teamed up with the SATC2 to give you one week that you'll not forget. A week in anticipation of the sexiest parties and events and the premiere of one of the most influential fashion films of all time, SATC 2.
Exciting stuff!
From Tuesday through till Saturday, Zebra we will feature new collections daily and guarantee that you have the perfect Zebra outfit to rock whether you are going to the VIP cocktail couture event on Thursday, the Night Out Party featuring MI at GETArena on Friday or just planning a quiet girly group outing to see the film when it launches in Lagos….
Whatever the SATC event, be sure that you are FABULOUSLY DRESSED UP in an outfit that will make the girls proud.
Fabulous Parties
Tickets to all the official SATC2 parties and to the SATC2 movie are available for sale at The Zebra Boutique.
Also 10percent discounts on purchases for those who buy tickets to any of the parties in store.
Fabulous Shopping
Special discounts apply to your Zebra purchases when you buy a SATC2 party or movie ticket.
And you can shop till 9PM on Thursday, Friday and Saturday and enjoy a free Cosmopolitan with your purchase.
Reconnect with old girl friends or do something extra special with your staple girl friends….but whatever you do this week be sure to channel the wonderful clothes, laughs and sisterhood of our SATC girls and embrace your inner Carrie, Charlotte, Miranda or Samantha.
Start Time: Tuesday, May 25, 2010 at 12:30pm
End Time: Sunday, May 30, 2010 at 6:30pm
Location: Zebra Boutique @ The Life House
Street: 33 Sinari Daranijo Street, Off Younis Bashorun Street, Off Ajose Adeogun Street, VI
City/Town: Lagos, Nigeria
___________________________________________________________________________________________
BellaNaija.com is the official online media partner of the Sex & The City II Nigeria launch