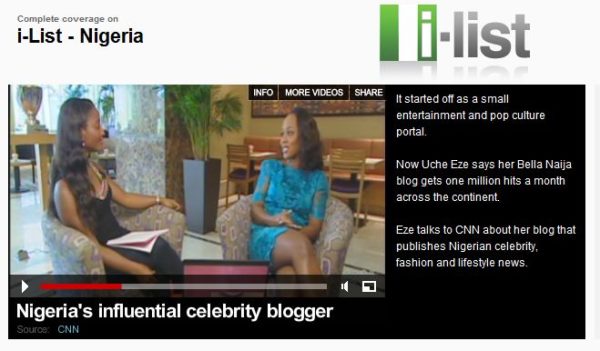 BellaNaija.com Founder, CEO/MD of BainStone – Uche Eze was featured on CNN i-List on the 28th of September 2010.
The interview was conducted by CNN reporter, Isha Sesay. During the interview, Uche discussed the genesis and inspiration for the BellaNaija brand, social media and social media activism in Africa and the plans for BellaNaija.com
You can view the interview below:

What is i-List?
A special program that visits a different country each month and look towards its future. We highlight innovation and influence in business, industry, culture and more.
In September, i-List visits Africa for the first time, with special programs from Nigeria. Watch CNN live from Nigeria on World One all week from 27 September at 1900 GMT/ 2000 BST/ 2100 CET.
For more details on CNN i-List, visit http://edition.cnn.com/SPECIALS/2010/ilist/
Sincere thanks to all BellaNaija readers! Any success that BN has been blessed with is courtesy of YOU. – From the BN Team