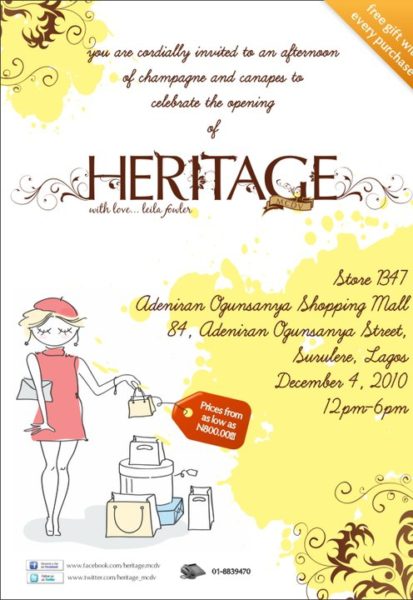 Anyone who loves fashion will tell you that shopping in Nigeria is an arduous task!
The first challenge is finding pieces that you love, the second challenge is being able to pay for it. The price of looking good is very high in Nigeria. The Nigerian clothing retail sector is growing with veteran fashion retailers – Collectibles and Oxygen still in business plus the influx of international fashion retailers including Mango into Nigeria. The sector is evolving. However, price and quality remain major talking points.

Heritage is a brand new Nigerian retail fashion brand. The philosophy behind Heritage is to provide great quality, trendy clothing for women who love fashion at affordable prices.
Heritage is brought to you "with love from Leila Fowler" which is led by fashion entrepreneur Funke Fowler; with over 3 years experience in the luxury fashion sector, the Leila Fowler team noted the gap in the fashion retail sector and have created Heritage to meet that demand.
Here is what the Heritage team told us about their brand,
Serendipity in busy Lagos.This economically friendly boutique proves that being fashionable does not have to be expensive. You can be fabulous at any price and not have to compromise on the diva shopping experience.
So what does "economically friendly" mean? Prices start at N500 and max out at N10,000.
Shop Heritage this weekend as they officially launch on the 4th of December 2010 at their flagship store in the Adeniran Ogunsanya Shopping Mall in Surulere.
**
You are cordially invited to the Heritage Store launch
Date: Saturday, December 4 2010
Time: 12:00pm – 7:00pm
Location: Store B47, Adeniran Ogunsanya Shopping Mall, 84 Adeniran Ogunsanya Street, Surulere, Lagos
Shoppers will receive a free gift with every purchase.
Attendance is free and open to the public.
Facebook Page: http://www.facebook.com/heritage.mcdv