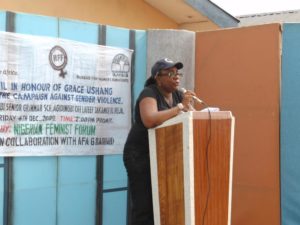 It was about this time last year. Groups of women activists, youth corpers and students gathered at the sandy field of Agidingbi Grammar School – Iheoma Obibi of Alliances for Africa, Aisha from the Murtala Muhammed Foundation, Amy Oyebode from KIND (Kudirat Abiola Initiative for Democracy), representatives from the Nigeria Feminist Forum and even myself included. We took to the stage one after another to say a few words. Some of us were clad in black polo shirts and others in tee shirts. Encrusted on the front of our shirts was the image of a beautiful young girl named Grace Ushang proudly spotting her Youth Service cap. On the back in thick bold white screen print read "STOP VIOLENCE AGAINST WOMEN".
I recall Amy walking to the stage and opening her speech as well as ending it with the words "I am tired of being a woman who is afraid in her own home". We all marched; hundreds of us women and even men to Alausa, Ikeja. We marched to drop a petition that would advocate a federal bill that protects women against any form of violence. Lagos State already had one in existence, but we had no federal law to protect us. So, like Grace who had been raped to death in Borno state and buried on Independence Day of 2009, there would be many more to come; perpetrators of violent crimes, battery, domestic violence and sexual predators walking the streets free, ready to pounce on mothers, wives, daughters, you and even me.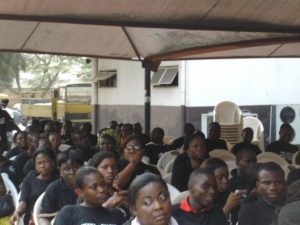 A few weeks ago, I lost my cool on air. I'm sure my outburst has gathered me many more foes as it has friends. Our topic of discussion was the same that wiped out Grace's life. A man called in, insinuating that most of the rape cases in the south of Nigeria are aggravated by the way that women dress. That was where I lost it. In a nutshell, I did let him know that even if a woman is walking the streets naked, no man has a right to take her by force. In countries where prostitution is legal, they provide panic buttons. (Just to stress the severity of his comments.) I was sent all sorts of messages. From how my station would lose rating because of my outburst to the caller, to how I should not even be at this job. The strange thing is that I have no regrets.
In a country with very little legislative protection, after a certain period, rape becomes difficult to prove because, as you know, it is your word against theirs. The corruption of the system also means that authorities are very easily paid off and a lot of cases slip down the drain. With cases of children and babies getting raped, it's left to advocacy groups and NGOs to take them on as they tend to be defenceless. The psychological damage attached to rape is such that victims still blame themselves. Almost all of the time, they are left to pick up the pieces alone.
In a recent discussion with a friend, I was made to understand that quite a lot of rape crimes are perpetrated by people close to the victim. Apparently it is one of the reasons why a large percentage of Nigerians do not view rape as a predatory activity. It is also the reason why it becomes difficult to prove in those cases.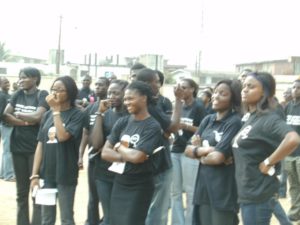 When I trace my mind back to the march, I reckon the distance wasn't that long and there is so much more that still needs to be done. The proposed "Violence Against Women" bill has passed through a first reading in the Senate and we await a second reading and public hearing.
It's not enough to sit and pray for comfort and healing. It's not enough to hope that it will get better. It's not enough for a man that impregnates his daughter to go to jail for only five years. It is not enough that even with the inadequate laws that exist, no one is prosecuting. It's not enough to sit and wallow in self pity, while your uncle that raped you is doing the same to your little sister at home because you never said anything. There is always a snowball effect and we are all a part of the bigger picture.
While we were celebrating the Nigerian jubilee, the Ushangs and many of us were remembering Grace just a year after. My polo shirt hangs immaculately in my wardrobe with Grace's eyes gleaming at me. And I am remembering Amy's words "I am tired of being a woman who is afraid in my own home".
____________________________________________________________________________________________
Fifteen days of activism started on the 25th of November 2010 and ends on the 10th of December. 2010 This fifteen-day campaign takes place every year with different awareness activities to end violence against women. Keep checking out www.guerillabasement.blogspot.com to find out about activities during the season.