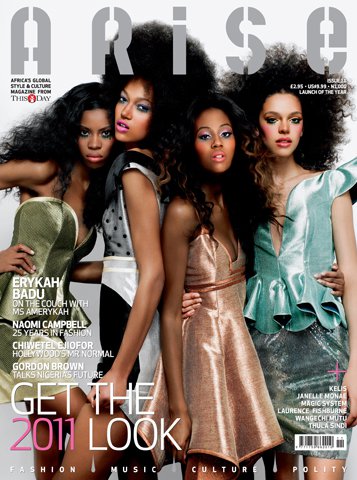 After a short break, Arise Magazine is set to release Issue 11 of their Global African Pop Culture publication in December 2010.
The cover of the issue features four stunning models in Deola Sagoe pieces from the collection BN tagged "Her Sexiest & Most Glamorous Collection Ever" – the Spring/Summer 2011 collection which Deola Sagoe showed at the Africa Fashion Week in Johannesburg earlier this year.
Issue 11 of Arise also features supermodel Naomi Campbell, singers Kelis, Erykah Badu & Janelle Monae and British/Nigerian actor Chiwetel Ejiofor. According to Arise, this is their "global fashion issue" and fashion spreads were shot in Lagos, Nairobi, London & Paris with Ajak and Ataui Deng.
We are looking forward to grabbing our copy…