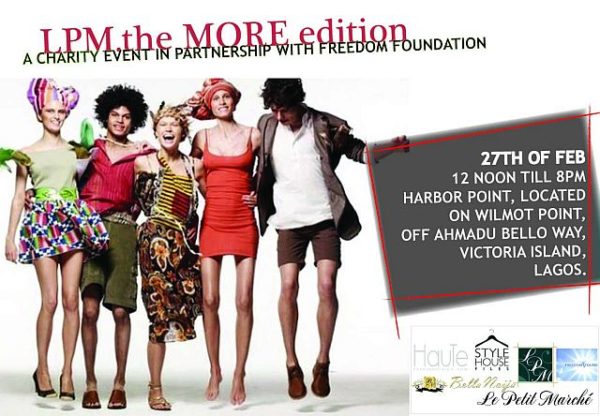 We know that you absolutely cannot wait for this month's edition of Le Petit Marché – "LPM – The More Edition".
The LPM team wants you to know that they are working on bringing you the biggest fashion and lifestyle party ever!
Limited stalls are available, so do hurry and make sure you are a part of this celebration. To participate in this event, or for additional information and/or questions, please send us an email at [email protected]
**
Le Petit Marché is turning 2 years old on Sunday 27th of February 2011, and the LPM team are proud and grateful for the immense support from everyone!
To celebrate their 2nd anniversary, LPM is giving you the opportunity to make a significant impact in the lives of hundreds of Nigerians alongside Freedom Foundation; an NGO, which was set up in 2001 to carry out the mandate of pioneering social reform within communities. It was established as a non-profit organization committed to positively affecting society by empowering individuals who are affected by various categories of social and economic disadvantage (drug addicts & sex workers, for example). The individuals rescued by Freedom Foundation are vulnerable. Some were sold by their own parents as barter for debts, and from ages as young as 13, they have been drugged up to work the streets of Lagos, serving as objects to enrich other men – men who bully and threaten their lives, everyday.
With many reasons to give thanks, LPM has decided to partner with this great organization to raise funds for the ladies who reside in Genesis House, where they are fully rehabilitated and nurtured to become better/stronger women with strong values in their community. With this in mind, the LPM team is wondering what MORE can we GIVE? They heard about this, and came up with an equation that ends up as the BIGGEST Fashion Market Party Lagos is yet to see:
MORE Space + MORE Vendors = MORE Merrier People.
Seeing as it is a Celebration, LPM will have a food court, selling a variety of food, drink and confectionery, a lounge area where documentaries of the great work being done by the Freedom Foundation will be displayed, and even a DJ!
Here is a message from the LPM Team:
We trust and thank you in advance for being a part of this positive and impactful initiative as we all get to make a difference in the lives of hundreds of women, who are simply victims of society. We hope you join Le Petit Marché (LPM) to GIVE a large percentage of the proceeds raised from the rental of stalls and donate to the good work of the freedom foundation! So please, help make a difference!
LPM will be taking stall reservations at [email protected] for a large variety of vendors, including:
Fashion Designers
Fabric
Men and Women's High Street Fashion
Shoes and Bags
Accessories
Food and drink
Home Essentials and more

"LPM – The More Edition" – A Charity Event in Partnership with the Freedom Foundation
Date: 27 February 2011
Venue: Harbor Point, Located on WIlmot Point, Off Ahmadu Bello Way, Victoria Island, Lagos
Time: 12Noon to 8PM
For more information about participating, please send us an email to [email protected]
You can also check out the interview LPM Founders – Isoken Ogiemwonyi and Wonuola Odunsi did with StyleHouseFile.com – Click Here
___________________________________________________________________________________________
BellaNaija.com is a proud media partner to Le Petit Marché