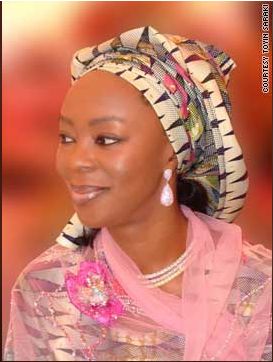 Toyin Saraki was on CNN's African Voices this weekend.
Here is an excerpt from the profile via the CNN International website. It is really powerful that her non-profit work was borne out of personal tragedy and has blossomed into positive initiatives that have impacted the lives of hundreds of women.
Nigerian Toyin Saraki is one of Africa's most prominent voices in the fight against infant mortality.

The stalwart campaigner has tirelessly devoted herself to making sure that African women and children are given a fair chance in life.

Saraki developed her passion for promoting infant safety after a heartbreaking tragedy some two decades ago.

Pregnant with twins, she had to be rushed into hospital just hours before her wedding was due to take place.

"I begun to hemorrhage and on the eve of my wedding I found myself in hospital in this situation which was beyond my contemplation," says Saraki. "I never even knew things like that happened to people — I ended up delivering that night and it was a harrowing experience."

She recalls: "I had my daughter naturally, and then my daughter's twin got stuck and there was this life-changing delay which meant that the next baby came out stillbirth and I had a lot of postpartum bleeding.

"To cut a long story short, in 24 hours I got married, had a child and lost a child."

From this tragedy, the seeds of an idea came about — Saraki decided to dedicate her efforts to raise awareness about maternal and newborn child survival.
Watch the videos below –