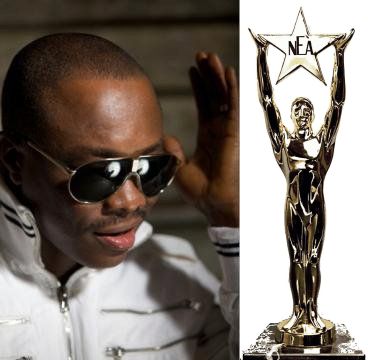 The nominations were announced on May 26th, 2011 and today voting begins for the selection of winners for the 2011 Nigerian Entertainment Awards (NEA). The producers of the award show are pleased to announce that online voting for all award categories is now open, and also that the award show will be hosted by the rib cracking master himself, Julius D'Genius Agwu.
Voting is online at www.nigeriaentawards.com, and runs through to Aug. 27th, 2011 after which the polls will be closed. Online voting provides international participation in the NEAs by providing fans from various parts of the world the opportunity to vote for their favorite artists, actor/actress, producer, DJ etc. Fans of nominated artists, actors/actresses, producers, DJs and so on are encouraged to show their support for their favorites by voting. For those on the go, the NEA producers have included a mobile option that allows fans to log on and cast their votes using their mobile devices.
The producers are also delighted to have the well-respected comedian, compere, actor and performer Julius D'Genius Agwu as the official host of the 2011 award show. This will be the second time that Julius D'Genius Agwu is hosting the NEAs. He had earlier hosted the award show in 2008. Well known for his yearly comedy show in London called "Crack Ya Ribs", Julius D'Genius Agwu also has other event hosting credits to his name, such as Africa Movie Awards Academy, Miss Nigeria Beauty Pageant, and Nigerian Reunion.
As the producers of the award show continue to unveil details of this year's lineup of events for the NEAs, they advise fans to stay up to date by following the NEAs on Twitter @NEAAwards, 'Like' the Facebook page and regularly visit the blog www.neasplash.com for more info and stories.
___________________________________________________________________________________________
BellaNaija.com is a media partner for the 2011 NEAs