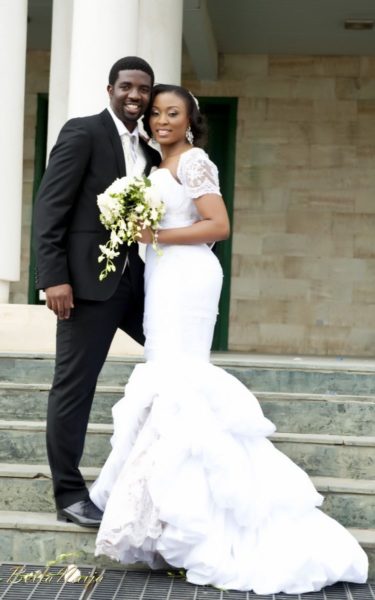 BN Weddings definitely aims to take you on a romantic journey, celebrating love and joy! Recent BN weddings have taken place in Edo State and Ogun State. Today, we head over to over to the garden city, Port Harcourt in Rivers State for Nkiru & Tolu's fabulous wedding.
***
About 20 years ago, Nkiru Sylvia Maduabuchi & Tolu Fatoba met and became childhood friends, innocently playing and growing up together as they lived on the same street in Port Harcourt. They even earned nicknames due to their contrasting complexions – Nkiru was "Fanta" and Tolu was "Coke". Over the years, they remained friends even as Tolu migrated to Germany for his studies and Nkiru eventually headed to France and then the UK. During that time, they reignited their friendship which blossomed into a loving relationship.
Tolu knew that Nkiru was definitely "the one"! Soon, he began plotting his grand proposal. He craftily measured her finger with a piece of paper – noting the size. He also "casually" asked her questions about the sort of engagement ring she would love. On the chosen day, Tolu invited Nkiru to London for a "friend's birthday party", as soon as she arrived, he whisked her off to her favorite Chinese restaurant where the stage was set for a romantic proposal. Nkiru noticed that the restaurant's PA system played several of her favorite love songs and then the staff were exceptionally friendly – but she shrugged it off to great service. Unusually, three special waitresses arrived at their table, one with a food menu, another with a bottle of champagne and the third with a bunch of beautiful flowers.
Still trying to find an explanation for all the special attention, Nkiru was presented with the food menu which contained a piece of paper with these words – "Please, Say Yes and Complete Him. Say Yes. Marry Him". As Nkiru was reading the menu note; Tolu was already on one knee with a glittering ring in an open box. Nkiru, still puzzled, first whispered "Yes, Yes, Yes", then firmly said "Yes, I will" and jumped into Tolu's open arms.
Nkiru and Tolu celebrated their traditional and white weddings in the city where they first met – Port Harcourt. The couple's traditional wedding took place on the 28th of July 2011 at the Gold Crest event place. Their friends and close family were there to celebrate with them and usher them into their new role as husband and wife. On Saturday 30th July 2011, Nkiru and Tolu said "I Do" Nkiru was a dazzling bride in her wedding dress by Frank Osodi. Nkiru's three trier swirl ivory dress was an elegant peacock inspired taffeta gown, embellished with Swarovski stones and glass beaded appliqué. She completed her look with a elegant finger-top length mantilla veil, diamond jewels and cascading bouquet. The groom, Tolu looked dapper in his black suit as he and his bride exchanged their vows.
After the church ceremony, the wedding celebration transitioned to the grand reception decorated and coordinated by the Elizabeth R team. Nkiru and Tolu's wedding reception evoked a glamorous and romantic feeling with the turquoise and gold tones all around the hall. Nkiru and Tolu's love shone through as they shared loving moments and enjoyed their special day.
BN wishes Nkiru & Tolu a blessed and wonderful marriage filled with God's love and divine favour.
__________________________________________________________________________________________________________
White Wedding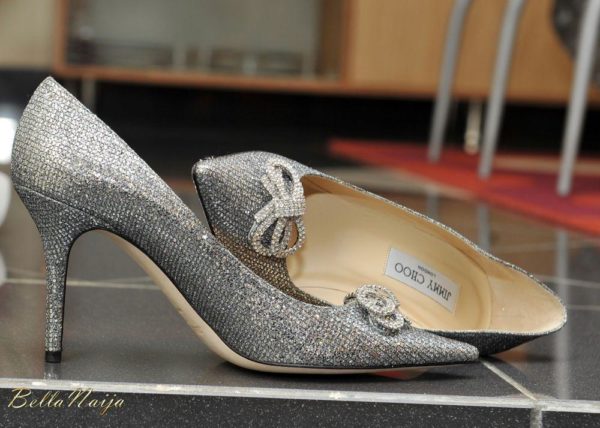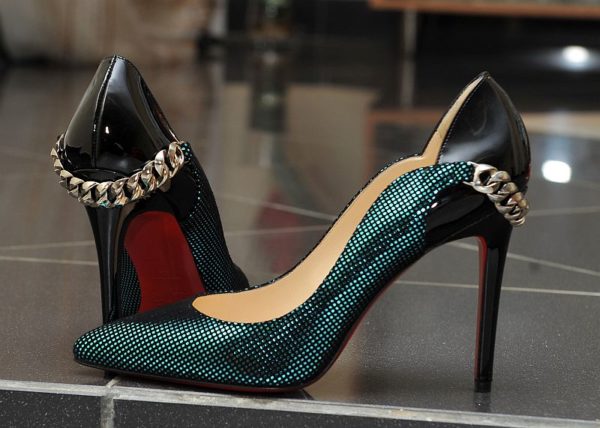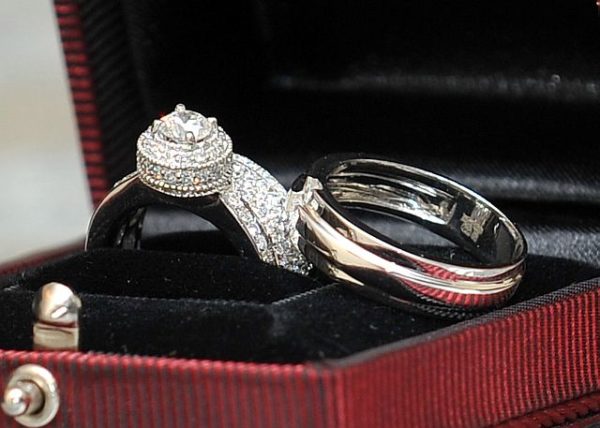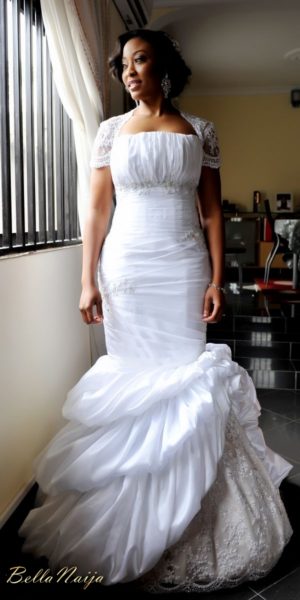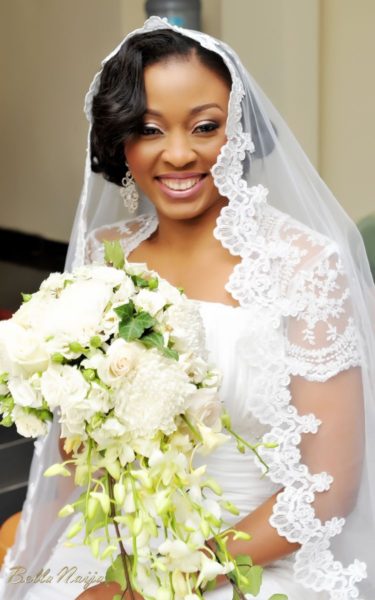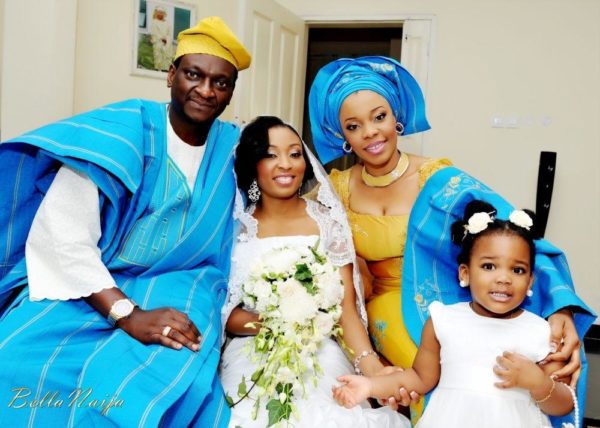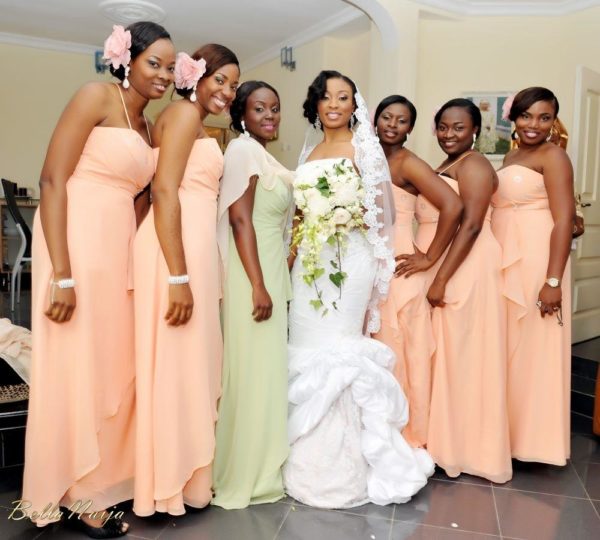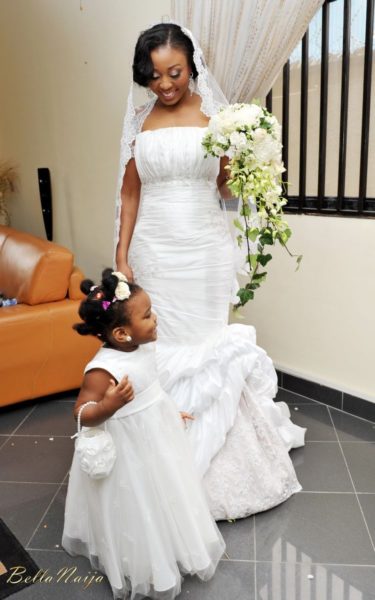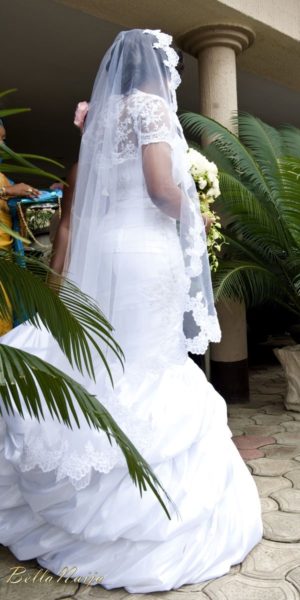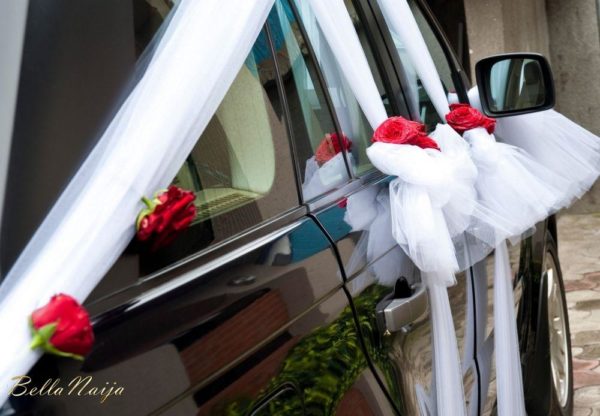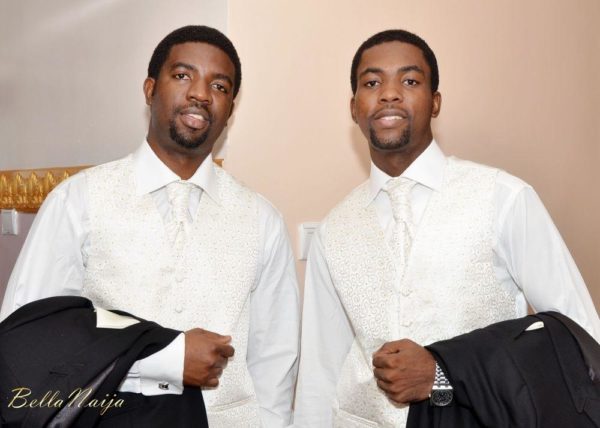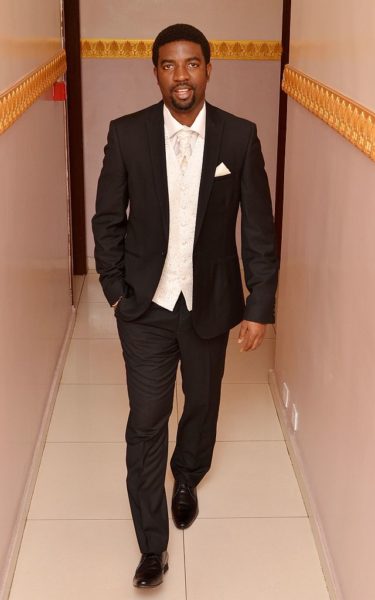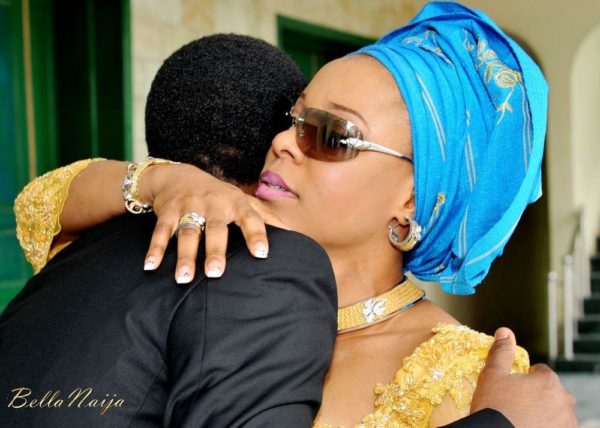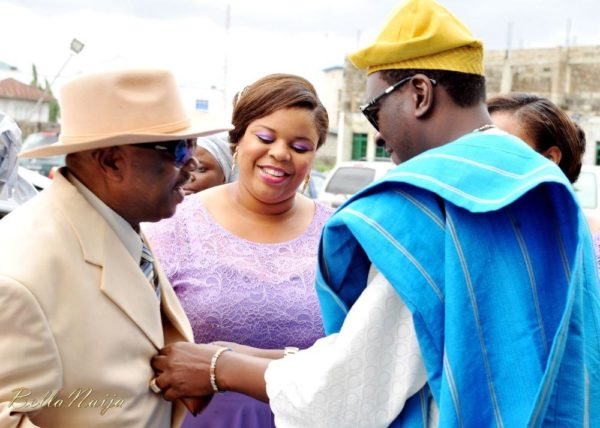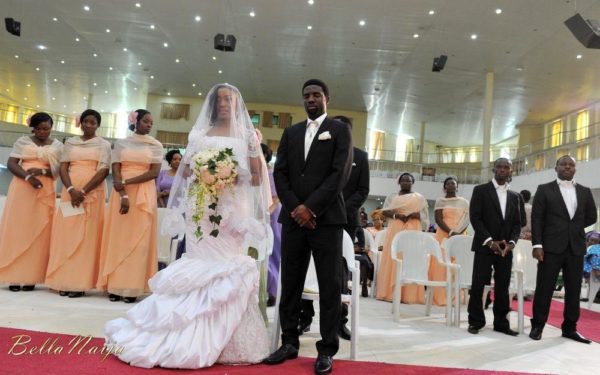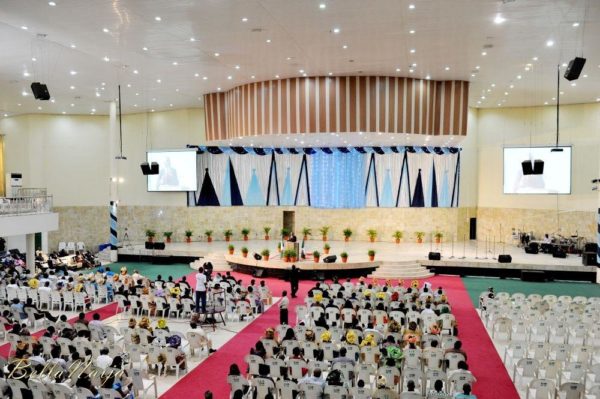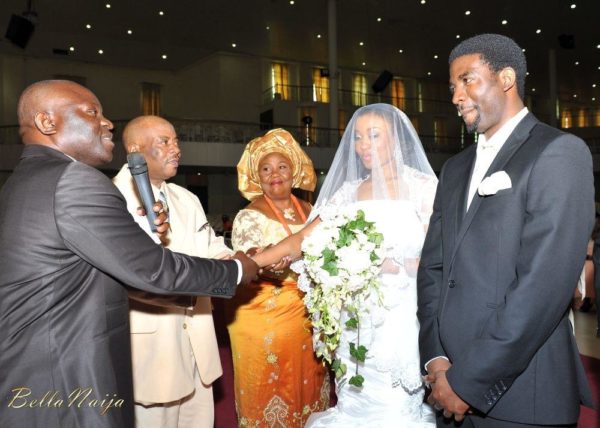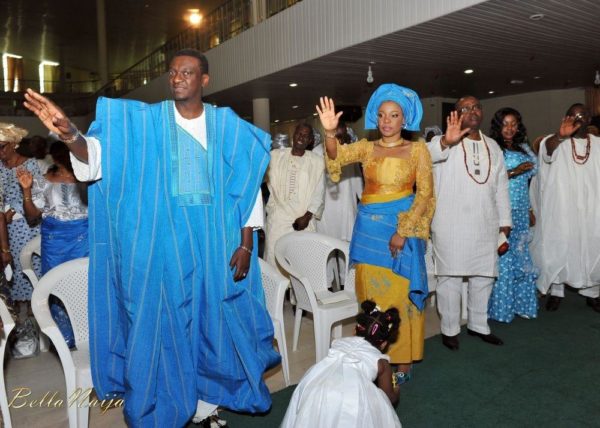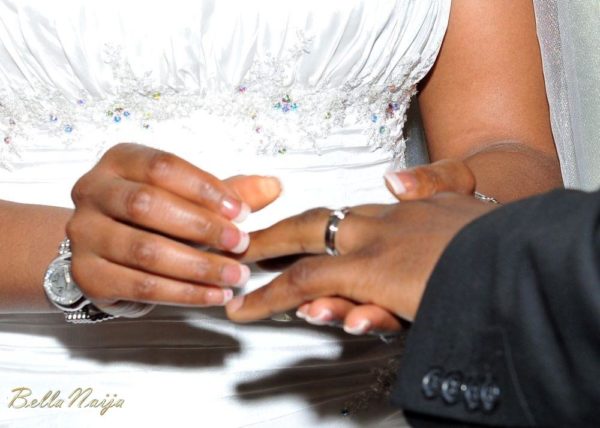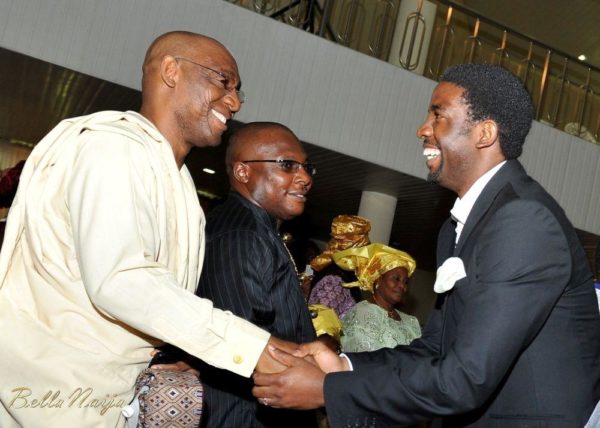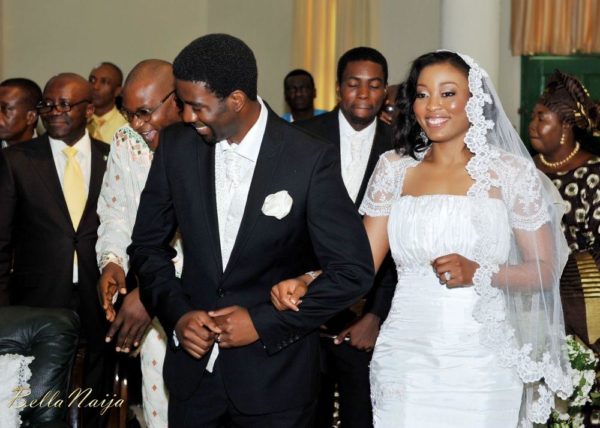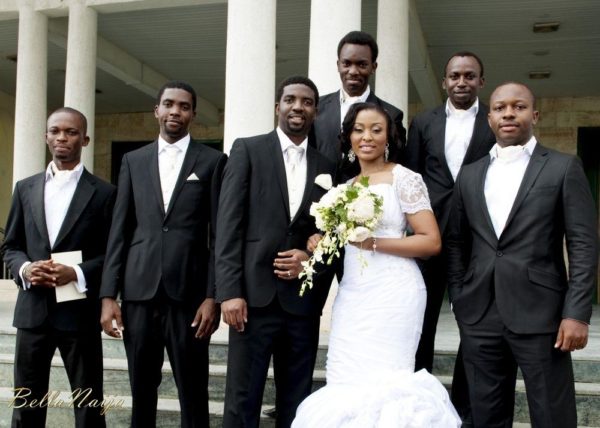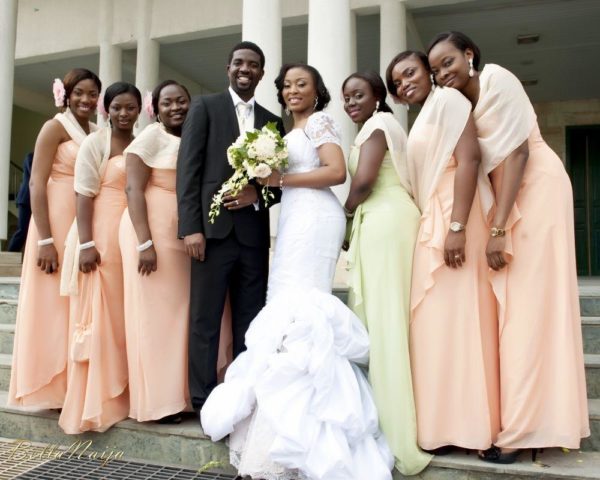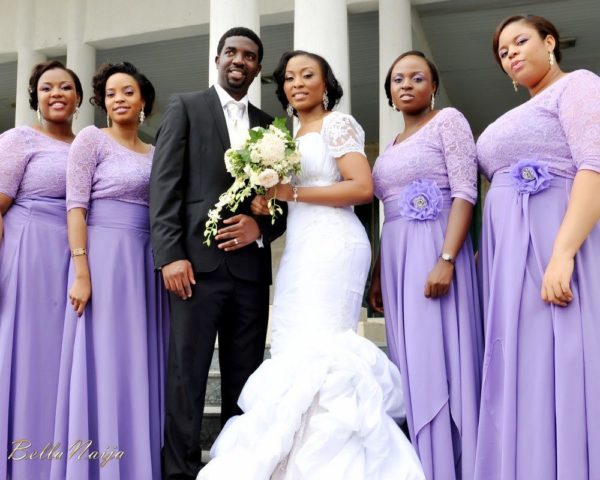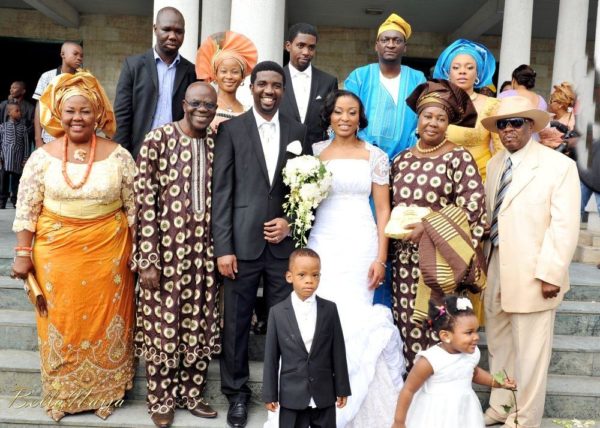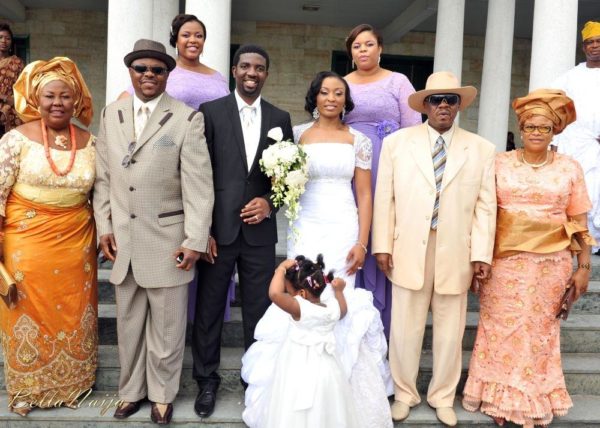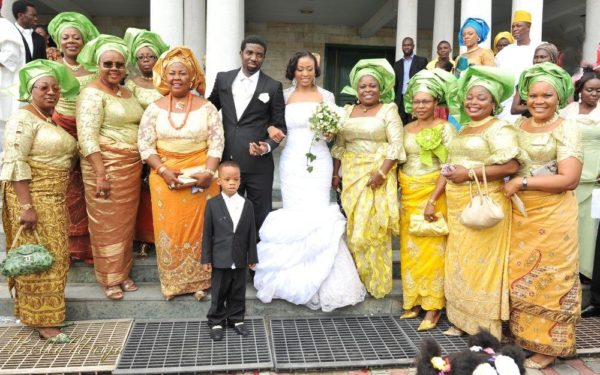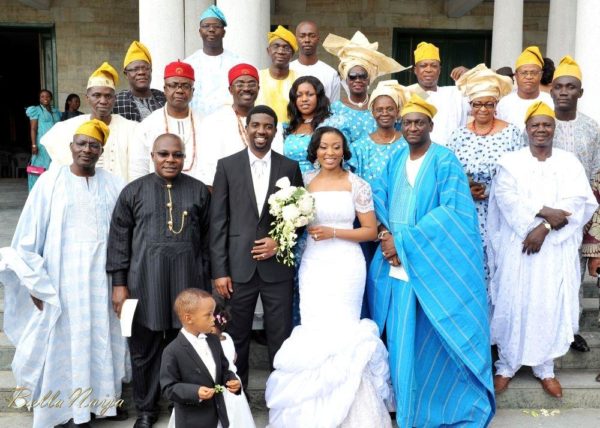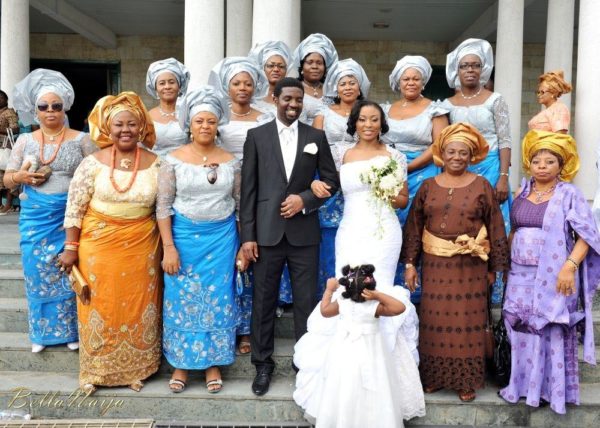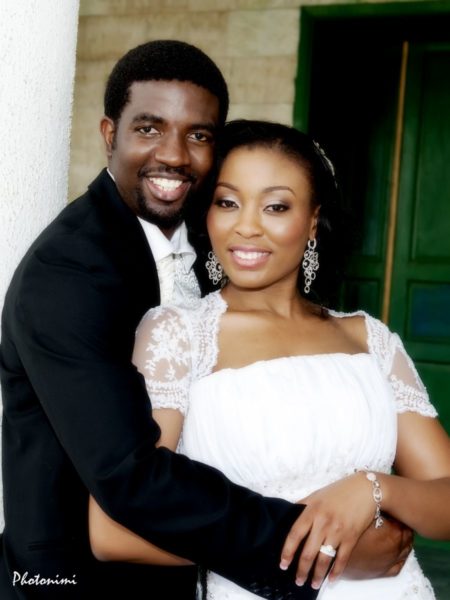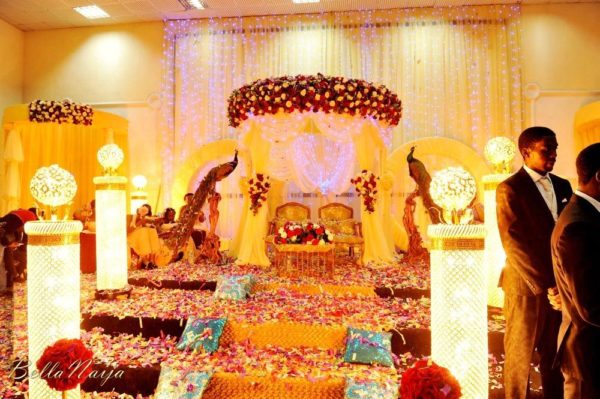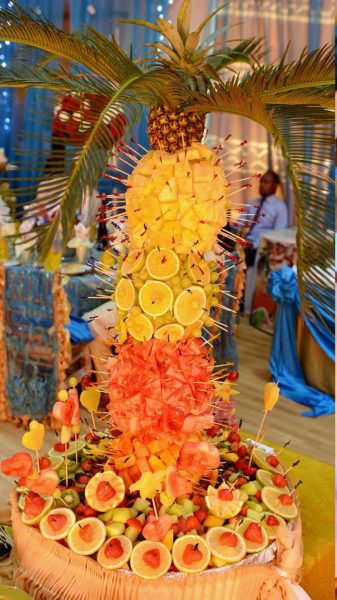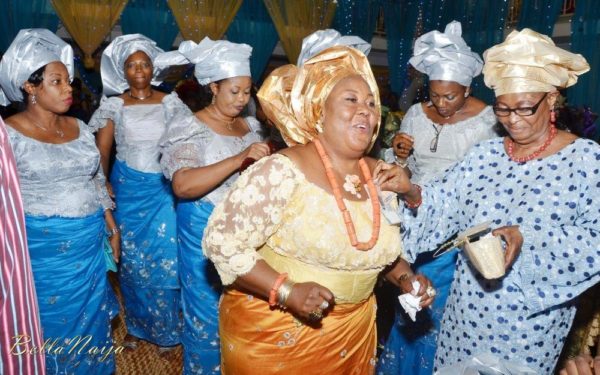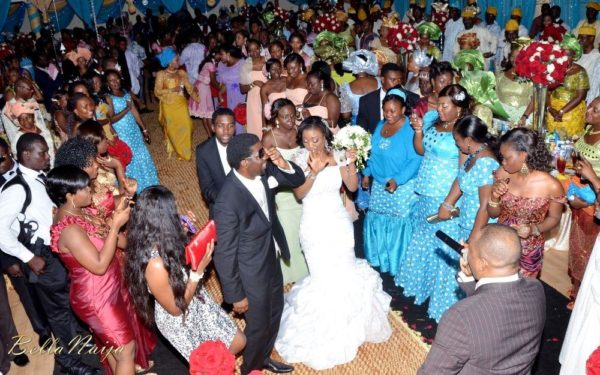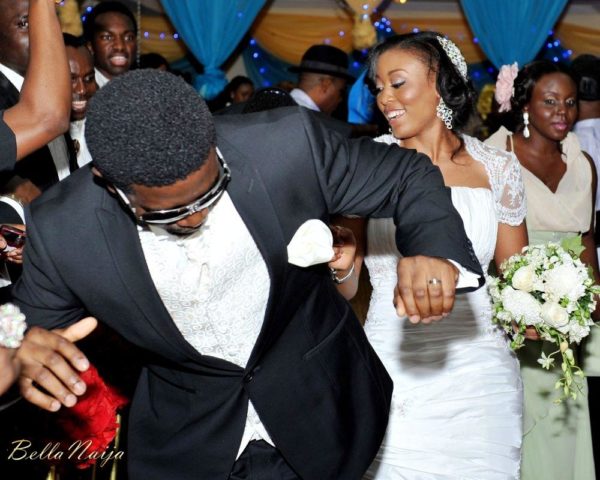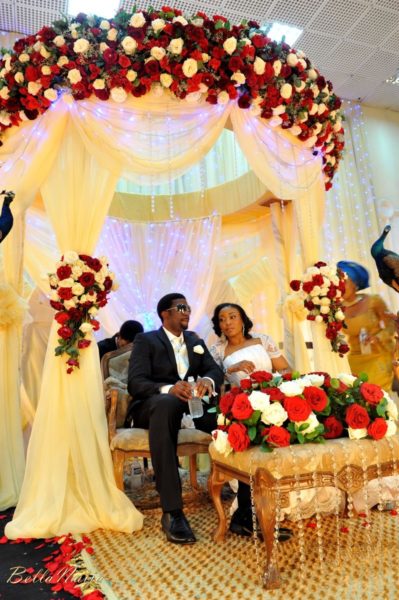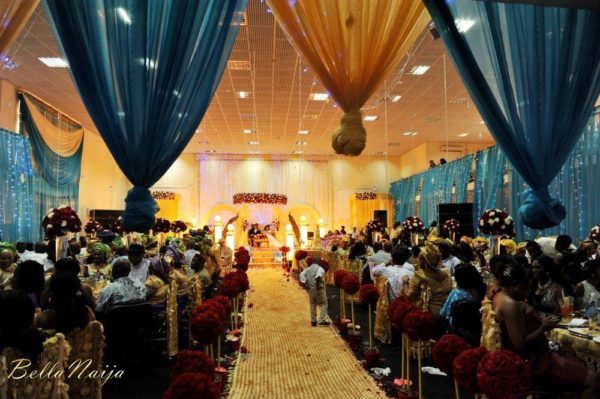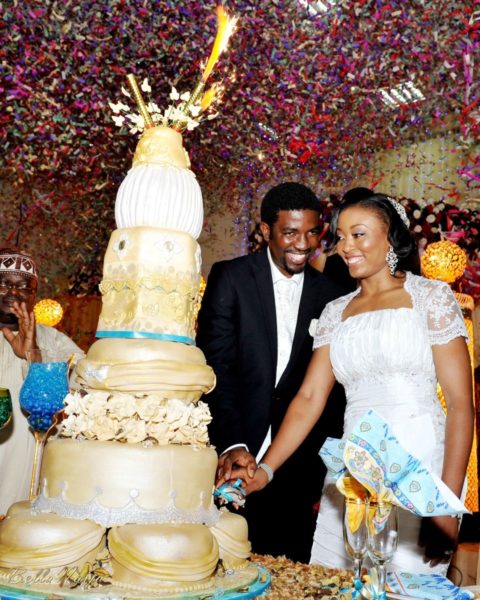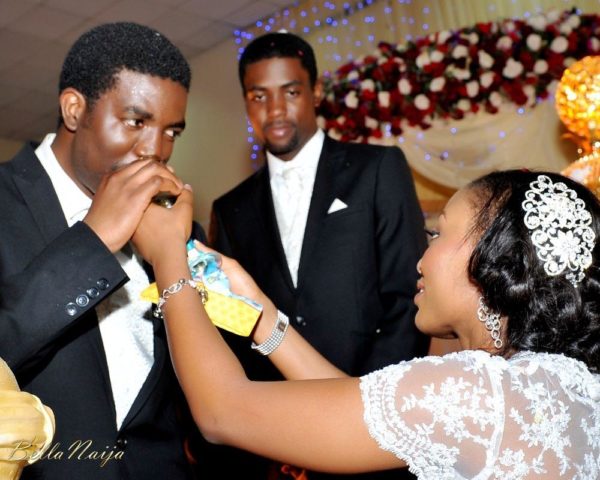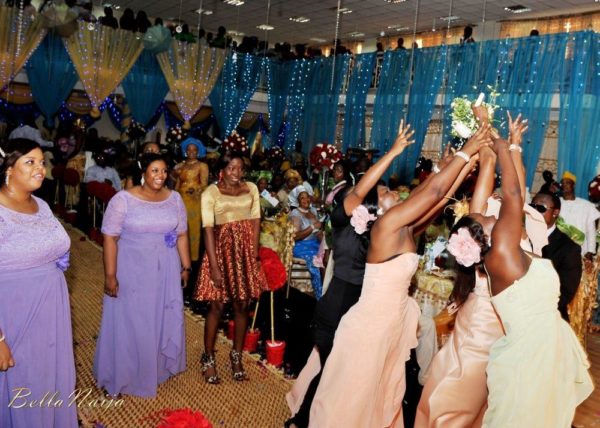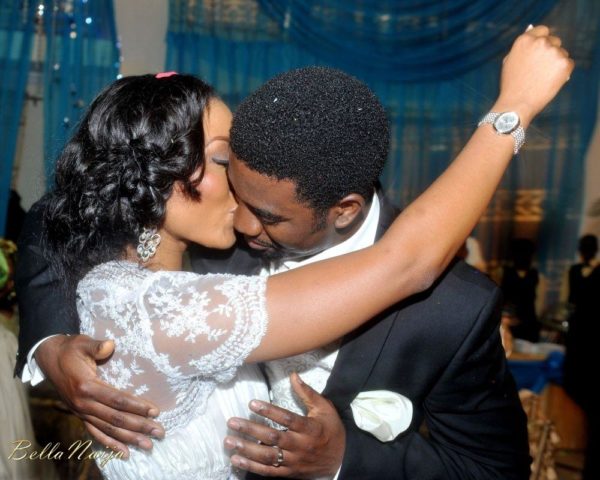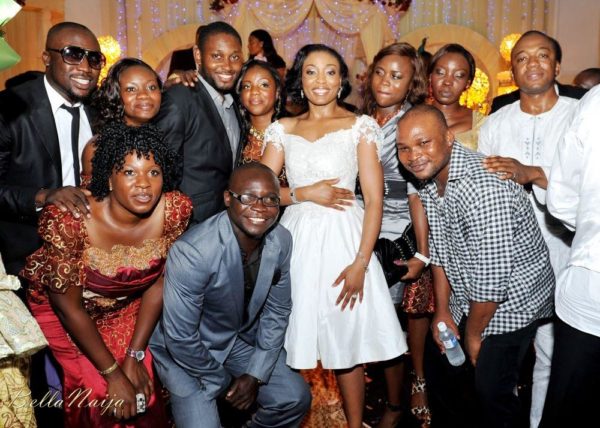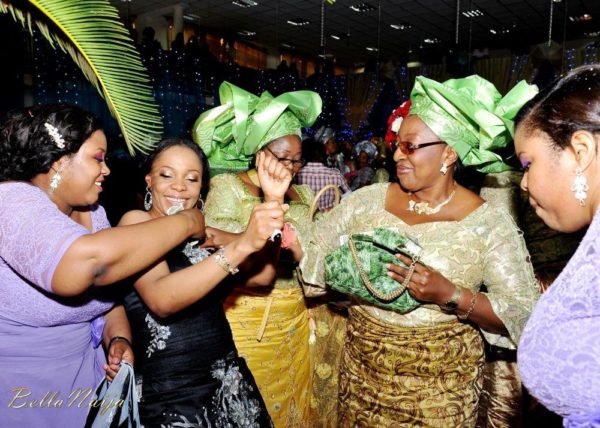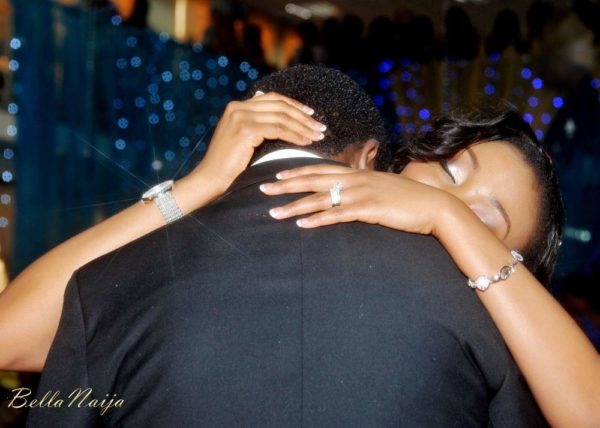 Vendor List
Event Planners: Elizabeth R Events – http://www.elizabethrevents.com/
Décor: Elizabeth R Events – http://www.elizabethrevents.com/
Photography: PhotoNimi – http://www.facebook.com/photonimi
Bride and Sister's Wardrobe: Frank Osodi – http://www.facebook.com/frank.o.richard
Food: Ahoma
Drinks: Bonix Drinks
Music: Sugar Band
MC: Tee A
Makeup: Banke Meshida-Lawal for BM Pro
Fruit Tree: Fruitopia
Chocolate Fountain: Maison du Chocolat's Chocolate Fountain
Small Chops: 12 Baskets
Videography: First Class Entertainment
Special thanks to Elizabeth R Events & Afromedia